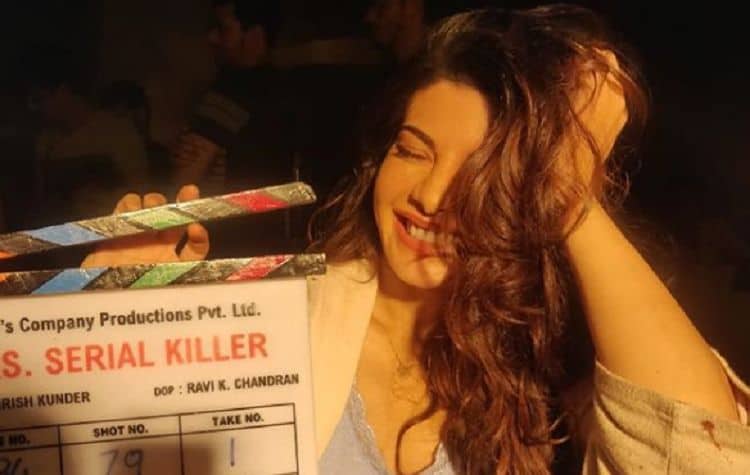 Sri Lankan born actress Jacqueline Fernandez recently stunned us with her moves on the Saaho dance number "Bad Boys". But it's not the first time the actress has surprised- after all, how many former multi-lingual students of Mass Communications represent their country at Miss Universe, build an award-winning career in acting, and become famous for their philanthropic work? With 2019 marking her debut on the digital platform with the upcoming web film, Mrs. Serial Killer, Fernandez looks all set to continue her rise to the very top of Bollywood. Find out more about the actress with these ten quick facts.
1. She started hosting TV shows when she was 14
Fernandez was born as the youngest of four children in a multi-ethnic family in Sri Lankan. At the age of 14, she was already getting her first taste of the showbiz life hosting TV shows in Bahrain. Intent on pursuing an education before pinning all her hopes on entertainment, Fernandez moved to Australia to study Mass Communications. After leaving university, she began working as a TV reporter in her native Sri Lanka, all the while working on improving her language skills at the Berlitz school of languages.
2. She won Miss Sri Lanka at the age of 19
When Fernandez was just 19 years old, she was crowned Miss Sri Lanka, subsequently gaining entry into the Miss Universe pageant. The pageant, which that year was held in the US, gave Fernandez her first taste of the outside world. "This trip was also a revelation as I got the first real taste of the outside world," she told Verve."There was real competition and a flavor of different countries, cultures, and languages. This trip changed my life forever by offering me so many opportunities that opened a number of doors for me.'
3. Murder 2 was her breakthrough
After moving to India, Fernandez began training in earnest to become an actress. After a few minor roles, she won a part in Mahesh Bhatt's thriller Murder 2. The film proved to be her breakthrough, generating great takings at the box office and opening up the door to new possibilities- including the opportunity for a starring role in the comedy Housefull 2 (the top-grossing film of 2010 in India) which earned Fernandez a Best Supporting Actress nomination at the 14th IIFA Awards.
4. She made her Hollywood debut in Definition of Fear
After several years of starring in exclusively Bollywood productions, 2015 marked the year Fernandez made her Hollywood debut in the horror thriller Definition of Fear. The film revolves around 4 young women whose dream of spending a relaxing weekend by the lake are destroyed when they discover their peaceful surrounds are far from what they seem. Along with Fernandez, the film also starred Katherine Barrell, Mercedes Papalia, and Blythe Hubbard.
5. She's one of Bollywood's "Best Dressed Actresses"
For the past couple of decades, it seems that every time a publication releases a "best dressed" or "hottest" actress list, Fernandez is among the first names to be mentioned. Her first appearance came in 2008 when she was voted onto the list of the "World's Sexiest Asian Women" by British magazine Eastern Eye. In 2011, she polled third in The Times of India's list of the "Most Desirable Woman", dropping to 8th, 7th and 14th place in the following years. She's also appeared on Rediff.com's listing of Bollywood's Best Dressed Actresses and ranked 62nd on Forbes Celebrity 100.
6. She's a multi-millionaire
It clearly pays to be both beautiful and talented. According to Net Worth School, Fernandez has a net worth of $12.4 million. A hefty chunk of the income comes from her film work, but she also enjoys a healthy revenue from her multiple endorsements deals and restaurant.
7. She's the face of HTC One
Ever since Fernandez's celebrity status began to climb, companies have been falling over themselves in their efforts to get her to endorse their products. As of 2013, the actress has been the face of several brands, including HTC One (the line of smartphones created by HTC) and Indian Bridal Fashion Week–IBFW. She's also been selected as the spokesperson for Gareth Pugh's Forevermark Diamonds and as the launchpad for Gillette Shaving System alongside Arbaaz Khan and Aditya Roy Kapur.
8. She has her own line of fitness wear
Un 2018, Fernandez decided to try her hand at something very different from anything she'd tried so far: a line of athletic wear entitled "Just F". The line, which was created in collaboration with Mojostar, is currently available through online retailers only, but there's hope it will eventually open standalone brick and mortar stores. "Launching Just F, a feminine take on fitness from my perspective is a big moment for me," Fernandez told The Economic Times. "I am confident that the brand will meet and exceed the expectations of young women across India, who want to fulfill their fitness requirements without breaking the bank or compromising on style."
9. She used to be terrified of the camera
While Fernandez may seem to relish her time in front of the camera, it took her several years to feel comfortable in front of it. "One of the most difficult things for me was that I was petrified of the camera," she told MSN." I struggled for many years because I never had any formal training. I just jumped straight into it. I never really learned how to make friends with it. Only now it is starting to digest, after learning a lot more – working with amazing people and everyone giving their bits of advice on how to go about things. It has helped me become a lot more comfortable."
10. Angelina Jolie is her inspiration
Asked to name who she looks up to most, Fernandez would choose both a Hollywood Queen and a Bollywood Prince. "In Hollywood, it would be Angelina Jolie. The way she has carried herself in the past two decades and her work is commendable," she tells Cosmopolitan. "Bollywood will have to be Shah Rukh [Khan]. I absolutely love him, even today every time I meet him it is such a fangirl moment for me. His charisma and charm are unmatched."