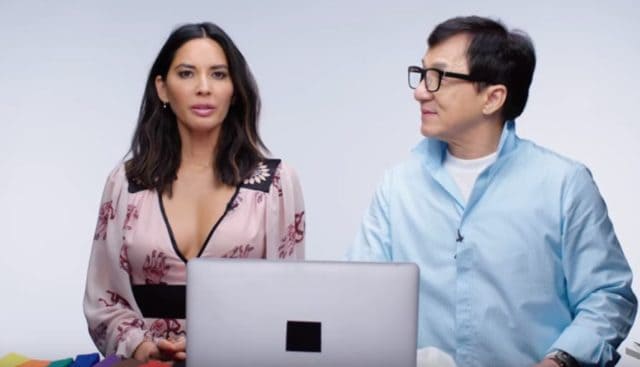 With so much else going on over Twitter it's not to hard to imagine that martial arts would be another conversation that might come up. This time however we get to listen to actors and fellow martial artists Olivia Munn and Jackie Chan. Chan is of course the noted legend and master of using anything and everything that he can in order to defeat the bad guy or get himself out trouble, or both. Munn on the other hand is a relative newcomer to the screen and has played the mutant Psylocke in the most recent X-Men: Apocalypse film where she got to show off a good deal of her martial prowess.
The pair decided to field a few questions that Twitter users had to offer, such as:
I don't understand how karate people break though cement and stuff with their hands?
Well as Munn and Chan would explain it breaking through something, cement particularly, is not an easy feat. In fact breaking through cement would usually do more damage to the person than the cement. With wood it's possible so long as you are practiced in what you're doing and know how to hit the target dead on. Plus, a lot of practitioners use pre-cut board because it looks so much cooler and it's much easier.
Why does Jackie Chan love doing martial arts with rugs?
If all he did was punch and kick he'd be a little too boring really since that's what a lot of martial arts movies specialize in. By using props and other materials he keeps it interesting and sparks the imagination of the viewer. So in other words he uses rugs and other things to keep things interesting and engaging.
But like how do you block a knife with your hand?
That's pretty easy, you don't. The sharp edge of a knife will cut someone no matter where it hits, since the laws of physics can't be subverted as they are in the Matrix. If you want to block a knife, or have no other choice, the only real way to do so is to use a piece of clothing wrapped around your hand and then attempt to block it. Otherwise just run.
How do you tie a Tae Kwon Do belt?
This is something that you need to pay attention to if you are actually in Tae Kwon Do, as it will be something that you're expected to know. If you need help ask an instructor, otherwise you will not be likely to learn and will get it wrong, which means the belt could possibly slip from your waist. The worst part would be if it was holding up your pants.
How many kung fu movies do I have to watch to become a ninja master?
I think my brain just fried on this one. No amount of movies or TV will make you a ninja master no matter how many times you copy the movements and learn what little technique they actually show. If you want to gain the skill you need to earn the skill.
I'm kind of blown away that they would answer a couple of these.
Save