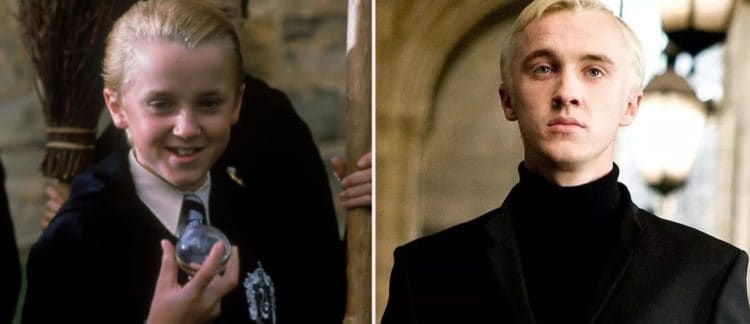 Unless the unseen bottom of Hollywood falls out in the next one to two decades, reboots and remakes are going to be the going trend it would seem, and seeing the Harry Potter movies get such a treatment wouldn't be all that surprising. Mike Sprague of MovieWeb is excited for it and I can't help but understand if not fully agree with the direction since the idea rebooting something as big as the Harry Potter franchise seems as though it would be a horrible idea in some respects since it's been done already and redoing it would no doubt be a chance for someone that had enough clout, or at least enough arrogance, to think that they could do it better. I'll say this much, there were moments in the movies that could have been better, and the final confrontation, despite being better than the back and forth conversation it was in the book, was better in the movie. But trying to recreate it all again would be a mistake I believe. Tom Felton though, would be one of the most welcome cast members to return if it were to ever be done again.
Obviously at such a point it would be necessary to find other characters for the main actors to play if they did manage to come back in another fifteen to twenty years, but there's also the thought of who could possibly step into the shoes of each character and make it work. A new batch of child actors would need to be found, and even the adult actors would have to be on point since at this time most of them are getting up in years and won't be able to take on their old roles once again. Heck, by that time Jude Law might actually be able to play Dumbledore without any heavy usage of makeup effects. The guy is in his forties at this time and in another twenty years it could be a perfect role as far as keeping some continuity. Conor Heneghan of Joe has more on this. Richard Harris is still one of the best characters to ever play the role, though Michael Gambon was pretty good as well. But Alan Rickman has passed away so a new and convincing Snape would need to be found, as would a new McGonagall, since Maggie Smith is well into her 80s and in another two decades might not be around, with all respect. Even if she were to be here at that point, her Potter days would be well behind her.
Personally I think this would still be a bad idea, but perhaps creating a big screen version of Harry Potter and the Cursed Child would be interesting since people have loved the play and the story is fairly interesting. There would still need to be a few cast changes likely, but bringing back the core group and several others wouldn't be too difficult since those that might not want to come back or couldn't in any case played characters that were killed off in the movies. In fact McGonagall might actually be one of the few characters that would need to be recast, along with Hagrid, as Robbie Coltrane is in his late 60s at this time. It's all possible, no one is saying it isn't, I simply think it's a bad idea, but in a place like Hollywood bad ideas are sometimes able to be rewarded and turned into movies that people will gladly spend money on again and again as they seek the promise of a well-told story that will entertain them and leave them with a grin on their face as they leave the theater. What do writers know, right?
It would actually take convincing JK Rowling that it's a good idea as well, and she seems to have been pretty adamant about leaving it be and settling for the story as it is. Harry Potter did have a decent sendoff as it was established that the three friends now had children of their own and were sending them back to Hogwarts. It's even been established what became of them after they were done with school, so the story has been wrapped up in a very neat way that continues to inspire the imaginations of so many fans that it's a wonder that more fan fiction hasn't come out detailing just what happened to some of the other characters. What would really be exciting would be to see the early years of Snape, Lily, and James, just to get a better idea of the continual back and forth relationship that the three of them had and why Snape came to hate James Potter so much. In fact it would make for a great lead-in to the original Harry Potter movies since it would answer a great many questions that people have continued to ask.