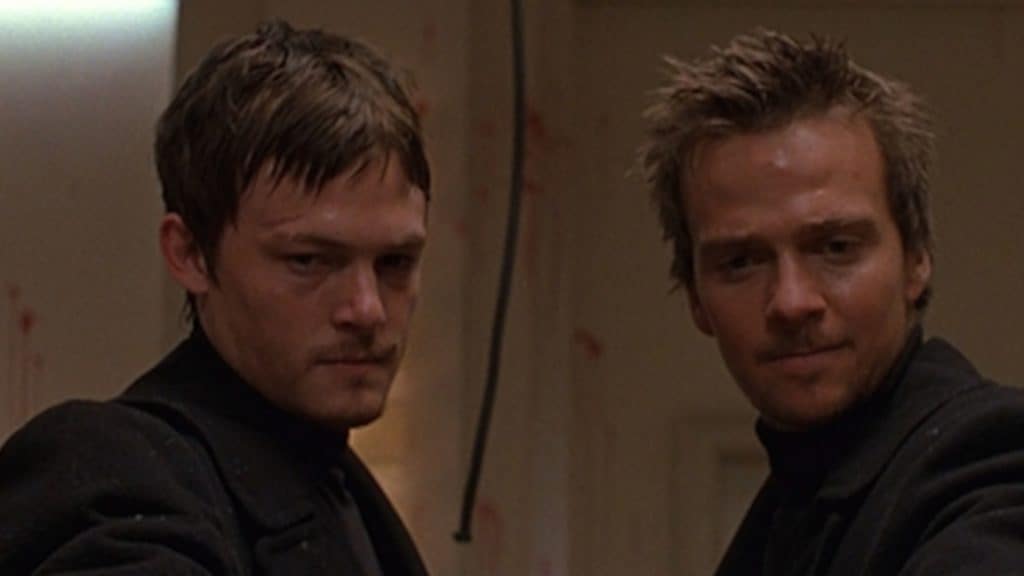 As of now, there isn't much to tell about the story or the fate of Connor and Murphy, but the fact has been revealed that come next May that The Boondock Saints will be returning as Sean Patrick Flanery and Norman Reedus will be taking on their iconic roles once again. Whether or not Clifton Collins Jr. will be back is hard to say, but it's very likely that we won't see Billy Connolly or Peter Fonda unless it's in a flashback since both characters were dead by the end of the movie. As far as Julie Benz and Willem Dafoe there's also a big question to be answered since both of them are kind of needed for the plot. As a lot of fans will recall, Connor, Murphy, and Romeo were being held in the prison hospital ward at the end of the second movie after a violent shootout that took the life of Connoly's character, Il Duce. A big hope is that we'll see roughly the same type of story this time around but perhaps with a little bit of an update since it's been 12 years since the brothers were last seen.
It's definitely fair to think that the two will still be up to the same kind of stuff that made them so popular with so many people, but given that they're going to be a bit older it's also very easy to think that their efficiency might have dropped just a bit and possibly, just maybe, they might be inclined to find someone to pass the torch to if that idea springs up at all. This kind of thing has been noticeable in other movies when it comes time for those that started an idea to either stand down and let the younger generation take over, or go out in a blaze of glory rather than spend the rest of their lives becoming old and feeble. It's actually kind of cool that Il Duce went out the way he did rather than rot in prison for the rest of his life, as a violent end was far more fitting than to spend his last breath in a cage.
Plenty of people might call that a little psychotic, but when dealing with characters such as the MacManus brothers it feels awkward to think that they would receive a peaceful and benevolent death when after all they've done it's apparent that they're not ready to just sit down and wait for the end to come one day. There's plenty of room to debate going out in a hail of gunfire versus going out while watching the sun set or rise on another day, but in regards to this story, it feels as though the Saints might need to be given a fitting ending or be allowed to disappear and have the whole thing end on an unfinished note. Either way, this sounds like something that might be a better fit than to say that they simply walked away from their crusade against crime and corruption because they'd grown old. That doesn't really fit the MacManus mold to be certain since their lives have been little more than violent since the audience first met them.
But at this time it's fair to say that we don't know much of anything other than the fact that movie is going to get made so long as it doesn't end up in development hell where it could linger for a while. One thing that feels obvious is that the roles of Connor and Murphy couldn't be handed to anyone else since fans likely wouldn't be having it and wouldn't want to continue if they didn't get to see Reedus and Flanery. This is likely why filming won't begin until after The Boys and The Walking Dead are done with their upcoming seasons, as this will free up both men so that they can focus intently on the movie and not be too distracted to really get into character. A lot of people are likely buzzing with anticipation at this time since the whole thought of seeing the Saints back in action is enough to make a lot of fans giddy with excitement.
The first and second movies were absolutely great, though a lot of fans did miss Rocco, right up until he appeared in a dream sequence in the second movie, which was awesome to be perfectly honest. But the loss of certain characters is going to be tough given that they were definitely important to the plot. It does feel likely that we'll see other characters that will help to further the story and continue to either help or hinder the Saints, who have made plenty of enemies, but until we know more it's going to be a guessing game since both movies set this story up in a way that can keep it going for a while, and in a few different directions.