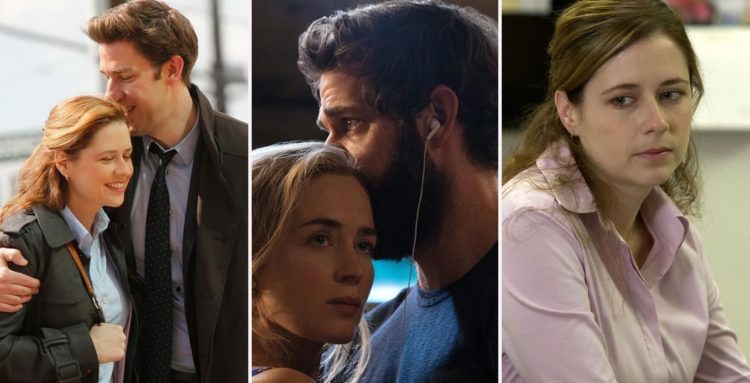 If there's a conspiracy to be had in a sitcom then it's almost guaranteed that thousands of people are going to jump on the bandwagon and put their two cents in. In this case it has to do with Jim and Pam from The Office and whether or not Jim is cheating on Pam during the series. Now quite honestly John Krasinski seems like a nice guy, even despite the fact that Jim is a bit too into his pranks and seems to love tormenting Dwight to no end. But trying to determine if a fictional character is stepping out on another fictional character and having it totally blow your mind and break your heart might seem a little silly to some. You could say that the people that aren't bothered by this are those that don't have heart, don't care, or don't allow their emotions to be tweaked every which way by a fictional romance. But the truth of it is that while there are many reasons why Jim seems like he could have been cheating there are many other reasons why it's possible that he wasn't.
Let's explore a few of those.
The Cathy Sims theory tries to back Jim into a rather tight corner.
Cathy took over for Pam when Pam went on maternity leave and was attempting to openly seduce Jim for a good amount of time. But during a business trip Cathy complains about bed bugs in her room and wants to stay with Jim, who actually ends up pushing her away. Get that? He PUSHED HER AWAY. He even gets Dwight, a person that hates him, to break up the tension between him and Cathy at one point. Dwight, who normally wouldn't do anything for Jim, busts in to prevent his co-worker from doing anything stupid. But hey, once the cameras are off Jim is free to do anything he wants right? Because Jim is just a typical man that pined for Pam for so long and did everything he could to get her attention and….well, that kind of blows that conspiracy out of the water.
The lack of footage in Philly seems to bother people.
Oh, no footage in Philly when Jim was attempting to better his and Pam's future? Well that's funny, you would think since Jim is so popular that they would follow him occasionally right? Not really, because it's not The Jim Show, it's The Office. When one or two of the regulars are away due to the story it still centers on the office and therefore unless Jim is really up to something important or worthy of being filmed then it's usually easy to assume that he's doing his job and there's nothing all that bad going on. Keep trying theorists.
Everyone supposedly cheats on The Office.
If you feel the need to massage your temples and pop a Tylenol go ahead, because the excuse that 'everyone does it' is an oldie and not necessarily a goodie. Jim might have some flaws and be kind of geek sometimes but the one thing that is never fully true no matter where you go or whatever sitcom you're watching is that 'everyone does it'. If that were the case then sitcoms would be examples of how to step out on your significant other rather than just amusing shows where people are all different and experience different things. Yes, he did kind of steal Pam away from her other guy but at the same time he and Pam became quite the couple and were seen to be quite happy for a while.
He's a meticulous planner.
Because he plans everything down to the smallest detail it's apparent that Jim must of course be a cheater. He knows how to prank Dwight in a way that doesn't allow for his schemes to be figured out until it's too late and what's done is done, but yet that makes him a cheater. It's interesting how character quirks that could otherwise be labeled as interesting and even a bit funny at times are seen as red flags that someone is simply a sick and twisted individual. The level of trust that people for each other in real life kind of waxes and wanes, but the fact that they could put so much thought into a fictional character is kind of astounding.
Apparently he's a sociopath.
It's true that he does seem to show different faces to different people but if that's what people are going off of then it's going to be hard for them to admit that we live in a very sociopathic world to be honest, and the man running our part of it is likely one of the worst among us. If a person is to be labeled a sociopath for being different to one person after another then that seems to be the way we're hardwired, but it doesn't necessarily make us cheaters. It simply means we're difficult to get to know until someone sees the real us.
Whether he's cheating or not he's fictional, and while it doesn't excuse that kind of behavior it does kind of put it in perspective.