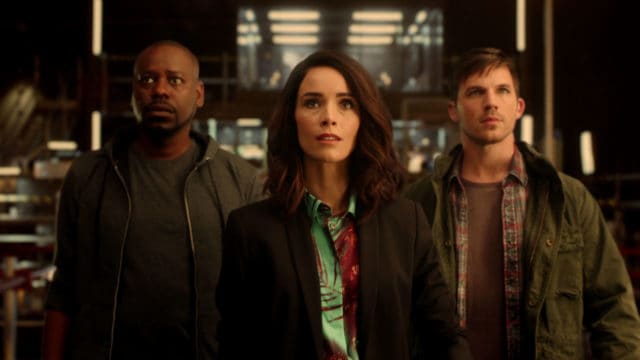 Time to say good-bye to the NBC drama Timeless. The network confirmed the fate of the series by cancelling it after only one season on the air. This is just a few days after news broke the NBC did decide to renew the ratings struggling first season drama Taken, which began airing after Timeless ended its 16-episode first season run back in February.
It might not be a surprise to many TV viewers that the drama, which stars Abigail Spencer, Matt Lanter, and Malcolm Barrett, got the axe. After delivering strong numbers during its pilot broadcast in October, the series saw a significant drop in viewership over the course of the short season.
Series Creator Eric Kripke took to Twitter to announce the news to his followers. He announced, "Its true. NBC canceled #Timeless. We're surprised & upset. Get you a longer response later. Odds are long, but trying to find another home." It appears that Kripke is shopping the series around to other networks for a possible second season. Even he is not optimistic that Timeless will find a new home.
The actors from Timeless also took to social media to express their sorrow over the cancellation. Abigail Spencer expressed on Instagram, "Time Team! 🎶Taking the time to be a team. Time Team! Taking the time to be a team. 🎶 Forever grateful to my brothers in arms @verbalberappin@mattlanter & the entire cast, creative team & crew. And thank you to you extraordinary #Timeless fans. It has been an honor & a pleasure. See you on another adventure. #Timeless #Lucy #Wyatt #Rufus" while Matt Lanter posted, "Guess it's time to hang up my time-traveling boots. People always say, "don't live in the past"…. I don't know man.. we sure had some fun. Been on some epic adventures with these guys."
Time-traveling shows did not fair very well for the 2016-2017 Television Season. Timeless was the first to premiere of the three and showed the most likelihood of surviving cancellation. ABC debuted Time After Time in March and it was quickly cancelled due to low ratings. There currently has not been an announcement for the FOX comedy Making History, though critics are guessing this one will share the same fate as Timeless.
Are you upset over the cancellation of Timeless? Let us know in the comments section below.
Photo by NBC
Tell us what's wrong with this post? How could we improve it? :)
Let us improve this post!