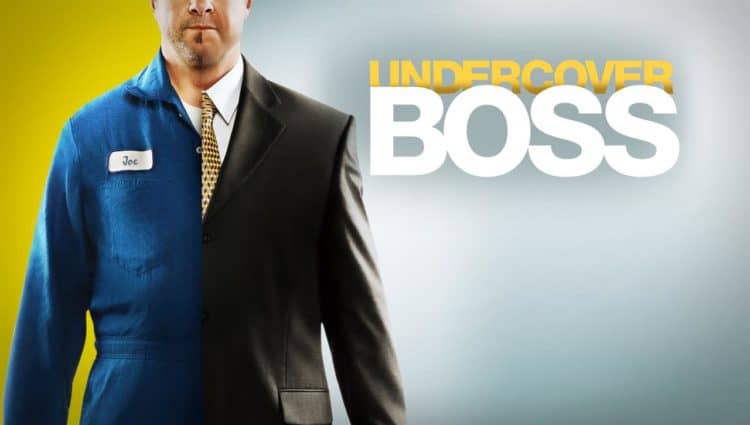 When Undercover Boss debuted in 2010, the show quickly caught lots of people's attention. During each episode, a high-ranking employee at a large company goes undercover to get insight into how things are really going with the business. The boss gets hands-on experience by shadowing some of the business' lower-level positions and they also learn about the people who keep things going smoothly on a daily basis. At the end of each episode, the boss reveals their true identity in a one-on-one sit-down with each of the employees they shadowed. They typically gift the employee with money and sometimes they even give promotions. Although the show is entertaining and heartwarming, there has always been something about it that is a little good to be true. As a result, many people have questioned whether or not the show is legit. Now in its 11th season, that question still remains. So, is Undercover Boss fake? Let's talk about it.
Why Do People Think Undercover Boss Is Fake?
Before we talk about whether or not the show. is fake, we should probably address why people think it's fake. The truth is that there are lots of reasons for people to think that Undercover Boss is fake and those reasons have only gotten bigger over the years. During its first couple of seasons, it wasn't too farfetched to believe that the show might actually be real. After all, the premise is somewhat reasonable. When the bosses go undercover, the employees they come in contact with are told that they are being shadowed by someone who is on a show about people who are interested in pursuing a new career. However, once the show gained popularity, it became harder and harder to believe that people weren't aware they were on Undercover Boss.
On top of that, the fact that every segment of the show features some sort of personal anecdote from an employee also makes the show feel a lot less organic. After all, most people can agree that if they were being shadowed by a random person for a day at work, they wouldn't share any intimate details about their personal lives.
Is Undercover Boss Fake?
If you're a reality TV fan, then you know it's important to take these shows with a grain of salt. Undercover Boss is no exception. While there's nothing to suggest that the show is scripted, it does appear that certain aspects are somewhat manipulated – even before filming begins. For example, the employees who are shadowed are specifically chosen for the show and given some guidance on what to say. That said, Undercover Boss is a lot more authentic than many people might think. Megan Pustaver, who appeared on the show during season four, did an Ask Me Anything (AMA) session on Reddit where she went into detail about her experience on the show.
She said, "The show is very real. I had no script. The only thing they told me was show him how you work here and share a life changing event :) And my life changing event happened at Retro Fitness. I lost weight and found a great group of friends after going through an abusive relationship and being over 200 pounds. His disguise and the fact that he knew so much when I was supposed to be teaching him how to work haha! He was so funny though and we had a blast. He's an amazing CEO and truly loves Retro. He helped pay for my tuition and living! And we filmed from early morning until dark. So it was a full day experience."
Megan also added that she did have a feeling that something was up since she had seen Undercover Boss before. However, she didn't let that impact her interactions with the CEO and she says she was very focused on walking him through her job.
What's Next for Undercover Boss?
Undercover Boss has been going strong for more than a decade. However, if you're a fan of the show you've probably noticed that it's taken some pretty long gaps between seasons. For instance, there was almost a three-year gap between seasons eight and nine. As the 11th season draws to a close, lots of fans are wondering when and if the show will return. As of now, the series has not yet been renewed for a 12th season. While the show may not get canceled yet, this is definitely one of those shows that can't go on forever. It's already gotten to the point where many employees suspect they're on Undercover Boss, and that's not going to change in the future.