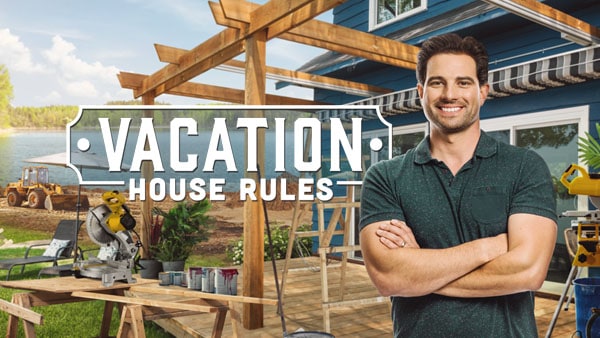 The whole idea behind reality TV is that it's supposed to be real, right? Right. However, as the genre has continued to grow, it has become more and more apparent that things in the reality TV world aren't always what they seem. As a result, the validity of shows is often called into question and HGTV's Vacation House Rules is one of the latest to be put on the chopping block. In the two years since the show's debut, it has built a large and dedicated fan base. However, some viewers can't help but wonder if what they're seeing on the show is actually legit. If you're one of the people who's been wondering, you've come to the right place. Is Vacation House Rules fake? Let's talk about it.
What Is Vacation House Rules About?
Before we can talk about whether the show is real or fake, it's probably a good idea to talk discuss what it's about in the first place. For those who aren't familiar, Vacation House Rules is hosted by contractor and real estate professional Scott McGillivray who works with homeowners to help them get the full potential out of their rental property. With his expertise, Scott is able to suggest and complete a variety of renovations that he believes will help homeowners rent out their property for more money. Each episode features different homeowners and viewers get the chance to see a variety of projects. Not only is the show helpful for viewers who may be looking for ideas they can implement in their own properties, but it's also a great way for people to get ideas for projects for their personal residences.
Despite the show's popularity, however, some viewers feel that it skips over some important details. As some viewers in this Reddit thread have shared, the show doesn't always provide accurate details on how much property owners will be able to charge for their vacation rentals after the renovations are complete. Others don't seem. to mind this, however, because they are more interested in simply seeing what Scott and his team are able to come up with.
Is Vacation House Rules Fake?
Okay, now it's time to get down to the nitty-gritty. When people ask if a reality show is fake, what they usually really want to know is whether the show is scripted. The good news is that we weren't able to find any information to suggest that the show is scripted in any way. It also doesn't appear that the show uses aspiring actors which can also be common for some reality shows. From what we can tell, all of the homeowners who have appeared on the show are really who they claim to be.
In fact, there's nothing to suggest that the show is fake at all. This may be a shocker to some as several of HGTV's shows have been deemed fake by most people's standards. For example, although House Hunters is one of the network's most popular shows, it has been revealed that the homebuying process in the show is completely staged. While some see this as a huge disappointment, others still find the show entertaining and aren't bothered by the fact that some things are fabricated.
That said, no reality show is 100% real. This means that while Vacation House Rules tries to stay as authentic as possible, many things are likely edited out and each episode is put together in a way that will be the most entertaining. After all, lots of things have to be cut out in order to condense each episode into the appropriate time frame. In a world where it can be difficult to know what you can trust, it's nice to know that there's at least one reality show out there that doesn't seem to be trying to pull a fast one on viewers.
What Is Next for Vacation House Rules?
Vacation House Rules is now wrapping up its third season and the show seems to be going strong. The show has already been renewed for a fourth season and fans couldn't be more excited to see what Scott has in store for the future. Although the official release date for the next season hasn't been revealed, viewers can expect to see it at some point in 2023. As the housing market continues to boom, it seems likely that Vacation House Rules won't have any trouble finding people who are interested in seeing how they can make the most out of their rental property.
Tell us what's wrong with this post? How could we improve it? :)
Let us improve this post!