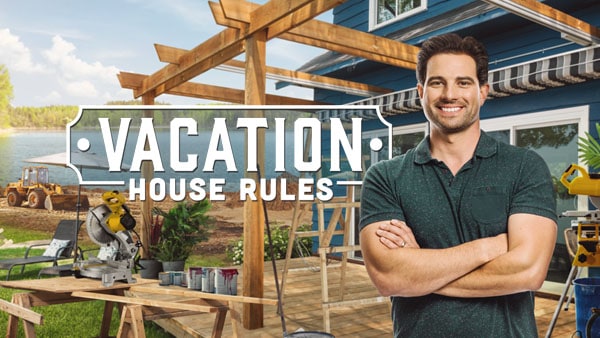 Having a vacation house sounds like a great thing on the surface, but are you really getting the most out of your investment by only using it a few times a year? The answer is no. That's where Scott McGillivray and his series, Vacation House Rules, come in. The HGTV series is all about helping people figure out what needs to be done to their vacation house to make it more attractive to renters. With his combination of creativity and expertise, Scott can take even the most unattractive places and turm them into homes that people will be fighting over the chance to rent. Continue reading for 10 things you didn't know about Vacation House Rules.
1. The Show Is Filmed In Ontario
If you're like most people you've probably wondered where Vacation House Rules is filmed. After all, knowing where the show is filmed will let you know if your dreams of being on it are realistic. Unfortunately for all the United States viewers out there, Vacation House Rules is filmed in Canada throughout different areas of Ontario.
2. The Show Aired In Canada First
Since the show was originally filmed for HGTV Canada, it initially aired there exclusively. The show quickly became popular and was brought to HGTV in the United States a few months later. If the show continues to be popular among American viewers, there could possibly be a chance that they start to include homes in the U.S. as well.
3. This Isn't Scott's First Show
Canadian viewers are likely already familiar with Scott's name and face. He's actually somewhat of a veteran on HGTV. He's been a part of HGTV Canada for over a decade. His first show with the network, Income Property, aired from 2009 to 2016. The premise of the show was similar to Vacation House Rules except Scott was helping homeowners convert part of their permanent residence into a rentable space.
4. Some Of The Properties Are In Pretty Bad Shape
When most people think of a vacation home, something fancy it was usually comes to mind. But that isn't the case for all of the properties on Vacation House Rules. Some of these homes are old cabins that have been passed down through the family and haven't had any updates since they were built.
5. The Show Has Already Been Renewed For Season 2
Nothing is more annoying than falling in love with a new show only to have it be canceled after the first season. Luckily, you won't have to worry about that with this show. Vacation House Rules has already been renewed for a second season and there are lots of great renovations on the way.
6. You'll Be Amazed At What The Owners Can Charge For Rent
For some people, the thought of renting their vacation home may seem like more trouble than it's worth. However, with the renovations Scott and Debra are able to do, these home owners can sometimes charge so much for rent that they could probably afford to buy another vacation house in a couple of years.
7. Debra Salmoni Owns Her Own Design Company
Debra Salmoni is a talented designer whose keen eye helps take each project to another level. She and Scott are able to work together to bring their ideas to life and the end result is always out of this world. When Debra isn't filming for the show, she's busy with her own company, Debra Lillian Designs where she specializes in "Luxurious, approachable designs for everyday living."
8. You Can Find Tips And Additional Scenes On The HGTV Website
Some of the renovations and tweaks you see on Vacation House Rules might not be things you can easily do in your own home, but you can still get some ideas for things you might be able to implement. The HGTV Canada website features some helpful tips that might get your creative juices flowing.
9. Viewers Will Learn About What Makes A Rental Property More Valuable
Even if you don't have a vacation home, it's still interesting to learn about just how valuable they can be. Through the show, viewers can learn about what types of changes make a home more valuable and attractive to renters. You might find yourself feeling surprised at how much value certain changes can add.
10. You Can Apply To Be On The Show
If you want to transform your vacation home, here is your chance. According to his website, Scott is currently casting for the second season of Vacation House Rules. People can easily apply by filling out a quick questionnaire and uploading some photos of the property.
Tell us what's wrong with this post? How could we improve it? :)
Let us improve this post!