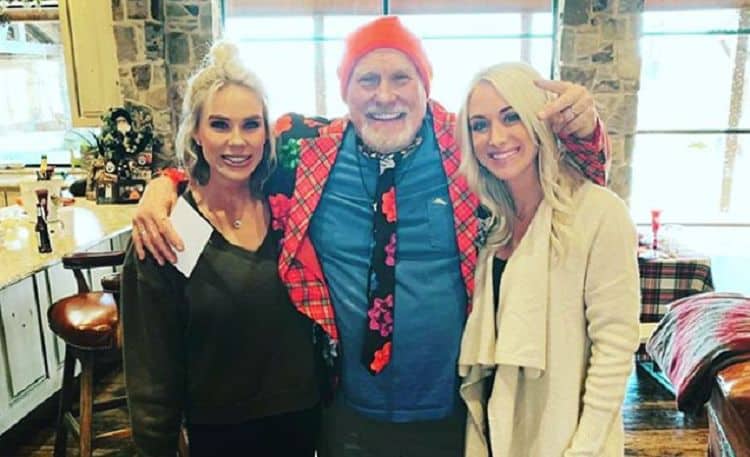 Terry Bradshaw is the kind of guy who has never been afraid to try something new as far as his career is concerned. What you know him best from will depend largely on when you were born. Some may remember Terry as a football star who won four Super Bowl rings with the Pittsburgh Steelers. Others may know him for his career as a musician and actor. These days, however, he has become a reality TV star. Terry and his family are the stars of a new reality series based on their family called The Bradshaw Bunch. Now in its first season, the show is giving viewers an inside look on how the Bradshaw family gets down, but as with any other reality show, fans can't help but wonder if it's all just scripted. Keep reading to find out whether or not the show The Bradshaw Bunch is fake.
How Did The Show Come About?
If you thought the idea of Terry Bradshaw having a reality show as kind of random, you aren't alone. The show definitely seemed to come out of nowhere, and the idea for it wasn't any different. Apparently, Jason Elrich a well-known reality TV producer, observed the Bradshaw family while attending Terry's 70th birthday party. Bradshaw told TV Insider, "He [Elrich] met my daughters for the first time. He just watched the girls and saw how they would handle themselves around me and how much fun we had together," Bradshaw recalled. "He said, 'Man, that would make a great reality show."
Bradshaw, who has done reality TV in the past, was open to the idea of doing something his family – especially his daughters. He said, "Jason and I sat down to formulate a plan. My wife came up with the name The Bradshaw Bunch, which was just going to be a temporary thing so we can do the pilot. It lasted. E! wanted the show".
With the Kardashians on their last season with the network, it's clear that E! is looking for a new famous family to pass the baton to, and the Bradshaws are ready to get in the race.
Where Is The Show Filmed?
When people think of Terry Bradshaw, Pittsburgh is probably the first place that comes to mind. While Bradshaw did call the city home during his professional football career, that isn't where he and his family live today. The Bradshaw family lives in the Thacker, OK area on a 744 acre ranch called Terry Bradshaw Quarter Horses Ranch which is where the show is filmed. Terry purchased the property about 20 years ago and it currently has several barns as well as breeding facilities.
Sources have recently reported that Terry has also purchased a large property in Texas which he plans on renovating. If the show is brought back for additional seasons, there's a good chance that some of the filming may also take place at Bradshaw's new property.
Is The Show Scripted?
It's always hard to believe that reality shows are real, but this is particularly true when the stars of the show are already people in the public eye. After all, most celebrities would never sign up for anything that could potentially make them look bad. With that being said, it's clear that The Bradshaw Bunch isn't the type of reality show that is aimed at highlighting drama or negative experiences. While that doesn't mean that the show is 'fake' or scripted, it does mean that there is probably lots of things that are purposely omitted so that the series can maintain its positive vibe. Depending on your idea of reality TV, you may feel like this isn't a very authentic approach.
How Viewers Feel About The Show
Although The Bradshaw Bunch is still very early on in its first season, viewers are already starting to form opinions and they seem to be somewhat mixed. For people that like reality TV shows with a little flair, they find the show to be a little on the boring side. In a Reddit thread about the show, a user named cupofnoodlez17 said, "Honestly even before I started watching I can just tell it's not gonna last more than a season. Maybe two if they're really lucky."
Twitter users, on the other hand, seemed to enjoy the show much more. Many tweets using the hashtag #TheBradShaw bunch of very positive and they seem to like the fact that the show is lighthearted. There haven't yet been any announcements regarding a second season for the show, but it wouldn't be surprising if the family was brought back for another shot.
Tell us what's wrong with this post? How could we improve it? :)
Let us improve this post!