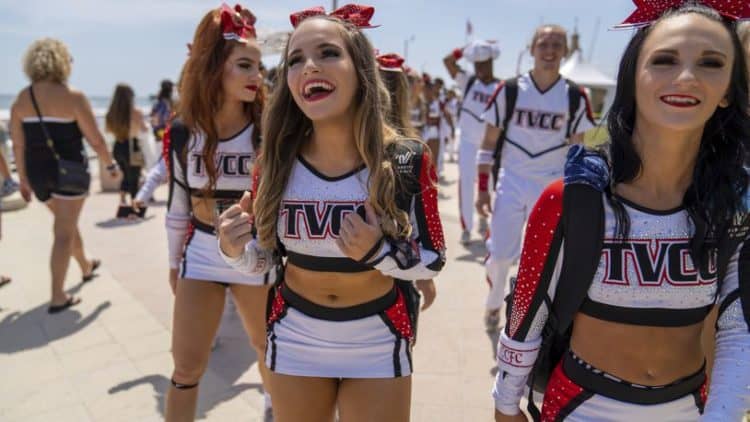 When the docuseries Cheer premiered on Netflix in 2020, it quickly attracted lots of attention. The series follows the cheerleading team at Navarro College in Texas as well as its coach, Monica Aldama. For the last several years, the team has dominated the cheerleading circuit thanks to a combination of great coaching and talented athletes. Now in its second season, Cheer continues to be a big hit for Netflix. However, despite the show's popularity, many viewers can't help but wonder if what they're seeing is really the truth. After all, reality TV has a longstanding reputation for twisting the facts. Between heavy editing and contrived scenarios, it's hard to know what you can trust when watching a reality TV show. Is Cheer scripted? Keep reading to find out.
The Truth Behind Cheer
Even if you have no interest in cheerleading, you may have found yourself completely invested in Cheer. There is just something about coach Monica and the rest of the Navarro cheer squad that people simply can't get enough of. In addition to focusing on their lives as athletes, the show also highlights personal stories from several of the cast members. Everything that has been shared on the show so far has appeared to be very authentic – and that's because it probably is. There is no evidence to suggest that Cheer is scripted or fake in any way. At the same time, however, there's no doubt that certain edits are made in order to make the show more entertaining for viewers. Realistically, though, that's to be expected.
Still, some of the show's cast members can't help but be annoyed by the way certain things were edited. During an interview with ET, , one of the show's cast members, Lexi Brumback, says that some of the show's editing portrayed her somewhat negatively. She said, "I did put on Twitter that the rave scene that they put in the last episode actually happened months before Daytona. And they made it look like that's all I was doing when I left, and that's not the case. They kind of just made it seem like when I left that I was just gonna be screwing up and everything. I actually went to school, just not to Navarro. I went to a different college and that's the only thing I think wasn't really accurate, but everything else they did a really amazing job with telling that story."
Gabi Butler, one of the show's biggest stars, also had some issues with how she and her family were portrayed during the first season. Her parents came off as somewhat controlling to the point that some viewers questioned if they really had their daughter's best interest at heart. The series' director, Greg Whiteley, has since apologized to the Butler family for the way they were portrayed. While talking to KCRW, Whiteley said, "I owe them an apology." He continued, "I think that there is a way that I have made movies in the past where a main subject or somebody I'm following around will say or do something that either makes them look silly or conniving, and I don't shy away from showing that stuff — but what I try and do is spend enough time with them that I could give a greater context to who they really are. So then instead of just dismissing them, you watch, go, 'Well, am I kind of like that? I might be kind of like that [so] I shouldn't judge this person that harshly.' I feel like that's the way, as a storyteller, I can have my cake and eat it, too." Whiteley added that he should've taken a different approach to telling the Butler family's story.
At the end of the day, however, we'll probably never know how much is or isn't true when it comes to reality shows. Those involved are often asked to sign NDAs that prevent them from sharing too much information about production.
What Does The Future Hold for Cheer?
With two successful seasons under its belt, lots of fans are wondering what's next for Cheer. Netflix has yet to say whether or not the show will be coming back for a third season, but the possibility seems fairly likely. If Cheer does continue, it'll be interesting to see if Navarro continues to be the main focus. During season two, the show spent a good chunk of time following the cheer team at Trinity Valley Community College (TVCC). The two schools are bitter rivals and it looks like TVCC is next in line to be the area's cheerleading powerhouse.
Tell us what's wrong with this post? How could we improve it? :)
Let us improve this post!