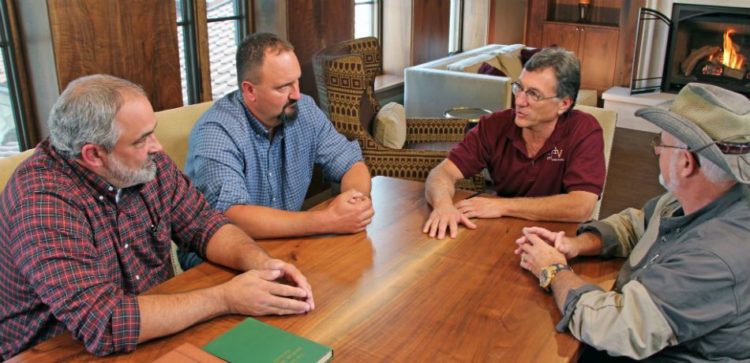 If you are a fan of The Curse of Oak Island, a television show that has spent several seasons on the History Channel, then you're probably already a fan of the channel's newest television show, The Curse of Civil War Gold. On the other hand, if you somehow manage to miss the debut of the show, you might notice a distinct similarity in the names of the two television series. The thing that will really get fans excited is that it's not just the names that are similar. In fact, there's a great deal about both of these shows that are far more alike than they are different.
For starters, both of the shows feature the people that fans of The Curse of Oak Island have come to know and love, Rick and Marty Lagina. For several seasons now, they have been diligently searching for treasure on Oak Island and dealing with all of the potential curses and other types of misfortune that come along with it. After all, treasure hunting is, by its very nature, a rather dangerous and daunting task. That fact is enough to stop most people from even pursuing it but for the few that decide to forge ahead, there is also the knowledge that the vast majority of the time, they will spend a lot of money and a great deal of time searching for something that isn't likely to be found. That's precisely why there are relatively few treasure hunters to be found in the first place. You have to find a way to keep going when you get one door after another slammed in your face. You also have to be able to either bankroll the project yourself or find someone who can.
Clearly, this is something that divides the men from the boys, so to speak. Anyone that isn't genuinely serious about hunting treasure and getting their fair share in the process isn't going to stick around for long. One thing that people have frequently wondered about is whether or not these types of television shows have any legitimacy to them whatsoever. More specifically, the question is being asked whether or not The Curse of Civil War Gold is actually real or if it's just a lot of fake, scripted stuff that's been put together in order to entertain an audience. If you have followed the Curse of Oak Island for any length of time, you know that the same questions have been asked of that particular show many times over. All that being said, it's worth thinking about how much time and effort has to be put into searching for the treasure. There is no evidence that either Rick or Marty Lagina are trying to fool anyone with regard to what they're doing. By all accounts, it seems that they are indeed bonafide treasure hunters in every sense of the term.
There is also absolutely no evidence that either one of these shows has ever been faked. As a matter of fact, there is plenty of historical evidence to back up the possibility that the treasure could actually exist, with regard to both series. There have also been some legitimate "finds" when it comes to both shows. Despite the fact that The Curse of Civil War Gold has only aired a few times, as it just started in March of this year, they have already found a few interesting things that should keep the interest up for anyone who's been watching the show.
It's easy to ask whether or not something is real, especially in this day and age where there is so much information available and very little that you can actually rely on. One of the drawbacks of living in an age where anything and everything can be posted online is that people frequently post their personal opinions as fact without anything to back them up. Someone else then comes along and reads those posts. If the person who posted the information sounds like they know what they're talking about, it can be very easy to believe something without proof to back up the claims. Even worse, there are people who post things when they know that everything they are posting is completely fabricated. They do it for fun but in doing so, they cause a lot of problems for other people along the way.
It's safe to say that you will never convince everyone that either one of these shows is legitimate. The same can be said for most of the other so-called reality television shows that are on today. To make things even more complicated, there is absolutely no doubt that some of the shows that claim to be "reality" are either total fabrications or have altered, added or removed footage in order to support whatever claims they're trying to present to the audience. This makes viewers think that all of the shows of this type operate in the same manner and it does nothing to help their credibility.
When it's all said and done, it really comes back to doing your own homework about the history of these two legends, not to mention about the people involved with the projects themselves. It would be difficult to believe that bona fide treasure hunters like Rick and Marty Lagina would allow their names to be attached to something that is clearly faked. That fact alone makes it easier to think that the things you're seeing on camera are legitimate. There's no doubt that there are certain things that have been left out and there are times when things are probably punched up a little bit to make it more interesting for the viewers but all in all, there is no evidence to support the idea that anything has been fabricated.
The good news in all of this is that if you are a fan of the show, you have no reason to do anything but continue watching and enjoying it. If it's something that you can really throw yourself into, go right ahead and do so. If you haven't watched it yet, it's something that you might want to check out, as it's really quite interesting in its own right.