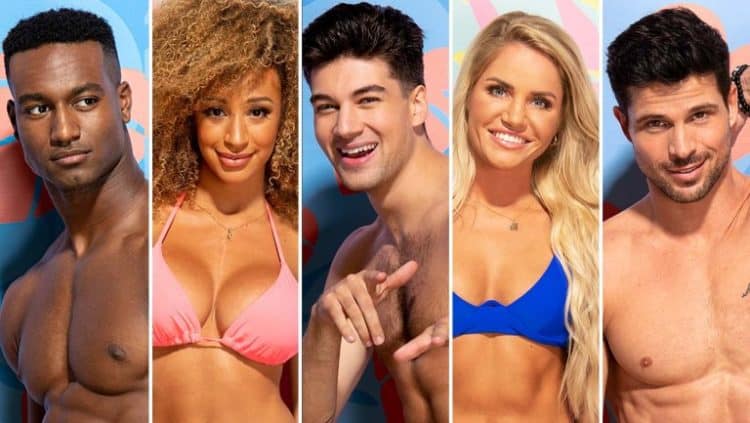 With so many reality TV shows already on air, it's hard to believe that anyone could ever come up with an idea for a new one. But that's exactly what CBS did with their latest show, Love Island. The premise is simple. Get ten singles to live in a villa for a little while, wait for them to essentially hook up, and see which couple the public likes the most at the end of the day. It certainly isn't the most original idea, but it's combining a few good things from other shows into one. Will it work for Love Island?Here are some reasons why we think it might sell for a bit but not for long term.
The premiere started off in an interesting fashion. Those who have followed the show since its Britain beginnings know how the show works. But for the American audience, everything is still new. We met the singles on the night of the premiere. The single females were Alana, Alexandra, Caro, Elizabeth, and Mallory. The five single males we met were Cashel, Michael, Weston, Yamen, and Zac. The host for the show is Arielle Vandenberg, who is known mostly for her role in the TV series Greek. Vandenberg has since done smaller roles on TV, but she's stayed pretty active since she started her Hollywood career back in 2006. The host fits right into the room full of attractive single people, who aren't only looking to find someone to couple with. There is prize money available for the taking for the couple the remains standing in the end. That prize is worth $100,000. So even if the remaining couple ends up splitting in the end, each person will be single again yet $50,000 richer.
In the beginning of the show, we all met the single Islanders for the first time. We immediately picked up on some lively personalities. We first saw the females getting to know each other over some champagne, and we saw short, pre-filmed videos about each one. Naturally, some people stood out with ease, but it seems that every single woman on the show has her mind set one on thing: finding a guy. The talking was a nice way to start the show, but the energy quickly changed as soon as the single males walked out to present themselves to the ladies (and the American audience). Just like that, the initial coupling ceremony had begun.
The cast showed what they got with their bathing suits on, and attraction was simply imminent. The coupling began with the guys standing in front of the girls. If any of the girls were interested in the guy in front of them, she can step forward to declare her attraction. Likewise, if a guy is interested in the girl that stepped forward for him, he can basically accept the invitation to couple. Confused yet? It's really easy. The choice is ultimately left to the male islanders. They can choose whichever girl they prefer. For the premiere, everything worked out well enough. While some guys had a few women step up for them, there were a couple that didn't have anyone interested at all. That's a bad sign for Cashel and Weston, but they have the advantage of still getting to pick a girl regardless. A couple of women also stepped forward for more than one male. It might pay to keep an open mind on this show, but in the end only one female and one male could win.
Or is that so?
No true American reality television show would go through a premiere without having a twist of some kind. At this point, the Islanders have all found their matches: Caro and Cashel, Alexandra and Michael, Elizabeth and Zac, Mallory and Weston, and Yamen and Alana. After the coupling, we found out that new Islanders will constantly be coming into the villa. The goal, of course, is to tempt existing couples to break apart. The singles always have a choice; but once you become uncoupled, your housemates send you home. Ouch. This is when Kyra Green entered the show. Kyra is a 22-year old musician, who's very much single and part of the show as well. She'll get a chance to couple up (or not) during the coming re-coupling, but she'll have her the time from now until then to make someone pick her instead. Kyra also had her own twist. It appears that she's bisexual, and she could very well couple up with another female to eventually boot a guy out.
It's doesn't exactly send the most positive message for CBS fans, but the British original has had a successful viewership since 2005. The CBS format is almost identical to the British show, but we'll just have to see how it all unfolds in the next five weeks. Love Island is set to run for only 5 weeks, but it'll have a nightly showing.
This is the kind of show that gets messy fairly quickly, and we're already sensing that's to happen with Kyra's appearance. Caro and Cashel seem to be a good match, but Cash has already expressed interest in Kyra as well. There's no telling at this point which couple will last–if any at all. At least they'll have the Fiji island villa to enjoy during the duration of the show. Love Island will keep us entertained for a while, but as far as longevity, CBS might not be the right place for it. We'll know more by the end of the five weeks; but for now, we'll put in our guesses, pick our favorite couples, and see if we get it right. That's about as much entertainment as you can get from it all.
Tell us what's wrong with this post? How could we improve it? :)
Let us improve this post!