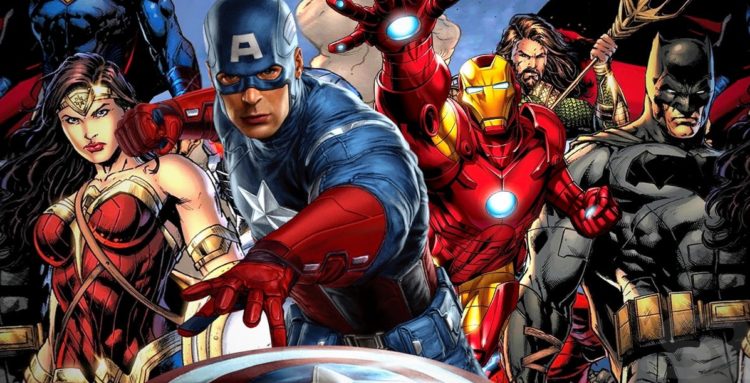 Just so we're clear here, we're talking about the COMICS, not the movies. The movies are obviously doing great, as the heroes and villains that have made their way to the big screen have been recording astounding numbers that have been due to the many people that have been wowed by what they see as the future of the comics and likely the only medium that many people are going to care about in the times to come. This seems like a sad commentary for a lot of us that grew up reading comic books and either hoarding them in boxes in our rooms or keeping the most prized issues in plastic sleeves or, if you were a true geek, sealed up tighter than Fort Knox.
To those of us that remember those days it's almost like saying that all that time we spent on those issues and amassing the collections we had or still have possibly was wasted in a way since they're going to be forgotten eventually in favor of the movies.Well you can hold onto that thought for a moment since at the present moment the comics are suffering a decline but they haven't gone bell up just yet. The news isn't all good though since at this point comics sales are down from just a couple of years ago and the consensus seems to be that the drop won't be corrected any time soon unless a big change comes along to right this slowly sinking ship. As you can see from the chart below sales hit a definite peak in the the 90s. But why? Well, a good way to explain it is that in the 90s everything got so insanely edgy that it became commonplace to see heroes become a lot more controversial and, despite the horrendous costume designs, a lot more popular since they were taking on a new and decidedly more dangerous look in some cases.
In other words, heroes were starting to change to acclimate to the rising threat of the villains and people loved it. But what happened then?It would seem in the mid to late 2000s that the sales were making a comeback again, but that was only momentary as another slump came along and was only relieved by a series of successes that just barely managed to keep things moving in an upward trend only to see them go down again. In fact at one point Marvel Comics was close to going bankrupt since its sales have never quite recovered from that horrendous slump. One issue however is that the statistics don't tell us everything. The numbers won't reveal the real heart of the problem, which at this point is that too many books aren't selling nearly enough to make up for the lack of interest that people have been feeling.
Putting aside the numbers and the sales reports at the moment, one of the biggest reasons that the comics aren't selling and why people seem to have lost interest is that the material has become outdated and more than a little stale. A lot of people might stand up and say that this just isn't so, that the heroes and villains we've loved for so long are still popular and still just as great, but the truth is that so far the old-timers have been hanging on over and over and haven't changed nearly as much as we need them to since the writers have been adamant about keeping them around and not moving on with the newer characters that could possibly carry the many different titles if they were allowed to.
It is kind of hard to move on from the heroes and villains that we really like, as it's been proven since the death of Superman, but the whole idea of keeping them around through one time paradox or hard to explain but ultimately accepted story line is growing old and people are getting tired of it. You can only use so much comics magic to keep bringing people back until fans finally say 'meh' and turn to something else. At this point other graphic novels have been on the rise and other comics have been stealing the thunder from DC and Marvel without them realizing it until it's become apparent that their numbers are dipping dangerously low.
The moment to finally embrace the future of the superheroes is nearly here in the movies, but in the comics they've been keeping things as stationary as they can no matter how many story lines have been concocted to phase certain heroes out and bring new ones in. It's time to move on from the old heroes and villains, if only to give the fans something new and someone else they can cheer for.Otherwise the current trend is a road to nowhere.