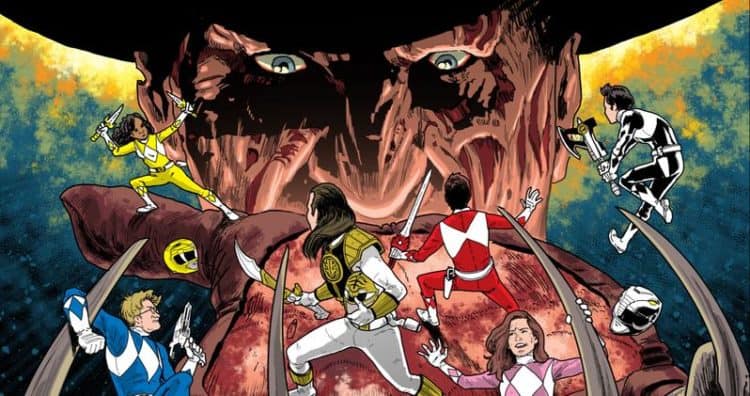 Can teenagers with cosmic powers and martial arts bring down a being that's bound to keep coming back and striking at them in their dreams? It feels as though plenty of fans of the Power Rangers would state that Freddy Krueger, Jason Voorhees, and Pinhead wouldn't stand a chance against the Power Rangers, possibly because they're just too tough and disciplined, physically and mentally, to be taken down by such creatures. But they're teenagers, they're human, and this means that they're vulnerable to just about anything that a human can be vulnerable to. Of course, that really depends on the writer and how they're going to adhere to the story for each character since sometimes the most unlikely character can beat some of the most powerful in the comic world (cough, cough, Squirrel Girl, cough). But when you're up against an enemy that can strike at you from a different dimension, that being the one where your mind sends you when you sleep, all the discipline in the world might not help since Freddy doesn't have a lot of use for things like rules when he decides to target someone. And in the real world, where Jason and Pinhead tend to exert the greatest influence, it feels as though they'd make short work of the Rangers, especially since the fact is that no matter how much damage he takes, Jason just keeps coming back, and Pinhead has the armies of Hell to call upon if he needs to, which he usually does since he doesn't do a lot of fighting.
This is one of those times when all the fancy martial arts and cosmic powers tend to fall a bit short in the face of something that the Power Rangers might have seen facsimiles of in the past but have never really had to deal with since Freddy, Jason, and Pinhead are all whimsical, unapologetically evil presences, no matter that some folks would label Jason as a sympathetic villain. The fight would be one that any fan might want to take a look at, and they can since the comics are actually kind of fun to read and even laugh at since one could only imagine that Freddy wasn't going to take a whole lot of things that seriously since he's usually been kind of a prankster along with being a psychotic maniac. Jason was bound to be all about his business, while Pinhead was likely to wax on about pain, torture, torment, and his allegiance to Hell and what would happen to those that stood in his path. If you've watched any of their movies then you'll know very well that a lot of this is true since the villains are the types that will often talk a little too much and take way too much time since otherwise they might actually kill their objective and the story would take a very dark turn. Imagine the Power Rangers falling to Freddy inside the dream, and in the real world, they get hacked to bits or turned into high-powered Cenobites. Wouldn't that be interesting to see in some alternate universe? Some folks might say yes, but others might balk at it if only because they don't want to see a group of their favorite heroes getting diced or turned into monsters.
Just imagine if someone had the ambition and the ability to make this into a feature film, as well as the permission to do so. That would be all kinds of awesome since it might actually raise the stakes for the Rangers and give fans a bit of something darker that would really test the limits of their abilities both physically and mentally. It would be interesting to see just how mentally disciplined the Rangers are and how they would go about facing a threat that isn't bound by as many rules as many of their opponents have been. A dream demon that can strike at his targets when they're asleep has always been a terrifying proposition since most sentient beings have to sleep or at least rest, and Freddy's been seen to be more than effective at reaching out even during a daydream when he really wants to rip someone apart. The dark implications of pitting the Rangers against these three movie monsters is something that will likely never happen on the big screen or even on TV, but it would be interesting if something like this did come about. Seeing as how this is a fan series it does make sense to think that fans might want to see this happen for real, but again, it would take a lot of ambition, permission, and probably a good amount of money to secure the kind of effects that people would like to see. But it would be beyond cool if such a thing were to happen.