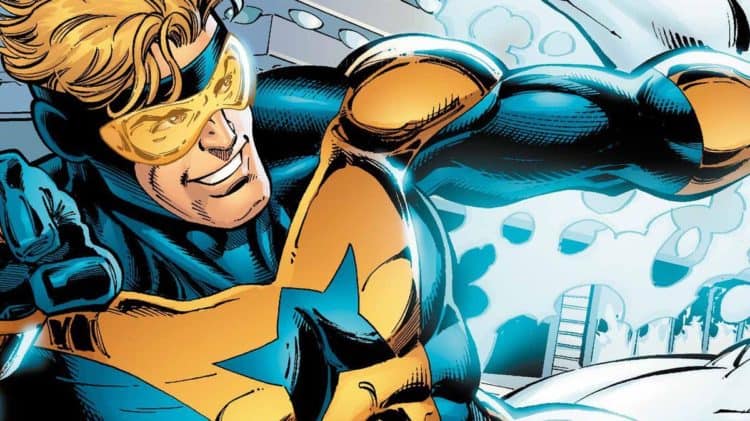 If you ask someone to name a dozen popular DC superheroes, they might not mention Booster Gold. The name itself even sounds funny, but that's because it was meant to be. Think about how other DC heroes like Plastic Man or Shazam have comical names and funny-looking costumes, but what they bring to DC. In other words, you shouldn't judge certain characters based on how they look. And if you've seen Shazam's movie, you know how a character like that can have his own solo movie and work. First and foremost, when it comes to DC, they thrive off the corny and silly. Sure, you can argue that kind of thing mostly worked in the '80s, but with the right writers, it can work now. Again, I believe the Shazam movie is a fine example. DC can certainly do that again with an unexpected Booster Gold solo movie.
So can a Booster Gold movie work in the DC Cinematic Universe? Talks of a Booster Gold movie happened at Warner Bros. in the past, but as of now, there's no news of progression. On the surface, I would actually question it, because what about the main DC heroes? I mean, is anyone else still scratching their heads over the fact that Harley Quinn got her own movie before the Flash and Green Lantern? And please, can someone tell me when Man of Steel 2 is coming? I'd very much like to know, but if Warner Bros. intends to make us wait longer, I guess they'll have to continue building their DC Cinematic Universe. They can do that with Booster Gold, while also expanding the DCEU.
I think one of the best ways for them to do that is to keep giving us the solo movies. After the 2017 Justice League movie fell short at the box office, Warner Bros. made the wise decision to focus more on solo movies. After that, we got some of its better films, including Aquaman and Shazam!, and it seems like they're on a better track. Will this new game plan work? I really hope so, but in terms of their team-centered movies, I think they can make a comeback. In fact, based on the stellar reviews for James Gunn's The Suicide Squad, I think they're already starting. That's a good sign, but I also think they can amp up the ante with their solo movies.
How do they do that? Well, I suggest the go big or go home mentality. That can certainly end both ways (like it did for them in the past), but with the right writers and directors, I think they can make it work. What I'm suggesting is that Warner Bros. takes a dip in more unfamiliar waters. It looks like they're already attempting to do that by giving more lesser-known DC characters a chance for a solo movie, including Hourman. Ask the casual fans who Hourman is, and they'll probably think you're joking. That movie is still in the development stage, so we're not even sure if it will happen yet, but time will tell. If it does, then it will serve as a stepping stone to Warner Bros. and their willingness to give lesser-known heroes their own solo movies.
With that in mind, Booster Gold is one of those lesser-known heroes Warner Bros. can get very creative with. Him being a corny and colorful character allows them to embrace the fun side of DC. In fact, it's an opportunity for them to go back to their '80s roots. Booster Gold was a character created Dan Jurgens in 1986 and served as a member of the Justice League. What really separated him from the other DC heroes wasn't just his shiny costume, but the fact that he's literally from the 25th-century. We've seen other comic book heroes from the future before, such as the no-nonsense super solider Cable, but Booster Gold is the exact opposite of Cable.
For instance, Booster Gold has no superhuman powers. Much like Tony Stark, all of his abilities come from futuristic technology. The only difference between them is that he didn't actually make any of it. In fact, he stole all of his equipment from the Metropolis Space Museum. This was a future museum dedicated to collecting superhero and villain paraphernalia, including costumes, equipment, pretty much anything the heroes and villains of the past carried on them.
For someone like Booster Gold, this was, no pun intended, a gold mine. This includes his signature visor, which has infrared and magnifying capabilities, gauntlets that project force blasts, a force field belt that once belonged to Brainiac 5, a flight ring from the Legion of Super-Heroes, the power suit that grants him super strength, and a time-travel circuitry. All of this equipment makes him a formidable foe, but his journey to the present is where his journey began.
Since Booster Gold (real name Michael Jon Carter) was a failure in the future, he decided to use the technology to travel back in time. He used his knowledge of future events in his favor to stage heroics in order to gain publicity. This did make him a hero in the public's eyes, but this was all motivated by his own glory-seeking aspirations. Eventually, overcoming through his own personal tragedies and working with other heroes made him a better man overtime and a true hero.
This is something that can be thoroughly explored in a solo movie. When I think of Booster Gold, I think of the hero's journey that involves the arrogant and self-centered man becoming a selfless hero. We've seen this before with Iron Man and Doctor Strange in the Marvel Cinematic Universe, but I think the DCEU should start showing that as well. This is a humbling and revealing journey that we don't get to see many heroes take, but there's no better DC hero to utilize it with than Booster Gold. The first time I saw him was in the animated Justice League Unlimited series with his robot sidekick Skeets at his side. And for the record, Skeets has to join him in his solo movie. How can you possibly leave out a funny robot sidekick?
One thing's for sure, if the solo Booster Gold movie does happen, I hope nobody mistake's him for Green Lantern. And you know what? Why not add in his old time buddy Ted Kord, the original Blue Beetle? Having him join Booster Gold would be a good buddy-cop-style movie that could be a lot of fun.
What are your thoughts, DC fans? Do you think Booster Gold is worthy enough to earn his own solo movie?