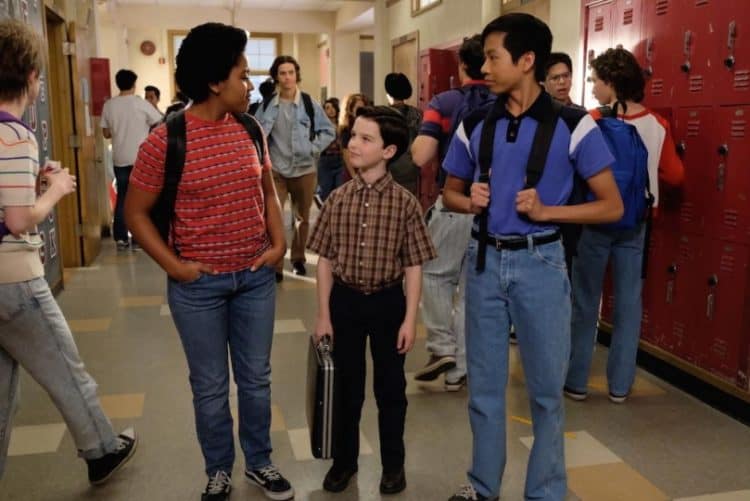 The Big Bang Theory recently filmed its last season and viewers got a chance to say their final goodbyes to its cast, especially their favorite actor, Sheldon Cooper. However, that's not the last they will still get to see of him as he is still part of the show's Spin off – Young Sheldon. This was created following The Big Bang Theory's massive success. CBS decided to have a sequel to show viewers how Sheldon Cooper was brought up. Spin-offs prove just how good a show is. Over the years, there have been several spinoffs from successful shows, most of which have gained tremendous success on their own.
About Young Sheldon
Young Sheldon is a show that follows the life of nine-year-old Sheldon Cooper and his family who live in East Texas. The series, created by Stephen Molaro and Chuck Lorre, features Sheldon Cooper's life between the '80s and '90s, where we find a nine-year-old Sheldon attending high school and trying to fit into the world around him. His family has a hard time dealing with their child's unique capabilities and social awkwardness. Jim Parsons, who plays the adult Sheldon Cooper, is the one who came up with the idea to create Young Sheldon, and shared it with the network and producers of The Big Bang Theory. After Ian Armitrage and Zoe Perry were cast, CBS ordered the series and it premiered as a special preview. Later on, the series was picked up for a full 22 episode run.
Young Sheldon Has Been Around for Almost 5 years, Could it be Time to End it?
Well, it depends on who you ask. There are quite a number of people still hooked to the show and they would definitely want it to go on. On the other hand, some critics and viewers feel that the show has overstayed.
Main Reason for Young Sheldon's Cancellation
The parent show is long over. Young Sheldon began as just another of Jim Parson's ideas. He shared it and lucky for him, it got picked up. It has since enjoyed a large fan base thanks to Bing bang theory- as viewers can relate the two shows. However, now that The Big Bang Theory has run its course and recently ended, we need only wait and see if Young Sheldon will be able to withstand the pressure of a stand-alone entity. Reasons against Young Sheldon's cancellation
1. Viewers Can't Get Enough of Seeing Sheldon Cooper's Past
The show was such a hit with its second season such that the CBS network decided to renew it for 2 more seasons. According to Cheat Sheet, the President of CBS called the show a powerful performer for the network. She said that Young Sheldon had an audience that towered over a lot of television landscapes. The show pulled in 11 million viewers per episode for season 2. The number dropped, however, as season 3 premiered. Nonetheless, the show still holds off its own as the 18-49 demographic-based audience still rake in highly.
2. The Main Character is All Grown Up
Ian Armitrage who plays the character of the Young Sheldon Cooper was 9 when the series first premiered. It's been 4 years and he, among other children in the cast, are all grown up. There's a huge advantage to this as having him all grown up means that the plotlines are getting more and more developed, and fans can get to see how Sheldon Cooper tackled teenage hood and adolescence.
3. The Show Provides a Great Alternative to The Big Bang Theory
There is no doubt that The Big Bang Theory was a major sitcom, but now that the show is done, viewers who had already been accustomed it can turn to Young Sheldon to fill in what is left of their Sheldon Cooper appetite. One of the major reasons why The Big Bang Theory ended is because, most of the cast felt that they needed to move past the show. At the time of their departure, Jim Parsons had been offered a very lucrative deal. The deal would have seen him earn a whopping 1 million dollars per episode, but he turned it down. It seems, in this case, even money couldn't motivate him enough to go on.
4. The Retro Fondness Nostalgia is Worth Watching
Young Sheldon is set in the late '80s and the early '90s. The show taps into the nostalgia of all things during the '80s. Speaking to the Independent, Zoë Perry who plays Sheldon's mother stated that the cast loves the nostalgia factor of jumping back to a time when technology wasn't that much of a big deal as it is today.
5. Powerful Ratings
Over time, Young Sheldon has managed to amass a huge following. He is a ratings juggernaut as it brought about a 1.8 in ratings. It has a 76% average approval rating on rotten tomatoes and a 6.61 out of 10 score on the review aggregator. Metacritic weighted the show at an average of 63% out of 100 and indicated generally favorable reviews. Most of the raves that the show gets are based on the charm and appeal exuded by the cast. The cast is also relatable and fresh and thus brings a lot of the positive criticism to the table.
Summary
The Big Bang Theory might be over but Young Sheldon has just begun spreading its wings. Based on the arguments above, its not yet time to cancel Young Sheldon. To be fair, since the show has been great so far, it deserves a chance to prove that it can stand on its own without relying on The Big Bang Theory. Young Sheldon is currently on a head to head battle with Walton Goggin's 'The Unicorn' which is favorable to a much older audience. However, from the look of things the young Sheldon Cooper has his way with people.