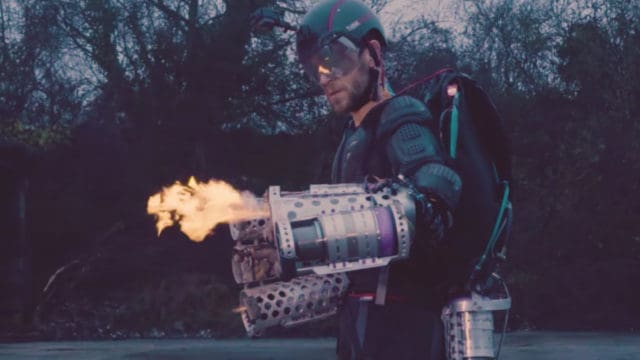 When you see suits like the one in the original Iron Man your brain processes that these types of technologies will be possible but when you see them in real life it's still just as awe inspiring as when you see them on in the fictional movie world. However, when it's someone who's putting this thing together in the comfort of their own home a la Tony Stark it's even more impressive. While there's been plenty of talk to real life Iron Man suits for the past few years, this is about the closest thing you'll see to a flying one yet. According to Nerdist:
The real-life Iron Man suit – christened Daedalus – is the brainchild of England's Richard M. Browning, an ex-Royal Marine reservist who wants to build "an entirely new generation of human flight systems for commercial and entertainment applications." In the above Red Bull clip, Browning shows off the suit, which utilizes multiple Kerosene-fuelled micro gas turbine engines to achieve lift. The suit also requires a high level of core strength in order to control the engines, which put out 130 kilograms (or 286 pound-force) of thrust.
If this setup sounds extremely dangerous, that's because it is! The jet engines obviously give off a lot of heat, and they can also run out of fuel unexpectedly, which happens in the Red Bull video at around 3:10. The engines are also extremely loud, as demonstrated by one of Browning's test videos posted to Facebook:
But don't forget, even Tony Stark had his issues in the beginning. This could very well be the start to a real Iron Man suit.