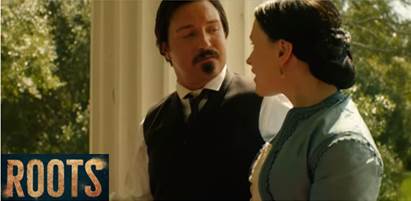 When the television miniseries Roots first aired in 1977, it took the country on a heart-pounding and heartbreaking journey to the past. Never before had such gripping, historically reflective fiction been portrayed on the television medium. It was necessary for a country that was just barely beginning its journey to racial equality. Now almost four decades later, a revival of the original miniseries will show America just how much our country has, and has not, changed. The re-imagined Roots will air as a four-night, 8-hour series event starting Memorial Day on the History Channel, Lifetime, and A&E. This time around the series's content will be shepherded by seasoned actors such as such as Forest Whitaker, Laurence Fishburne, Anna Paquin, and Malachi Kirby as the infamous slave "Kunta Kinte". Prison Break alum Lane Garrison, who stars as racist Confederate soldier Frederick Murray, discussed with us the emotional challenges and importance of revamping this successful series.
You've played a wide array of characters in your career. What was it about playing Frederick Murray that was different?
When I take on a role, I go all in. Meaning I stay in character from the minute I hit the set until shooting is done. With Frederick, it was different because he is a man driven by fear and hate, a man who was constantly belittling African Americans and using language that would make most men cringe. I made it a point in-between takes to get in and out of character quickly because I did not want to stay in that mindset for the actors around me. It was the first time I worked where I found little triggers to safely get back into character. Also with Frederick I did a complete physical transformation, gaining weight, growing a beard, using a wig…I wanted him to look as ugly and mean as humanly possible and I think it paid off.
Was it difficult to get into the mindset of such a prejudicial character from a completely different time period?
It was always difficult to get in the mindset of someone who is filled with so much hate but I knew it was my responsibility to tell the story and represent men of the south who had those view points on slavery. Once I understood that this was a man operating on fear the rest was easy. We had amazing costumes and locations that made you feel like you really were in that time period.
Did you watch the original "Roots" to prepare for this role? How do you think this incarnation of "Roots" differs from the original?
I watched the original Roots in history class when I was 13. I remember being truly moved and affected by it. This version I feel can have the same impact for younger generations that never saw the 1977 classic. For the people that saw the original, they are going to be blown away, each night is like an epic movie whereas the original was all shot on the backlot at Warner Brothers. The locations, the acting, the directing is out of this world.
You worked with a large group of eclectic, well-known actors on "Roots". What was the atmosphere like on-set?
Because of the subject matter and the intensity of what we were shooting we all tried to keep it light in between takes. We laughed a lot, sang a lot so that each day you didn't have to go home feeling miserable. It was a blast and an honor to work with such talented actors.
Why do you think this remake is important for people to see?
Well the original was made in 1977, there's several generations of people that never saw it. I feel it's poignant today, racism still exists, hatred still exists. When I walked out of this version of Roots, I wanted to love people, and help people. I think we can all be reminded every now and then, so that history does not repeat itself.
Given that there is another remake on the horizon, I have to ask about "Prison Break". As a former actor of that show, what is your take on the Prison Break Revival? What are you hoping to see from it?
I can't wait to see the guys back at it. All of them are good friends of mine and it will be great. I don't know the premise yet but maybe they can bring Tweener back from the dead.
What is your favorite acting experience to date, or your most rewarding or educational acting experience?
Honestly I love every job, I love being on set. But I will have to say, Roots is so far the most rewarding because I feel part of a production that is literally going to be a part of history.
What project do you have coming up that you are most looking forward to?
I'm going to go shoot a film this summer in my home state of Texas called "The Iron Orchard." It's based on the Tom Pendelton novel of the same name. Its set during the oil boom in the 1930's and the script is fantastic.
https://youtu.be/ZZwaqFhs9fo
Roots airs Memorial Day on The History Channel, A&E, and Lifetime.