One of the most surprising twists in season five of Supernatural has been fan favorite Bobby Singer (Played by Jim Beaver) landing in a wheel chair at the hands of the manipulative Angel Zachariah. Bobby began establishing a legion of fans from the moment he first hit the screen, and those very same fans are looking forward to the moment that Bobby walks again. But, will he? I got to speak with Jim Beaver yesterday and he brought some insight to the crafting of this '˜damaged'Bobby that suggests his condition may be one of the few threads of storyline to be treated with absolute realism.
"…I have no idea where they are going to go with this situation, but I wouldn't assume that everything is going to be all right…"
Did you ever think that Bobby would become so popular on a show that seems skewed towards younger audiences?
Not in a million years. I'm still kind of coming to terms with it, it's very surprising. You've got a show with two young incredibly hunky guys in the lead, I just never would have expected the audience to react at all to a third incredibly hunky guy. I'm pretty well taken aback by the whole thing. Surprise is good in life.
Were you a fan of fantasy and horror before Supernatural came along?
No, not at all. I used to occasionally watch Buffy with my wife, she was a big fan of that. It really wasn't a genre that I paid a lot of attention to. Frankly, the thing that caught me up in the show, besides getting hired for it, was how much fun the characters are. When I think about the show I don't think of it so much in terms of the fantasy elements, more the characters and the relationships. In that case, I've always been a fan of shows with good characters, and good relational interactions.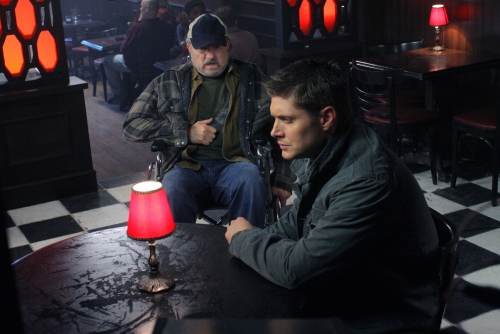 Do the scripts continue to surprise you as much as they did in the beginning?
The writers are always surprising me with how inventive they are, and how clever the dialogue and situations are. I started out in the business writing for television, and one of the reasons I'm happy I'm not writing for television any more is that I was never good at continually generating fresh ideas and these guys are great at it. The nature of the show is supposed to be surprising, and I love the different turns they take with it from comedic to dramatic to back again. Considering it is a genre that wasn't very high on my radar, it's really become something I would enjoy even if I weren't on it. That's pretty high praise coming from me.
Despite being wheelchair bound Bobby seems to be resilient so-far, maybe a little grouchier. Is he going to continue to be strong, or will we see him start to change because of his predicament.
Tonight I think you are going to see that Bobby is not just snapping back to the same-old Bobby. I think it's a very devastating situation for him to be placed in, and I think he is a little devastated. It's funny because I get a lot of messages from fans saying 'I hope Bobby's out of his wheelchair soon,'and this is a fantasy show and we've had people come back from the dead, but the fact is there are millions of people around the world who would like to get out of their wheelchairs and they don't. I have no idea where they are going to go with this situation, but I wouldn't assume that everything is going to be all right again simply because it doesn't always work that way in the real world.
What can you say about tonight's episode?
I was running around trying to keep it all secret, the aging things that happen to the characters in this episode — then it turns out they are putting it in the trailers. So, I guess it's not a big spoiler to say Bobby and Dean both put on a few years in this episode. I think the fans are probably going to love Chad Everett as the older Dean, it was really wonderful casting for the part. He's got a lot of the same qualities Jensen brings to the part, and I think the fans are going to have a lot of fun with it. There's some dark stuff in it too, but it wouldn't be Supernatural without some dark stuff.
Supernatural airs Thursday. October 29 at 9pm EST on TheCW
'SUPERNATURAL'– (9:00-10:00 p.m. ET)
'The Curious Case of Dean Winchester'(TV-14, DLS) (HDTV)
Sam (Jared Padalecki) and Dean (Jensen Ackles) discover a witch (guest star Hal Ozsan) is running a high-stakes poker game where the currency is life years vs. money. Bobby (Jim Beaver) sees the game as a chance to get out of the wheelchair and bets 25 years, but loses. As Bobby begins to age rapidly, Dean steps in to save him but also ends up turning into an old man, leaving Sam holding the bag for their survival. Robert Singer directed the episode with teleplay by Sera Gamble and story by Sera Gamble & Jenny Klein (#507).