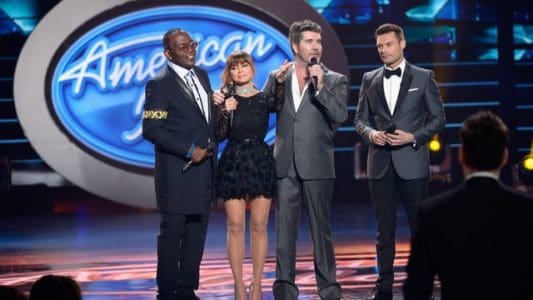 Look, we all like American Idol. Even people who argue that they hate it have seen someone on the show they liked and wanted to listen to. It's a good show. Watching young, talented singers battle it out for a big enough slice of the audience to become the next American music sensation. It's got everything. In fact, it's got so much that sometimes it's just a little too much. We think after 17 seasons it's time to upgrade a few things.
1. Product Placement
We're all for seeing some of our favorite products show up in our favorite shows. Everyone recognizes that using star power to boost a brand works. Unfortunately, for years Coca Cola was so synonymous with Idol that we wouldn't be surprised to see a Kelly Clarkson flavored soda. Sure, they've changed advertisers over the years, but there needs to be a limit. After all, it's one thing to see the stars of The Fast and the Furious swill a corona at a party, but it would be a whole lot less appealing (and send a terrible message) if they had a six pack riding shotgun. Maybe the show should care more about giving fans good music than selling soda.
2. Sharper Than a Skittle
The only edge American Idol allows is about as raw and intense as the T-Birds from Grease, with less cool cars. We're not suggesting that anyone should be doing Cool It by Spice on primetime, but maybe a little musical diversity wouldn't hurt. Let the people sing about things that matter and do songs that remind us why music has been banned in some places. The power of song cannot be overstated, but it loses impact when you need every song to be rated E for everyone. Instead of being a forum for the safest and most repetitive, Idol could be a powerhouse showcasing the real dynamism of songs.
3. Bring Back Simon
Speaking of things with attitude, we miss Simon Cowl. No, he's not nice. He's got (or at least had, he's more mellow now) the manners of a rock covered in pigeon dung. Still, he wasn't afraid to say what he thought. Simon brought a humorous level of relatable cruelty. It would be great if we lived in a world of sunshine and rainbows where everyone sings like Trolls, but in reality, some people do not need to be encouraged to keep singing. We'd watch 17 more seasons if they could just bring Simon back.
4. Comedy Vs. Cruelty
We've all enjoyed some of the mock auditions. The funny stories and singing so bad that it makes us feel like Pavarotti in the shower. There's nothing wrong with having a good laugh at yourself. Idol knows how to bring the fun with a little self-abasement, but sometimes they take it too far. It seems like they're picking on the less fortunate. Then again, it can be hard to tell whether some of these people are dim and awful or just brilliant at deadpan comedy that went over the audience's head. Take for example Keith Beukelaer, of the worst audition in Idol history. He might be a none too smart talentless trainwreck or a great actor who's willing to lay it all on the line to become a comedian. Surely there are enough terrible auditions without airing the ones that just seem like the producers are creeps who want to pick on the less fortunate.
5. No More Guitars
Learning to play an instrument is lovely and we can admire how much cooler it is when someone is a double threat. However, Idol is a voice competition. Do a spinoff for talented guitar players and pianists; we'd watch. However, this bizarrely unequal playing field they've created is not right for the show. We want to see the best singers, not just a bunch of guys with guitars who can sing too.
6. Tears of Joy, Tears of Pain, Tears of Frustration
It's completely understandable that emotions are high on the show. Some tears are to be expected, but not from literally everyone. Seriously, some episodes it feels like this is so trite and common that it would make a great drinking game. If you see someone cry, take a shot. On the other hand, we don't want to give anyone alcohol poisoning. There are 17,400,000 results if you google "American Idol Crying," can we say overkill much? This could easily be fixed in editing.
7. Too many Commercials
Not just an illusion, there is more commercial time than ever before. Enough is enough. To be fair, it's not only Idol that is guilty of this, but there are far too many commercial breaks in the show. When you do it a couple of times, it builds suspense. Unfortunately, when you do it at the end of every song, then you're severely shortening our patience and devaluing your product. A little less sponsorship and more music would be nice.
8. Make it Yours
It's incredible to see a talented young singer take an epic song and add some distinctive flavor to it, so it reads as personal. We like the mashup of new style and old favorites. Sometimes it goes so wrong that it's just painful to watch. If we could make one suggestion, maybe no one should ever try to be Mariah Carrey ever again. That would be just great thanks.
9. Been There, Heard That
Understandably, even a colossal music based show like Idol can't get the rights to air every song. Some artists just don't want their work associated with the show. That's their right, and we can stand behind the decision. Alternately, there are some songs so ridiculously common on the show that we are beginning to wonder if someone is paying to get their music on the iconic show to sell more albums. Perhaps the prime example is "Against All Odds (Take a Look at Me Now)," by Phil Collins. This song is the most often covered of any on the show and it rarely, if ever, goes well. Perhaps Idol should have a five repeat maximum and then cut a song off.
10. Maybe Talent Should Matter Most
Mistakes happen, especially when an audience skewed toward teenage girls makes final decisions. We aren't saying these kids shouldn't get their vote, but sometimes it means letting go of serious talent. The judges have done it too. They famously passed on both Amber Riley and Naya Rivera. Both of those incredibly talented young women went on to star in Glee. American Idol is essentially a singing-only talent show on a massive scale. We just think the talent should be rewarded more often.
Final Thoughts
Since the first episode back in the summer of 2002, we've enjoyed the ride this show provides. The concept is solid, but the execution could use a bit more polish. It wouldn't take much effort to take the show up a notch. We'd like to see it read as a slightly more mature and beautiful version of itself. There's nothing so wrong that they couldn't fix it at will. It would be great to see a show like American Idol take the high road, and clean up their acts, just a little more.