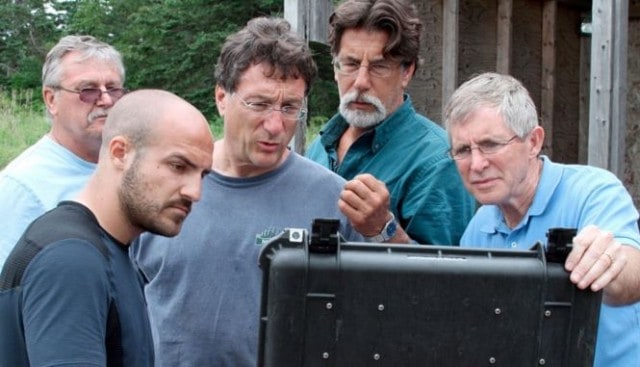 Three years ago I strolled through the living room and saw that my husband was watching a show called The Curse of Oak Island. I thought that was strange as I am the paranormal buff in the family. From the title alone, I thought it would be much like Cursed: The Bell Witch, a show that left even me, a connoisseur of everything and anything ghostly, totally underwhelmed. Luckily, The Curse of Oak Island is something completely different and once I sat down and watched that one episode I was hooked.
Luckily, the History Channel app let me catch up on the episodes I missed, and still do miss it at times, as the show is important to me but not so important that I would change plans to see it, and no one I know is having an "Oak Island" get together (despite the great ratings for the last episode they aired) but I faithfully watch each episode eventually. There are times that I question my devotion–the show can be slow moving at times and often anti-climactic despite the dramatic music and voice overs leading fans to believe there will be a big payoff and the mystery will be solved–but no dice so far. Still, I'm in it for the long haul as The Curse of Oak Island is one of the most unusual reality shows on TV so there are a few good reasons why I'm hanging in there.
Rick and Marty Lagina Are So Relatable
How many times has a legend piqued your interest where you just had to know more? Once The Reader's Digest published an article about the mysterious island and possible buried treasure the boys embarked upon an obsession that would last over half a century. The brothers are now living their dream as they bought into controlling interest in Oak Island and are starring in a TV show about pursuing a puzzle that started as a childhood fascination. Few of us get to do this so the fact that they kept their dream alive is admirable.
The Mysteries of History
Why was President Franklin Delano Roosevelt intrigued by Oak Island? What does the writing on that parchment they found mean? How did that 1795 Spanish coin end up down there? Was the money pit booby trap set by someone to protect the treasure, of was the flow of water due to natural phenomena?
Everything Thrown In But the Kitchen Sink
The questions is who is not potentially involved in the Oak Island treasure mystery. Some believe that pirates used the money pit as some sort of safety deposit box, which seems to be more fantasy than a logical supposition but who doesn't like a pirate treasure tale? Why would someone think Marie Antoinette had some treasure buried there? How about that theory about King Solomon's menorah? And of course, the Freemasons and The Knights Templar are purported to be involved as they are said to have a hand in just about everything mysterious, right? You can glean some "fractured" history if you watch the show long enough, and armchair debunking some of the most outrageous theories is part of the fun.
Stuff You Don't See Every Day
I love the robot they use to get film of what's down there. I also liked that they showed how coins are tested for authenticity. Those big drilling rigs are rather amazing as are the men who dare to operate them. How they have to remove metal walls that others used during prior explorations makes the dig that much more challenging.
I'm Invested in the Show
Unlike the Lagina Brothers, I have no real time or money besides my cable bill invested in this show, but I've watched it long enough to want my payoff. I know that no one is going to die to fulfill the prophecy (at least I hope not) but I didn't sit through all of those rehash clips during Season 4 for nothing. I want to see the moment when a glittering treasure is revealed and the crew realizes their dream. The Curse of Oak Island has been on the air far too long for it to turn out like Geraldo Rivera's Al Capone's hidden vault segment where we found out it was just a lousy letdown. I don't want to see these the Lagina's and pals go home empty handed, and some say that Season 5 will have some exciting surprises in store. Let's hope so.