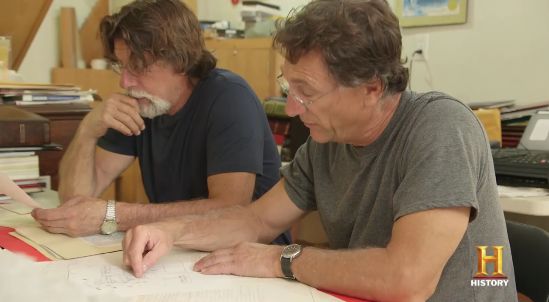 The Curse of Oak Island hasn't been short on drama this season, and tonight's episode promises more. Rick and Marty decide to dig a third hole at the Money Pit after Rick finds even more evidence connecting Oak Island to the Knights Templar. Even the show's Facebook page has a clip entitled "The Wait is Over." However, fans seem to be getting restless. One Facebook comment reads:
Will Marty and Rick finally find what's hidden deep below mysterious borehole 1-X? <commercial break> Where several treasure hunters died more than a century ago? <commercial break> Or will the island, where ancient explorers visited in 1403, trick them again into going back to the Money Pit?
Surprisingly the show has been on for four seasons and people are just getting this now? The only way you keep a show like this running is to make up plots like this. Do we really believe there's any connection between Oak Island and the Knights Templar? I think people want to believe this but come on. Let's be real for a moment here. To extend a show you have to leave the audience in a lurch and not give on too much information. This is such a simple formula. Make up a theory and spend an entire season seeing if you can prove it. The formula works.
People still tune in. And they tune in because of hope. I can't help be curious myself as to what the outcome is going to be. Because there's always that chance. There's always a "what if?" And it's that "what if" that keeps people coming back. I would say that this is what keeps the Lagina brothers coming back but I'm pretty sure a paycheck is having a bit more influence on these guys right now. Still though, tonight's "Hyde Park and Go Seek" is shaping up to be a good one!
Check out the trailer below: