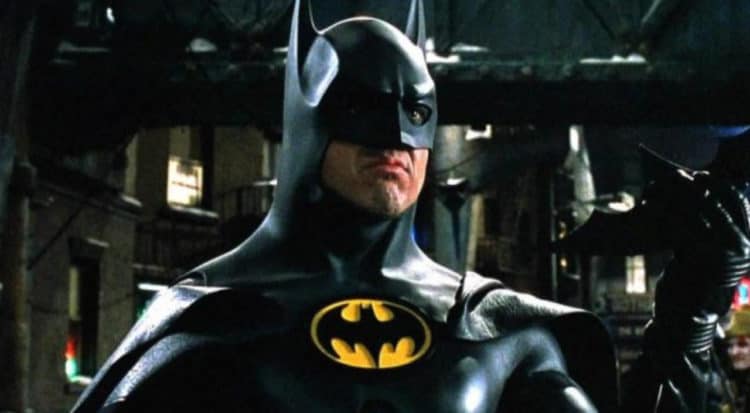 At this point, a lot of us should be grateful that Tim Burton's Batman was made in 1989, well over four decades after this spot, since unfortunately the whole 40s vibe just doesn't suit the dark knight at all. Of course, that's likely because we're so used to the dark, sleek look and the growling voice that the vigilante hero has in this day and age and don't know much else. To a lot of us, the 40s are a bygone era, something that only the oldest among us can possibly remember since they were there and they can recall at least a little of what life was like back then. But Tim Burton's Batman might not have fit in back then if only because it did get a bit violent and there were a few moments and situations that might have been deemed as not suitable for kids, whereas kids were actually a big part of the audience when Burton's movie came out, just as they have been for a long time when it comes to Batman. Of course, this is a lot of talk from someone that wasn't alive back then, so perhaps a good chunk of this movie would have been accepted and only a few things might have been taboo. The implication that Batman had to search Vicki Vale for the camera film would have been a bit scandalous no doubt, though it does feel safe to say that women back in that day would have still been a bit interested, but only when there was no one around to notice.
There are still a lot of people that hold to the idea that Burton's Batman is THE Batman and the best among them since Michael Keaton nailed the most iconic line and took the movie to another level that hadn't been thought of yet. Up until that point, we had Adam West as the best example of Batman, and while he and Burt Ward were entertaining in their time, it was a definite relief for a lot of people when Michael Keaton came around, along with Jack Nicholson, to breathe new life into the franchise. In his own way, Jack really came close to upstaging Keaton since the two have very different acting styles and it shows. Where Nicholson was more of a showman, Keaton was far more reserved, which might not have been the best thing back in the 40s since it would appear that heroes needed to be larger than life and as bold as possible in order to really stand up to the bad guy. But as many of us had the chance to see, once Keaton and Nicholson met up finally it wasn't so easy for the former to overpower the latter with his acting skill, since both of them have a very well-defined manner that is different enough that they ended up complimenting each other in a big way without either actor really stepping on the other's toes.
The evolution of Batman has been ongoing for years now and as we've seen it's gotten better and had a few dips here and there were certain actors have taken on the role. But just think if Tim Burton's movie had started it all back in the 40s. How different would things be now? It's likely that we would have Batman Beyond as a big-screen movie by now, maybe. But it's enough to wonder if the same actors would have taken on the role if Batman had seen this kind of success in the past, or if things would have changed in such a fundamental way that the vigilante would be insanely different at this point and perhaps being played by someone else. A lot of people might say that of course, Keaton would still take on the role, but without being able to see what might happen, we can't really say for certain. All in all, it does feel that we've seen the best followed by a couple of attempts that were anything but good, only to be followed by Christian Bale, who was good but definitely different. Then came Batfleck, and eventually we're going to see Robert Pattinson attempt to take the franchise forward in another manner. While some people are apprehensive about it, others think that he'll nail it without too much effort.
From the first looks though it almost appears that Pattinson's version might have been the type to be best represented in the 40s since not only does he have the look, but he's going back to the detective work that Batman has apparently been known for throughout the length of his long, LONG career. The hope of course is that Pattinson will kind of remedy the idea that Batfleck might have tarnished the vigilante's name, but we'll have to wait and see how it goes.