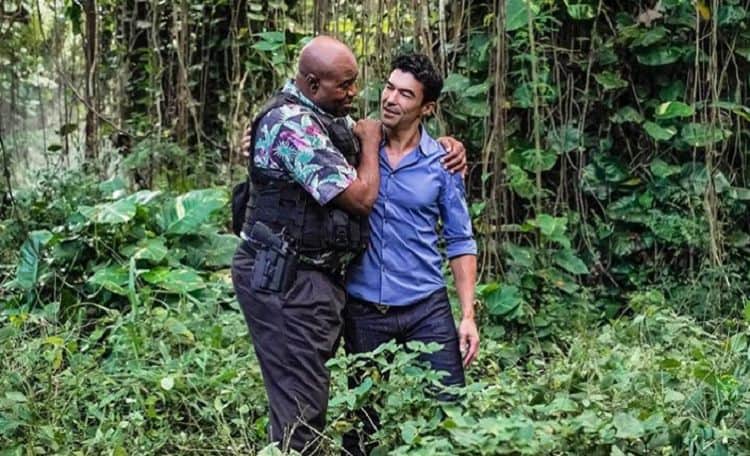 Ian Anthony Dale is an American actor that is best known for his role as Adam Noshimuri in Hawaii 5-0. He has also starred in a number of other popular shows such as Charmed, 24 and The Mentalist. Here are ten things about him that you may not know.
1. He Is Of Japanese, French and English Descent
His mother was born in Japan and moved to the United States when she was a teenager. His father is of English and French descent but has lived his whole life in the US. Ian considers himself to be an Asian-American and he is very proud of his ancestry. He is also proud of the act that he has been able to raise the profile of Asian-Amercian actors in the entertainment industry.
2. His Father Competed In The Olympics
In 1968 his father was selected as part of the national Ice Hockey team that competed in the Winter Olympics. He also played for the Minnesota Golden Gophers. Sport also played a major part in Ian's life when he was growing up. He had ambitions to play baseball professionally before he was sidelined by an injury. This was around the time that he started to become interested in acting, and so this seemed a logical step as a new career choice.
3. He Was Born In Minnesota
Ian was born in Minnesota and this is where he lived for his whole childhood. He has three half brothers and a sister and his family have always been very important to him. He no longer lives in Minnesota but his parents still live in the state. He tries to get home for every Thanksgiving and when he is back in Minnesota he mainly spends time with his family at his parents house. There are places that he does like to visit but his main reason for coming home is for his family.
4. When He First Moved To LA He Worked As A Carpenter
He moved to LA to further his acting career but he was not immediately successful. He had to work as a carpenter to make ends meet. A lot of his work took place on film and TV sets and this gave him an appreciation of how important every member of the crew is when working on a movie or TV show. According to MSP Mag the money that he earned from his carpentry was able to pay for his acting lessons. Carpentry was something that he carried on with, even when he began to get small acting jobs as it still helped him financially.
5. His First TV Role Was In Fastlane
The first TV role that he had was in the show Fastlane. He starred in the episode Mighty Blue as Jackson Yu in 2002. Although this was only a small part, it was an important first step in his career. He went on to star in single episodes of other shows not long after, including Angel and JAG. His first role in multiple episodes was as Avatar Gamma in Charmed.
6. He Has Played A Detective On Several Occasions
There have been a number of occasions when he has played the role of a detective. He told Twin Cities that whenever he has this kind of the role, the first person he calls on is his brother Robert. He works for the Homicide division in Minneapolis and Ian likes to make sure that the procedures and technical aspects he is portraying are all authentic. It also gives him a good excuse to catch up with his brother as they do not always get the chance to spend a lot of time together.
7. He Has Provided The Voice For Three Video Games
He has also done some voice work in three different video games. He provided the voice of Ricky Wong in Sleeping Dogs and Marvin The Thief in Battlefield Hardline. He also worked on Call of Duty and on this game he provided the voice for several different characters within the game. He has not done any voice work for games since 2015 and this is likely to be because his schedule is now quite busy and his acting is his main focus.
8. He Married Nicole Garippo In 2016
He and Nicole Garippo were married in 2016. Their first child, a son named Roman, was born the following year. They also have a daughter who was born in 2020. Nicole is a fashion designer who works for a high end sportswear company, Body Language Sportswear. She regularly posts family photos on her Instagram account and it is clear that she loves being a wife and mother. The family seem as if they are very happy.
9. His Son Considers Hawaii To Be Home
He told Hiluxury magazine that Hawaii feels like home to him and even more so to his son. The family rent a home here while is filming Hawaii 5-0 and it is somewhere that they all love to spend time. Ian has said that he feels very lucky to work in such a beautiful place. He is also thankful that when he has finished filming for the day he can come home and his family are able to spend time together on the beach. His son absolutely loves being by the ocean and Ian has said that it is definitely his favorite place to be.
10. He Has Directed One Episode Of Hawaii 5-0
He has recently made his directorial debut when he directed an episode in the tenth season of Hawaii 5-0. He felt that directing was the next step in his career, after spending almost twenty years working in front of the camera. The opportunity to direct an episode of Hawaii 5-0 meant that he was able to work in a familiar environment with people that he knew. This made the process a little easier and he has posted on social media to say how grateful he was for the support of the whole cast and crew.
Tell us what's wrong with this post? How could we improve it? :)
Let us improve this post!