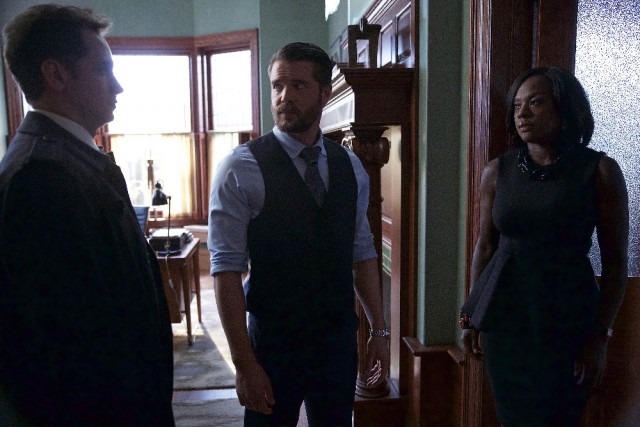 The second season of How to Get Away With Murder has so far proven to be even more engaging than the first. We're now through the first third of the season (remember, HTGAWM's season only consist of 15 episodes), so let's take a look at what happened in this week's episode, "Meet Bonnie."
As usual, the episode opens in a flash-forward that reveals Bonnie and Asher were both at the scene of Annalise's attack and ADA Sinclair's murder. After that quick reveal, we jump back three weeks to the present-day in which Bonnie tells Asher about how "she killed Sam," something that we all know is a lie. Liza Weil has always been an under-appreciated presence on How to Get Away With Murder, and this monologue where she bares her soul to Asher in a complete lie really furthers that belief. Her scene with Annalise right after in which she tells her boss about what she's done also serves the same purpose. Later on in the episode, she and Asher talk more about the night of the murder, and Weil completely sells the emotion and vulnerability of her character.
Asher decides to confront Annalise about framing Nate over Bonnie's role in the murder, and we're treated to another great Viola Davis performance as she explains her reasoning. It's crazy to actually think about how many of the relationships on this show are built around lies upon lies, but it adds to the complexity of all of the characters in the main cast.
For better or worse, How to Get Away With Murder is juggling a ton of different storylines right now, so it makes sense that they won't all get their due diligence in every single episode. Knowing that, I appreciate the effort that the writers are making in giving each one the time it deserves. Each episode does this with varying success, but "Meet Bonnie" does it better than some have done in the past. The season-long (for now) case dealing with the siblings accused of murder takes a larger role here as there's no "case-of-the-week" to deal with, and the revelations from that story greatly benefit the events that we've been seeing that will come in just a few weeks. There was also some time spent here (albeit brief) reminding the audience of Annalise's meeting with Nia, and I'm hoping that we get more of this later on.
I mentioned earlier how so many relationships on this show are based around lies, but it's equally true that plenty of them are also based on real emotion. While nothing at all has played out how they would like, it's made clear time and time again (including this week) that Annalise and Nate have real feelings for each other. There's also a great scene between Conner and Oliver where Conner reiterates his feelings for his boyfriend, and it's hard not to root for these two despite everything Conner has had to keep from him.
We end up getting a lot of information about all of our stories in "Meet Bonnie," and as you could tell by the name of the episode, we learn much more about Bonnie's past and her character than we knew before. This episode turned out to be a solid hour of How to Get Away With Murder, and I can't wait to see where we go from here as we get closer and closer to the events of the flash-forwards.
What did you think of "Meet Bonnie"?What are your thoughts on season two of How to Get Away With Murder so far? Let us know in the comments down below!
[Photo credit: Greg Gayne/ABC]
Tell us what's wrong with this post? How could we improve it? :)
Let us improve this post!