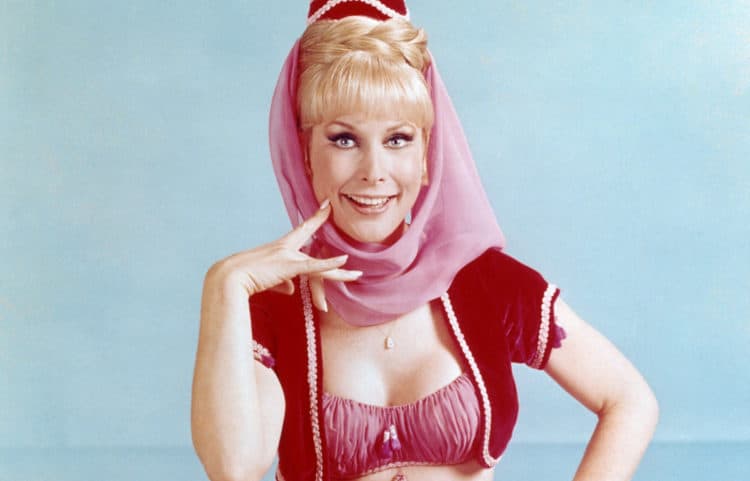 Who in their life hasn't hummed I Dream of Jeannie's iconic theme? The fantasy sitcom, which ran for five seasons from 1965 to 1970, features the life of a genie, named Jeannie, as she falls in love with astronaut Tony Nelson, as well as the hijinx that you can imagine would result from such an arrangement. NBC aired the show and made the careers of Barbara Eden, who played Jeannie, and Larry Hagman, who played Captain Nelson. The show was a hit, and even decades after it aired its last episode, it continues to be referenced in pop culture. Barbara Eden, who is still kicking butt at 90 years old, said of her character in a 2021 interview with People: "She's easy to live with," Eden says of her iconic character, Jeannie. "She really is. I like her a lot. I think what makes me so happy is that so many people around the world like her. Not me. They like that character. And they like the show for what it is. It takes people out of themselves and into another world. and I appreciate that. I like it very much."
Talking about the legacy of I Dream of Jeannie, Judy Moore, author of the book I Dream of Jeannie History Book, said in an interview with The Digital Bits: "I Dream of Jeannie will be around a long time as the show is timeless. The characters are so handsome and likeable, and one hopes the best for them. The costumes (Tony's uniform and Jeannie's harem costume) are unique in that they never seem to age and certainly apply to today by their inspired design. Though the show primarily focused on an astronaut and a genie, the legacy is that I Dream of Jeannie is multi-layered and entertains on many levels. Basically, the show is about love, ambition, and acceptance, and it's also educational by closely following the space program. I'm not sure any other show did this, so in that aspect, a fictional show following real events with a real conclusion is groundbreaking, at least for the time." It's been more than 50 years since I Dream of Jeannie was last on air, so it's pretty much already in reboot territory. If TV execs decided to reimagine I Dream of Jeannie for modern times, here are a few casting suggestions for who should play the lead characters.
Claire Foy as Jeannie
We all know Claire Foy for her wondrous tenure in The Crown, playing Queen Elizabeth II during the first few years of her reign. Foy won an Outstanding Lead Actress in a Drama Series for her role. After The Crown, Claire Foy appeared in films like Unsane, The Electric Life of Louis Wain, and My Son. She also appeared in A Very British Scandal, playing yet another member of the British aristocracy, Margaret Campbell. In First Man, Claire Foye played the role of Janet Armstrong, the wife of Neil Armstrong, which should more than prepare her for a potential role as Jeannie in I Dream of Jeannie if ever a potential project lands on her agent's desk.
Adam Scott as Captain Tony Nelson
Captain Tony Nelson is an astronaut and jet pilot for NASA. While stuck on an island in the south of the Pacific, he finds a bottle that, unbeknownst to him, houses Jeannie. Captain Nelson was originally played by the legendary Larry Hagman, who also appeared in the long-running soap opera Dallas. In a hypothetical reboot of I Dream of Jeannie, Adam Scott would be a good casting choice. Scott is a TV sitcom veteran, which should make playing Captain Nelson on screen a breeze. Adam Scott most popularly played state auditor Ben Wyatt in the hit mockumentary series Parks and Recreation. He also appeared in a few episodes of The Good Place and also starred in a short-lived sitcom with Craig Robinson titled Ghosted.
Damon Wayans Jr. as Captain Roger Healey
Roger Healey is Tony's best friend and a fellow employee at NASA. He was originally played by Bill Daily, who also worked in The Bob Newhart Show and ALF. Damon Wayans Jr. will be an excellent actor to portray Roger Healey in the show. Throughout the show, Roger gets into way too many antics, which would be perfectly portrayed by Damon Wayans Jr. The actor has appeared in many sitcoms, including Happy Endings, where he played a lead character. He also appeared in New Girl, Brooklyn Nine-Nine, and Happy Together. He also played roles in Big Hero 6, Barb and Star Go To Vista Del Mar and the Long Weekend. A member of the legendary Wayans comedy family, Damon's brand of comedy will definitely benefit the show, especially with Adam Scott's Tony Nelson playing straight man to Wayans' character.
Geoffrey Rush as Dr. Alfred Bellows
In I Dream of Jeannie, Alfred Bellows is a psychiatrist for NASA who's always on the lookout for Tony and Jeannie's hijinx. The character was played by veteran performer Hayden Rorke, who also appeared in classics such as I'd Rather Be Rich and The Night Walker. Our suggestion for who should play Alfred Bellows on screen in an I Dream of Jeannie reboot is Geoffrey Rush, who shares striking facial similarities with Hayden Rorke. Rush is a multi-awarded actor, having been awarded an Oscar, an Emmy, and a Tony. He's appeared in The King's Speech, The Pirates of the Caribbean franchise, and Final Portrait. On TV he played Albert Einstein in the National Geographic anthology Genius. In an interview with The Guardian, Geoffrey Rush talked about taking on roles that required an advanced age, which would certainly be the case for Alfred Bellows. Rush said: "I'm suddenly now in my 60s, and I'm getting more offers because I've opened a doorway where I can now play the patriarch of a family. I never thought that was a character that was in my domain, or anything like that. I'm looking at roles where I go, "Be honest with yourself, you now have to play people in their 60s". That feels a little bit odd, because I still think I'm 37. I ain't."
Tell us what's wrong with this post? How could we improve it? :)
Let us improve this post!