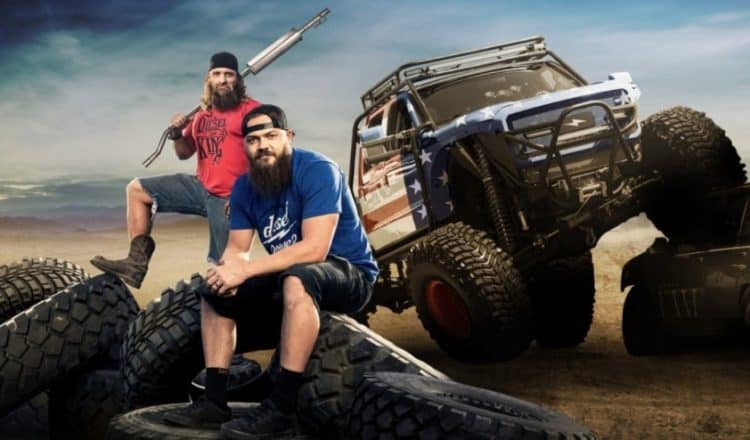 If you are a car enthusiast and most especially a truck enthusiast, then you should know about the show Diesel Brothers. It has been around for 5 seasons as of 2019 and is seemingly growing with every season – in terms of viewership and the fan base. The show Diesel Brothers was formed by 4 guys who had an immense love for trucks and diesel machines hence this show is for anyone who drives a truck or owns one. As from 2016, It has had a successful run and from the looks of it, there is no end in sight for the trucking show.
What is the Diesel Brothers show all about?
Diesel Brothers is a reality TV series that premiered on Discovery Channel in January 2016. The name Diesel Brothers might fool you into thinking that the 4 men are brothers but despite their striking resemblance to one another, they are just brothers in friendship. The show started when the 2 best friends, "Diesel Dave" Kiley and Dave "Heavy D" Sparks started a fix shop for every type of vehicle. They hired 2 other guys to help them run the shop and thus Diesel Brothers show was formed from that friendship. Since the show's premiere in January 2016, the show has undergone some changes and has evolved into one of the best reality television series in America today. Below is a summary of how the show has evolved throughout the years.
The progressive evolution of the Discovery Channel show Diesel Brothers
Before all the fame and glory that the Diesel Brothers enjoy today, they were just normal truck mechanics. According to us, the show actually started as a YouTube channel and sometimes the brothers would post their work on Facebook and on their news feed. Before they knew it, their popularity had grown and they eventually got their own reality show on the Discovery Channel. The show has amassed a large following and the guys even got to custom build a truck for legendary star Chuck Norris and this helped their social status as fans begun requesting for trucks that were inspired by the actor. Someone once said that with great power comes great responsibility and it seems that the Diesel Brothers have a ton of responsibilities to undertake. With their following growing with each waking day, their business is also growing in equal measure.
According to The Things, despite the fact that the stars seem to always be fooling around and pranking each other, they work harder behind the scenes as they run a serious business that requires fulfillment with every order for trucks and truck parts. This way the more they film, the more work they get and the more their income rises and hence their brand continues to grow daily. Their business has even expanded into becoming a three entity enterprise: Diesel Power, DieselSellerz and Sparks Motor.
The show even participates in giveaways from time to time. The giveaways can range from something as simple as a t-shirt of their lifestyle brand Diesel Power or a huge prize of a Diesel Brothers custom-built truck. It is however not simple to walk away with these prizes. One has to enter their sweepstakes on their official website to win and watch a how-to-enter video and finish off by signing their terms and conditions for you to get a chance to win their giveaways. The show has grown from being just another reality television series to being an informative yet entertaining show that keeps audiences glued to their screens. By watching Diesel Brothers, you can gain a huge chunk of Mechanical Science knowledge. The brothers teach about the history of diesel engines and the do's and don'ts of diesel trucks and even incorporate some diagrams and graphics to teach their viewers without causing information overload.
The show has had its fair share of scandals here and there but that is not a new thing in the entertainment scene especially when it comes to reality TV. According to Hot Cars, the brothers were sued by some doctors sometime back in 2016. The suit laid claim that the Diesel Brothers were teaching their viewers how to bypass the emission system of a vehicle on live TV thus fostering pollution. Another controversy involved some fans accusing the Diesel Brothers of obtaining parts for their trucks and labor illegally. This was eventually settled as the brothers did a press interview denying the claims. Regardless of the scandals, the Diesel Brothers show has managed to bag sponsorships from big organizations and networks who have all noticed the show's growth. An example of a network that has partnered with the show is the MLB network which got together with the Diesel Brothers to debut an exclusive 2- nights special episode called the Doubleheader.
The editions featured 2 MLB analysts and the Detroit Tigers star Miguel Cabrera who worked together with the brothers to custom build a Cabrera Chevrolet Silverado. Today the show Diesel Brothers is not just another disposable reality show, it is informative and it is a major platform that has helped the brothers to grow their brand. Most reality stars usually have to supplement their income by hosting other gigs but for the Diesel Brothers, linking their business to the show was the wisest move they ever made. Now they just have to get down and dirty and recreate a truck that is sure to get noticed by their fans and the orders trickle in.
Final Thoughts
With the Diesel Brothers show being such a huge success both for the brothers and the Discovery Channel, it is likely that the show will go for a further 20 more seasons. Part of this is because the brothers are young and agile and can push the show for another 20 seasons and their passion for what they do is outstanding. The show was renewed for a 6th season on November 25th, 2019 and premiered on December 9th, 2019. Diesel Brothers airs on Discovery Channel on the motor Monday segment every Monday at 10 PM ET/PT.