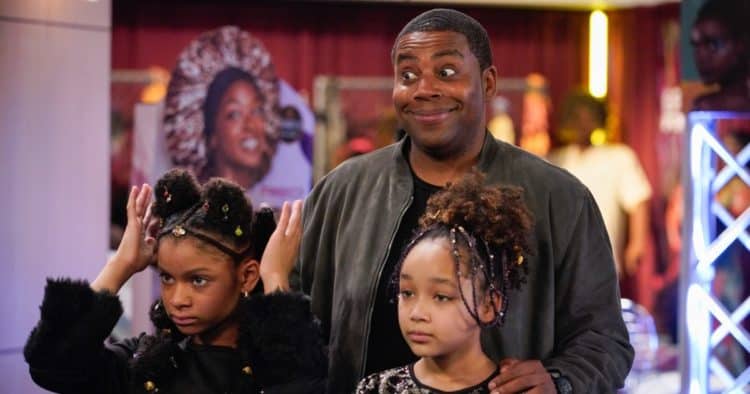 When Kenan Thompson started his career in the entertainment industry nearly 30 years ago, he probably thought that one day he'd have his very own sitcom. Kenan, which debuted in February of 2021, is a sitcom that centers around a man named Kenan Williams (Thompson) who is raising his two daughters after his wife passes away. Although he is a single parent, he has the support of his brother and father-in-law. Now in its second season, Kenan is continuing to build a strong fan base and the show's success is largely thanks to its talented cast. While some of the show's stars are familiar faces, others are just getting started in their careers. Keep reading to learn more about the cast of the second season of Kenan.
Kenan Thompson
As the star of the show, Kenan Thompson certainly needs no introduction. He was only a teenager when he started his acting journey, and he has been a fixture in the entertainment industry ever since. During the 1990s, he was one of the hottest young stars in the business thanks to roles in shows like All That and Kenan and Kel as well as movies like D2: The Mighty Ducks and Good Burger. In more recent years, he has become known for his work on Saturday Night Live. With the perfect combination of creativity and humor, it's easy to see why Kenan has been so successful over the years. Outside of work, Kenan has been married to Christina Evangeline and the couple has two children together.
Don Johnson
Don Johnson is a legend in the entertainment industry. With a career that has spanned the course of seven decades, he has proven to have a kind of longevity that can be very hard to come by. Many people will recognize Don for his role in shows like Miami Vice and Nash Bridges. His role in Kenan has given him a chance to show how versatile he is as an actor and it's also allowing him to share his talent with a new generation of viewers. Don is the proud father of five children, two of whom are also actors.
Chris Redd
Chris Redd has only been in the business for about a decade, but he has accomplished a lot of great things during that time. What many people don't know is that Chris' journey as a performer actually started with music. When he was younger, he started rapping which helped him overcome a stutter. Eventually, he decided to transition into comedy. Like Kenan, Chris has also been a cast member on Saturday Night Live. In addition to his work as an actor, Chris is also a talented screenwriter. Although Chris' career takes up a good portion of his time, he also enjoys giving back to others.
Kimrie Lewis
Kimrie is a Los Angeles native and a formally trained actress who attended the Tisch School of the Arts at New York University. She made her on-screen appearance in 2004 but it took nearly a decade for her to get a major break. Since the early 2010s, however, she has been working consistently. Some of her credits include shows like Scandal and Single Parents. Her role in Kenan has been a great opportunity for her, and she has become a fan favorite. Not only is she talented in front of the camera, but Kimrie is also a writer, director, and producer.
Dani Lane and Dannah Lane
Dani and Dannah Lane don't just play sisters on TV, they're actually sisters in real life. The two first started to gain attention after some of their YouTube videos went viral, and it was clear that they were both born to be stars. While some siblings struggle to get along, Dani and Dannah enjoy working together. Even though their careers have taken off, they still maintain their YouTube channel which now has 357,000 subscribers. When they aren't busy with work, they love getting the chance to be 'regular' kids. If you've ever seen them work, you know that they both have very bright futures ahead of them.
Taylor Louderman
Born and raised in the Midwest, Taylor Louderman fell in love with performing at an early age. She may not have the longest list of acting credits, but she has already gotten the chance to be a part of some cool projects. Before Kenan, some of her credits were Sunny Day and The Good Fight. She was also cast in a series called The Emperor of Malibu but it's unclear if it will ever be released. On top of her on-screen work, Taylor has also been on Broadway.