The 100 just finished its second season Wednesday night on The CW, and I'm both happy and sad, because while the series ended Season 2 on an incredible high note (what a finale!), it now means that we'll have to wait months until Season 3 begins. During this season, The 100 provided fans with many interesting storylines and compelling characters, as pretty much every single individual on the show grew and developed in some way, from Jasper to Octavia to Murphy. However, the most satisfying of all the show's arcs in Season 2 was Clarke's, and Wednesday night's finale reaffirmed what pretty much every episode of Season 2 has proven: that the character, perfectly played by Eliza Taylor (seriously, she's not just giving one of the best performances on The CW but on TV right now), is unlike any other teenager on television, tasked with making impossible decisions that require an unbelievable sense of strength and maturity. Simply put, Clarke Griffin is the strongest female character on TV.
In the first season of The 100, it was clear that Clarke wanted to be a leader; while the teens on the ground certainly turned to her for wisdom and perspective, there was also a large part of her that believed that she was the best candidate to lead the people on the ground, a mindset that had in her constant conflict with Bellamy. For much of Season 2, we also witnessed Clarke gravitate towards the idea of being the Sky People's leader, even after Abby, Kane, and Jaha arrived on the ground. She knew the people, the land, and all of the threats that both offered better than almost anyone else and took it upon herself to rescue her friends from Mount Weather.
And while Clarke never believed that being a leader would be simple or easy, nothing and no one could have prepared her for what she would have to do throughout The 100's second season, as she was required to make choices that were best for her people at the expense of others' lives and at the cost of any shred of hope or innocence she had left in her. Clarke's actions, from killing Finn in order to save him from a more painful to death and to ensure the alliance between the Sky People and the Grounders to following Lexa's plan and allowing for Mount Weather's missile strike against Tondc (which killed close to 250 people), were cold and calculated on the surface, but underneath they came from a place of love and dedication. Everything Clarke did, no matter how dark or twisted it may have seemed, was because she cared about her friends and wanted to them to be safe, and that love overpowered any sort of moral conscience she had, culminating in her most difficult decision yet in the Season 2 finale, when she, along with Bellamy, pulled the lever, sentencing all citizens of Mount Weather, innocent or guilty, friend or foe, to death in order to ensure that her people remained alive.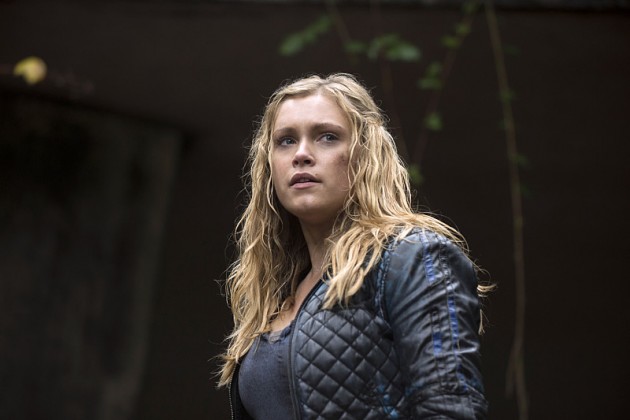 Throughout The 100 Season 2, we saw Clarke go from simply craving independence and power, which she wanted to use in order to not simply keep her people safe but also to do some good in this world, to understanding what the true price of being a leader means: putting others before yourself, even if that 'self' includes your soul. And that right there is why Clarke Griffin is the strongest female character on TV: she puts aside any type of worry or concern about herself (both physically and emotionally–let's not forget that she could have so easily died many times this season while trying to help her people) for her friends and family. To Clarke, it doesn't matter how much pain and grief she must suffer through because of her actions, as long as though actions help those she loves.
Even Clarke's final scene of Season 2 illustrates this, as she leaves everyone she cares about behind at Camp Jaha, believing that she must carry her guilt and suffering by herself. She sees the happy faces of her friends and their families, as they have finally been reunited, and understands that her job is done and that, whatever happens next, she must do it by herself. And we know that she is strong enough to do so.
While Clarke is, of course, under extreme circumstances (it's not as if The 100's world is like our present day), there's no denying how impressive it is to see a character like her on television, a 17-year-old girl, who is not caught up in a love triangle or in need of any type of approval, from a boyfriend, friend, or parent, but instead actively and independently makes incredibly tough, selfless choices that accomplish the goals that she has set out for herself. Jason Rothenberg and the entire writing staff of The 100 deserve much credit for creating a character that embodies so many different qualities, from compassion to intelligence to resourcefulness, and for not simply allowing her to remain dormant but constantly challenging her in new and different ways, ones that Clarke faces with more maturity, grace, and, of course, strength than any other female character on television.
What a great character. What a great season of television. The 100 Season 3, get here quickly. I need Clarke Griffin back on my TV.
[Photos via The CW]