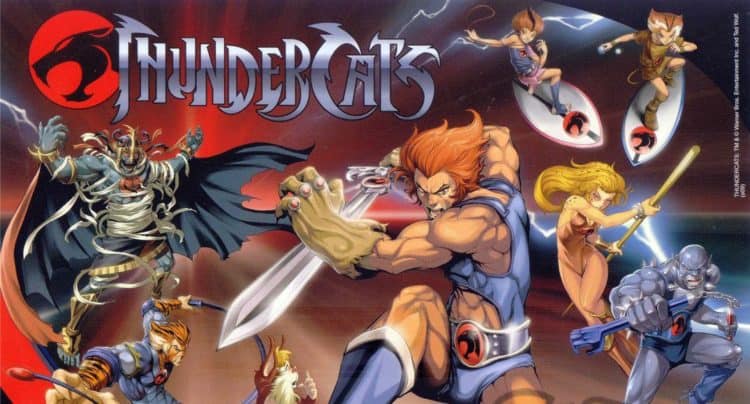 If you were a kid growing up in the 1980s era, you might have watched the hit cartoon series known as ThunderCats. If I did grow up during that era, I probably would have watched it. However, I'm a '90s kid, so I grew up with the Cartoon Network shows. I didn't really get to experience the classic '80s cartoons that got cartoons started, but I still, I can't complain about the cartoons that I got. Johnny Bravo, that's my main man, even though he's really a douche.
Anyhow, I bring up ThunderCats because it looks like we will finally be getting a ThunderCats movie. This is something that has been in the works for a while now, and I get why. All right, so I'll just say this, I never watched an episode of ThunderCats, and if I did, it was a long time ago. Heck, I can't even remember if there were reruns being played back then. However, in my opinion, the idea behind ThunderCats was never that interesting to me. Hey man, I'm just not a cat person.
Personally, I was always more into He-Man and the Masters of the Universe. That was another '80s classic cartoon, and I was able to catch the whole series on Netflix back in 2018. I dug the whole fantasy/action element and the creativity behind the characters. Speaking of which, where's the movie and new series for them? Yeah, that'll come eventually, but I'll be honest, this ThunderCats movie in development does intrigue me.
For starters, I look at the man who's directing the project. The director of this upcoming ThunderCats movie will be Adam Wingard. He's a fairly unknown director, but if you want to know a big movie on his resume, there's this one called Godzilla vs. Kong. For the record, I'll be seeing that soon and that's going to be my first time in the theater since last February. I still can't wrap my head around it. The fact is, a movie like Godzilla vs. Kong will surely catapult Adam Wingard into a new realm of movies. Before Godzilla vs. Kong, he did movies like Death Note, You're Next, and The Guest, all that weren't nearly on the same level as Godzilla vs. Kong.
If Adam Wingard can make a big blockbuster like Godzilla vs. Kong work, then a ThunderCats movie will be in good hands. Now when I first heard this news, I just couldn't help but think of something very, very bad for moviegoers. I originally thought this movie was going to be CGI, which made me think of the dreadful 2019 movie Cats. I actually didn't see that movie, but I won't lie, I kind of want to, just so I can see what everyone's hating on. Now the trailers with the obvious human feet was enough for me, but I think watching it would be the ultimate endurance test. Afterwards, I'll make some shirts that say "I sat through the movie Cats". But let's be honest, if we're thinking about a live-action ThunderCats movie, it's hard not to think of Cats. The hint is in the name, after all.
So that was my biggest concern, rightfully so. We don't want another version of Cats that's basically just the fantasy edition. However, in an interview with Deadline, Adam Wingard specifically stated that his ThunderCats movie would not be live-action. This was interesting to hear, and he went into further detail about how he intended to make it. In fact, according to him, he actually wants to take us back to the whole '80s aesthetic that made ThunderCats popular. And yes, he's also aware that a CGI ThunderCats movie would bear an unfortunate resemblance to the Cats movie. I'm glad we're not the only ones, right?
But what was interesting hearing him talk about it was that he doesn't intend to reinvent the ThunderCats in any way. He just wants them to look like the ThunderCats. Now what got really interesting is when he specifically stated that he doesn't want it to be CGI. According to him, he wants to do "a hybrid CGI film that has a hyper real look and somehow bridges the gap between cartoon and CGI."
How very interesting. So what does that mean for this upcoming ThunderCats movie? To me, it sounds like this movie can be a new Avatar. At least that's the best case scenario. Worst case, it ends up being like Cats, but it sounds like Adam Wingard cares too much about this project for it to be another Cats fiasco. Heck, the guy even hand-wrote a 272 page script for ThunderCats when he was in high school. That's way beyond the standard feature-length script limit. I gotta say, that's impressive. So Adam Wingard is clearly a devoted fan to the ThunderCats show and he fully intends to show us something that we've never seen before. He gives a good pitch, but if you ask me, I'll believe he'll give us a great ThunderCats movie when I see it.
You know what? I hope it turns out to be good. Like I said, I was never a big ThunderCats fan, but I do like anything that has a sci-fi or fantasy vibe to it. ThunderCats has both of those, and even though I never got into it, I'll certainly check out Adam Wingard's take on it. For some reason, I really want to see Snarf. That furry little fellow is probably the most kiddish element to the series and brings the heart and comedy to it. Yeah, I know most fans will probably say he's annoying, but every group has that guy, but Snarf is also loyal. If I had to pick the character that looks the coolest, I'd probably go with Panthro. Maybe it's because I just think panthers are awesome, but I'd say he's the character I'm most excited to see.
And if I had to guess, this movie will have all the characters look similar to the Na'vi from Avatar. The only difference is that there will be no ordinary human characters for them to interact with. In that case, there will be a lot of motion capture, and hopefully more crisp CGI. Hey, it can't get any worse than Cats. Then again, we've been surprised before.
So what are your thoughts? Are you excited for this upcoming ThunderCats movie? I think this will at least give the guys from the '80s something to be excited about.