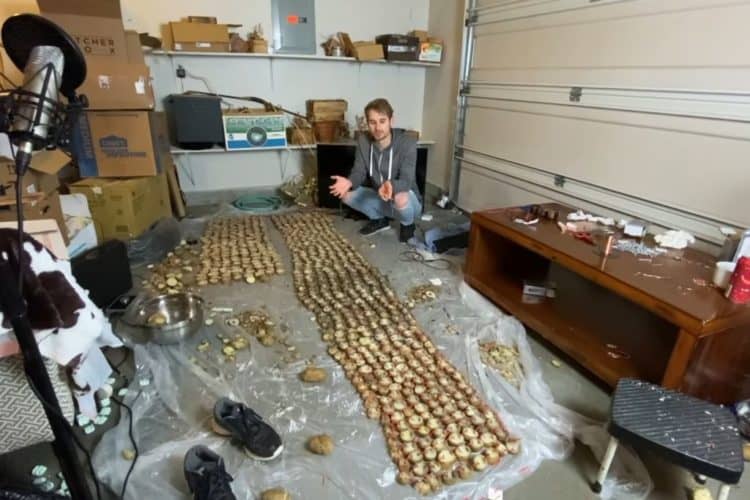 Far be it from me to say that anything is a useless idea or that it's a waste of time, but looking at this it's kind of easy to shake your head and wonder why in the world that this individual thought that this was something worthwhile. If potatoes were able to stay fresh for an indefinite amount of time then sure, it would be great, it would be a new idea that would have a lot of merit and wouldn't be seen as a giant waste of food. But while the idea did work, and therefore made an interesting story, the big drawback is that potatoes do spoil after a while, and as a result that electric current will degrade as well. Obviously, it was present for long enough for this to work, but given how little time it takes a potato to spoil, this is one of the least efficient ways to make Doom work with the electric current derived from potatoes. It's great that it worked, but if you need a mask to even be in the same room as your invention then you might need to come up with a different idea. There are a lot of variables that might need to be factored in to see just how it might work best, but at the same time, figuring out something that might be less offensive to the senses would be preferable.
In terms of 'making history' that's accurate enough, but the fact that this guy is somehow surprised that rotting potatoes smell this bad tends to mean that needs a bit of life experience to figure a few other things out. The fact that he says it's not worth it at the end makes it clear that this wasn't a good idea to start with since anything organic is going to break down and become absolutely foul. Another fact, that he believes he earned a like, a share, a subscription, and that we should be grateful for his contribution, is hopefully a joke since without trying to offend, this idea was seriously flawed from the start. As I did mention there are likely a few variables that might need to be taken into account as to why he didn't manage to make it work as he wanted but was still able to downgrade his screen and make something happen. Maybe it's the size of the slices, maybe it had to do with the materials being used to conduct the current, or maybe there's something he hasn't thought of yet that could make it a little better. But the potatoes needed to be a short-lived idea since it wasn't a great option for a few reasons, one of those being that anything that can degrade after a day or two is not a good idea to use for anything other than compost.
Making Doom work on different systems has been a goal for many people over the last few years and it's been done in a few creative ways such as a pregnancy test, which was interesting, but the fact is that it takes more than just the materials that have gained the attention that people give them. If you're not still shaking your head at the idea of using potatoes for anything other than food or possible for alcohol then you might be thinking along the same lines as this guy since it is an interesting idea that potatoes can conduct an electric current. It's one of those things that you can't help but think is interesting since it might not be something a lot of people have realized in the past. But at the same time, using them for an extended period of time is going to cause health concerns at some point since they do break down and as a result, they can be hazardous after a while if left where people can interact with them. This kind of goes to show that a person can be smart and still be kind of dumb at the same time since the gases given off by rotten potatoes can be deadly to human beings. If you're thinking that boiling them would reduce this danger, think again and read up on the subject of glycoalkaloids and just what they can do to a human being.
So yes, he did come up with a creative way to run Doom, and it did end up taking quite a few potatoes to make it happen, more than was healthy to have in one place at a time since the risk to the health of those involved was likely never taken into account. But despite all that he did succeed, kind of, and hopefully he's kidding about wanting thanks and recognition for this, since to be fair, he likely has a very understanding friend and wife since many people would probably tell him to do it himself.