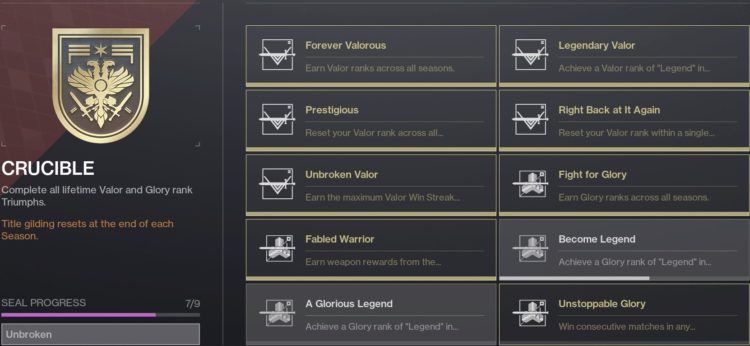 Destiny 2 has implemented many things that the original game did not, for instance, the Triumph Seals and Title system. Triumphs are Destiny 2's version of in-game achievements – which is kind of weird considering the game has (some) Steam/Xbox achievements and PlayStation Trophies as well. Triumphs are certain tasks that need to be completed within the game that will reward you with Triumph Score, other rewards like shaders, emblems, ships, Sparrows, and Ghosts, and some Triumphs also count toward Seals and Titles. One of these Seals is for the Crucible, and the Title is called "Unbroken." This Title is reserved for those most dedicated to the Crucible and the fiercest competitors that you could come across in the game – and cheaters. So, how exactly do you go about earning the title of Unbroken in Destiny 2?
Forever Valorous
In order to complete the Forever Valorous Triumph, you will need to earn a total of ten Valor ranks across all seasons in Destiny 2. This can be done by completing Crucible bounties, winning matches, and you can earn more progress during double and triple Valor weeks. This can easily be done in a single season, which is nice, but also a bit disappointing considering there are several other Triumphs that require progress across multiple seasons, so you'll have to play across at least three seasons anyway.
Legendary Valor
All you need to do in order to complete this Triumph is to earn a Valor rank of "Legend" in any season. This means that you have to obtain 1,800 Valor points, but the good news is that there's no possible way to lose Valor points, so you can continue to lose as many games as you'd like, although that will slow your progress down immensely. You'll also get a ton more Valor points through Win Streaks, so if you have a couple of friends that want to play, that will make it even easier to complete this Triumph.
Prestigious
This Triumph requires you to reset your Valor rank at least three times across all seasons. Again, three Valor resets may seem like quite a bit much, but since you don't have to do it all in one season, you've got all the time in the world to complete this Triumph.
Right Back at It Again
This one will require quite a bit of dedication to the Crucible. Completing this Triumph requires you to reset your Valor rank five times in a single season. My suggestion is to start multiple characters if you haven't already, and start grabbing as many Crucible bounties as you can, because you'll be farming all of these bounties every single day. This will be the easiest way to earn the 10,000 required Valor points to reset your Valor rank five times, as long as you're willing to go through the process. Of course, you could also just be cracked at the game and not even need to worry about it.
Unbroken Valor
All you need to do to complete the Unbroken Valor Triumph is earn the maximum Valor Win Streak bonus in any season. This means that you'll just need to win five games in a row and then the Triumph will be yours.
Fight For Glory
To complete the Fight For Glory Triumph, you will need to earn five Glory ranks across all seasons. This is where it starts to get a bit tougher for some players, because you can only earn Glory through the Competitive playlist (now the Survival playlist), and you can lose Glory points now, so you have to be bringing your best game if you want to earn those Glory ranks.
Fabled Warrior
You'll have to "earn" three different weapon rewards from the "Fabled" Glory rank in multiple seasons to obtain this Triumph completion. This was much harder to do pre-Beyond Light since you actually had to earn these weapons through a questline, but now you can just purchase any three of them (Recluse, Mountaintop, Luna's Howl, Revoker) from the Exotic Kiosk in the Tower and it'll be yours.
Become Legend
You're going to have to work pretty hard to earn this Triumph, as you'll need to achieve a Glory rank of "Legend" in any season. This means that you'll need to win a lot of Survival games, lose nearly none of them, and face off against the sweatiest players you can imagine to reach the pinnacle of Crucible.
A Glorious Legend
If you thought the last Triumph was hard, now you have to do it two more times! Completing this Triumph requires you to achieve a Glory rank of "Legend" across three seasons, so have fun with that! Now you're only one step away from being Unbroken in Destiny 2!
Unstoppable Glory
For this last Triumph, you'll need to win five consecutive matches in any season. That's it. This should be relatively easy to do, especially if you've already completed the last two I mentioned here.
When – or if – you complete all of these Triumphs, you'll be awarded the well-deserved title of "Unbroken" in Destiny 2. Good luck, Guardians!