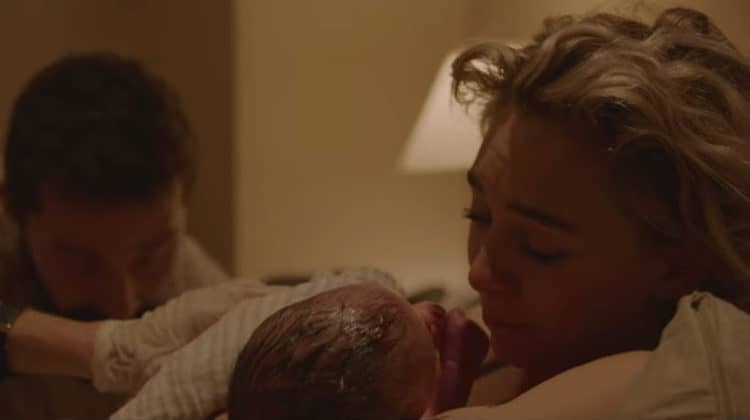 It sounds pretty grotesque when one really gets into the explanation of how movies handle scenes that deal with newborns, but in some cases the babies that are used, yes I said USED, are far easier to work with than the CGI or fake babies that are edited later to appear real. For one reason or another, no one has been able to simulate an actual baby that looks entirely real yet, which is kind of surprising. But when it comes to newborns, many parents will be able to tell those that think that movies get it right all the time a very different story. Childbirth is not as neat and clean as it appears to be in the movies at times since in reality there are no cut scenes and the only way one can see a messy baby suddenly cleaned, swaddled, and sleeping peacefully is if they leave the room long enough for the nurses to attend to the child. Plus, every birth is bound to be a little different, but one thing that's pretty common is that the child will be born, the umbilical will be cut, and the nurses will show the child to the mother, and father if he's there, and will then take the child to weigh them, clean them, regulate their temperature, and course, administer their first diaper. One thing the movies don't usually show, thankfully, is what fills those first couple of diapers since a lot of nurses and some parents could tell you, the typical first diaper will look like a sheet of tar.
The first few bowel movements are something we thankfully don't get to see in the movies because they are quite nasty since the newborn's body is getting rid of the meconium, the mucus, skin cells, and amniotic fluid that was needed before birth. Once all that is gone it doesn't get much better for a while to come, but there are plenty of parents that still don't understand that first process. In the movies though, newborns actually have agents before they're born at times, and there are strict laws regarding how long a baby can be on set, and how many minutes they can actually work per week. There are tricks to make it looks as though a child has just been born, such as using cream cheese and black currant or grape jelly to simulate the effect of bodily fluids that are present during birth. It's kind of nasty when one thinks about it, but for the effect of a movie, it tends to work just fine. But the baby will be used for the shot for a matter of minutes, meaning that the director and the actors involved in the scene will need to get it right as quickly as they can since the laws prohibiting a newborn from 'working' for too long due to the stress that can come from having them uncovered and being handled for so long. Newborns are still fairly fragile after all and need a great deal more care than children that are a month or more old, on average.
Working with kids on a film set is an iffy proposition sometimes, but trying to fool the public into thinking that a child that is weeks or even a month old is a newborn is something that hasn't worked in quite a while since the type of development that takes place after birth is specific to each individual, but there are certain traits that can be seen in just about every kid unless there's some serious developmental issue that takes place. In other words, a 1-month old won't look like a newborn, and neither will a child that's around 2 weeks old or more. The reason for this is that children do begin to change and take on a slightly different look as they continue to grow, as one should know by now, and while they look wrinkled and slightly crumpled, it's because they've spent a good deal of time inside a much smaller space submerged in fluid. The moment one sees a child on screen they'll know the difference if they know what to look for, especially when it comes to a newborn and a child that's been out and growing for a matter of weeks.
It's not hard to believe that children have agents before they're born, since this is the business, and being surprised by it that often means that one isn't keeping up and is best served by just pushing forward and not trying to pay attention to things that they can't understand. But thankfully we're not at the point where corporations have been able to purchase and raise kids as happened in The Truman Show. At this point, these babies still have parents or those that will care for them, but yes, they do become stars pretty young.