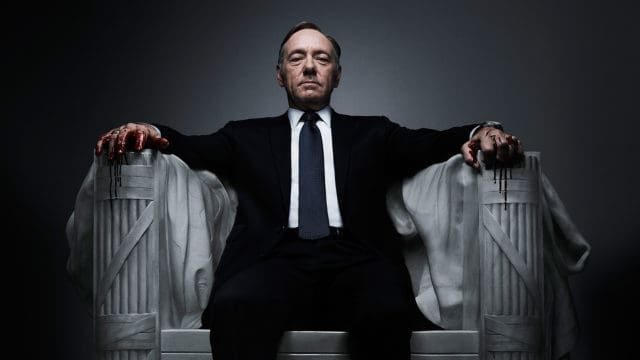 In late October, Anthony Rapp announced that Kevin Spacey had made an unwanted sexual advance on him in 1986, meaning that he would have been 14 and Spacey would have been 26 at the time. Some sources have claimed that Season 6 of House of Cards would have been the last season even without the reveal, but it seems probable that the reveal sealed the fate of the series, which was announced on October 30. This was followed by the announcement that production on the last season had been suspended, which was followed by the announcement that Netflix was cutting its ties with Spacey.
As a result, the eventual release of the last season of House of Cards was put into serious question. Furthermore, a Gore Vidal biopic starring Spacey that was supposed to have been distributed by Spacey has now been dropped as well, which is one in a series of similar decisions made by various parties such as Ridley Scott, Spacey's publicist, and Spacey's talent agency. Even the International Academy of Arts and Sciences has gotten involved by changing its mind about its initial decision to present Spacey with the International Emmy Founders Award.
What Happens Now?
Now, it seems that Media Rights Capital still hopes to make the last season without the involvement of Spacey, who has been booted from the series. Its senior vice president Pauline Micelli has issued a statement that the suspension on the production of the last season has been extended, but that the studio is still discussing matters with Netflix on how to proceed from this point on. Furthermore, she acknowledged the contributions that the crew have made to the series before making a statement stating that she hopes that they will be able to come back once production resumes but understands if they are unable to do so because they have sought out other jobs in the meantime.
With that said, it will be interesting to see how House of Cards will proceed without Spacey, which is presumably what the series's writers are struggling with at this moment. One potential solution would be replacing Spacey in the role with someone else, which would be the simplest and most straightforward method to resolve the problem. Another potential solution would be to write out the character, which could take some doing. Whatever the case, it seems that there is significant interest from the studio in finishing House of Cards, which should come as welcome news to the fans of the series.
As for Spacey, well, suffice to say that more people have come out with stories of sexual misconduct. For example, some of the crew members of House of Cards have made claims about Spacey's sexual misconduct on the set. Furthermore, an internal investigation launched by the Old Vic Theatre revealed 20 people who claimed that they had been targeted with inappropriate behavior from Spacey, which was possible because Spacey was the artistic director at the theatre from 2004 to 2015. As a result, Scotland Yard has gotten involved by looking into two allegations of sexual assault, though it remains to be seen what will come of that.
Tell us what's wrong with this post? How could we improve it? :)
Let us improve this post!