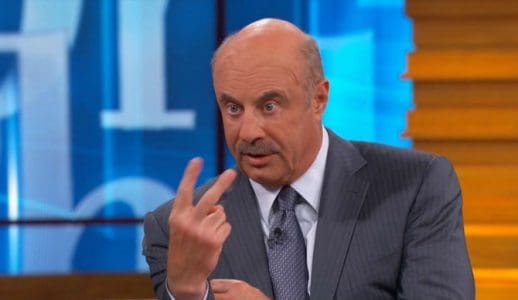 Dr. Phil Knows a thing or two about being the star of one's own life. "You feel it. I mean that when you go through your life, you're not going through the motions. It's not grey. I mean, if you're 40 years old, you've lived for what? 10,000 days? 14,600 days. One of those 14,600 days, you were the star. Everybody got to pay attention to you and you got to feel important, what kind of life is that?" Phil asked in a life class with media mogul Oprah Winfrey. Throughout his life, the psychologist has been the star of his life, and one in others' lives by simply living his passion. As a child, Phil McGraw, popularly known as Dr. Phil, had an interest in psychology. In 1975, he graduated with a degree in psychology from the Midwestern State University, and, by 1979, had obtained a doctorate in the same. Dr. Phil went into private practice, where he found himself crossing paths with Oprah Winfrey.
In private practice, Dr. Phil partnered with lawyer Gary Dobbs to co-found a firm that provided jury selection and litigation psychology services. It is in the line of duty that he met Oprah Winfrey when the media mogul required services for the Amarillo Texas beef trial. Following the end of the trial in 1998, Oprah Winfrey was floored by the firm's exceptional work, that she invited Dr. Phil to her show. Soon enough, he became an audience favorite and made multiple appearances on The Oprah Winfrey Show. At the end of one episode of the show, Winfrey said of Dr. Phil: " I've talked to every psychologist known to womankind, psychiatrists, therapists, people talking to the inner child and the inner puppies, and I haven't seen anybody better than Phil at human functioning assessment. I really discovered him and have created this." Created him she has, by aiding him in setting up his popular show that has given the internet some viral moments.
Creating 'Dr. Phil'
Dr. Phil, the show, was created by Oprah Winfrey and Phil McGraw based on their well-received segments on Oprah's show. It debuted in September of 2002 and has been running for eighteen seasons and counting. Just like The Oprah Winfrey Show, which was the number one talk show until its end in 2011, Dr. Phil has been one of the most watch syndicated shows and has an Emmy nomination to show for every year since 2004. In 2015, he was inducted into the Broadcasting & Cable Hall of Fame, and five years later, was awarded a star on the Hollywood Walk of Fame. The success of the show has seen it give birth to spin-offs such as Dr. Phil House, Decision House, and The Doctors.
The show continues to top ratings, with its positive reviews outweighing the negative. Kathy Blain, a fan of the show, had this to say about it: "I love the Dr. Phil show. It's real and is helping so many people with real-life problems. Dr. Phil is so genuine and has great compassion for the people on his show but at the same time truly reads people as to whether they are genuine and honest with the issues they bring to him for help. I sure could have used a doctor like him to deal with the dysfunction that I grew up but was fortunate enough that it made me a stronger person and a good person. I definitely can relate to so many of the guests on his show and am so happy for them that they have Dr. Phil to help them to get to a better place in their life. We need more Dr. Phils in this crazy world we live in today. Thank you, Dr. Phil, for making a positive difference in so many people's s lives."
'House Calls With Dr. Phil'
Dr. Phil's show is based on helping people improve their lives, and somewhere in the world, people like Kathy Blain get to learn from his perspective. On his show, he touches everything from mental health, family dynamics, weight loss and gain, finances to marriage. Perhaps his most notable moment is the case of Danielle Bregoli, a troubled teen who went viral following her popularization of the phrase 'cash me ousside, how bout da.' Not only did she go viral, but Bregoli also managed to craft a career for herself in entertainment. The teenager has since certified herself as a rapper, going by the stage name 'Bhad Babie' and is making waves as an entrepreneur. Whether or not her character has changed, is a topic for another day. For years, Dr. Phil has been the therapist some of us never had, and he's taking it a notch higher by transitioning to house calls in his new show.
House Calls with Dr. Phil is set to premiere on CBS tonight, and as the show's name clearly states, Dr. Phil is coming to a home near you. On the show, Dr. Phil is traversing the country to meet families and help them figure life out. Speaking to Great Day Washington, Dr. Phil said: " This has been a passion. I love what I do on the Dr. Phil platform where I have an hour to work with guests, but it's been a passion to go where people live." Dr. Phil further added that the home environment was where the true drama happens and triggers reside, and spending days with the families is equally important. The Cameras, Dr. Phil revealed, make their way into the homes long before he comes on, and the families in question think they are auditioning for a reality show of some sort. Episodes of House Calls with Dr. Phil in the pipeline include 'Traumatized and Dramatized', 'Shake it Up or Break it Up', 'Check the Badge at the Door', 'Are you a narcissist?', and ' Marriage isn't 50/50 It's 100/100.' The first episode is set to air at nine, right after Big Brother. Just like all of Dr. Phil's shows, we are expecting the same rawness, relatability, and authenticity we have witnessed in the past years. There hasn't been a better time to heal and watching it on our screens plays a big part in making that happen, thanks to Phil McGraw's pursuit of his dream.
Tell us what's wrong with this post? How could we improve it? :)
Let us improve this post!