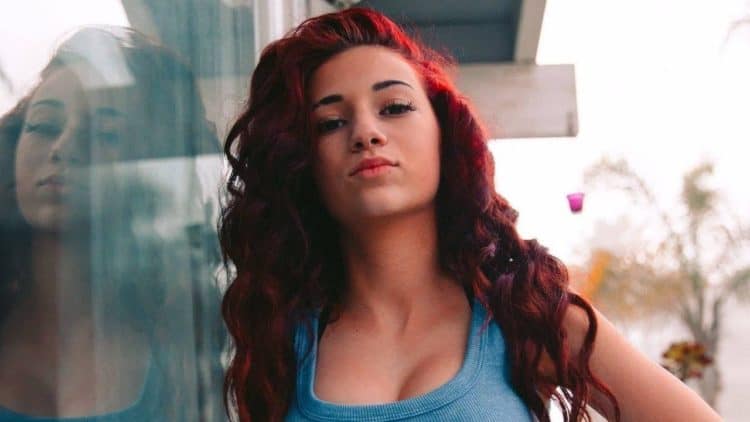 Danielle Bregoli Peskowitz was born in Boynton Beach, Florida on March 26, 2003. Her mother is Barbara Ann, and her father,is Ira Peskowitz. The two were just dating about a year when Barbara Ann found out she was pregnant. The two remained together until Danielle was an infant, and then split up. Danielle remained with her mother, and was raised by her, not ever really having a relationship with her father. The young teen had a troubled youth and started running with the wrong crowd. She began running away, sometimes four times a day, and developing a criminal history. Barbara Ann was at her wits ends and needed help trying to manage her daughter, so she sought the help of Dr. Phil when Danielle was just 13 years old. Danielle showed up for the taping of the show and made quite an impact on the Dr. and the audience, showing to be a very disrespectful young girl with terrible language and attitude. Her odd accent she used caught everyone's attention, and one phrase she used during the show, took America by storm. At first the phrase made everyone laugh at Danielle, but in the end, it was Danielle's phrase that wound up leaving Danielle to laugh – all the way to the bank. She has since, started up a music career and making millions of dollars. If you have seen the episode of The Dr. Phil Show where Danielle Bregoli made her first public appearance, or any of the clips from the show, then you probably already know who this young girl is, but here are ten things you didn't know about Danielle Bregoli.
1. Started a viral sensation with a catchphrase
On the Dr. Phil episode where the Dr. tried to counsel Bregoli and her mother, Bregoli was getting a lot of feedback from the audience, who Bregoli soon began to refer to as the "whores." She didn't like them laughing at her and at one point Bregoli turned to the audience and said, "Catch me outside, how about that?" Due to this accent she was using, the comment came out like, "Cash me ousside, how bow dah?" The catchphrase took off like wild fire, and instantly a meme developed that flew all over the internet. She was an instant sensation.
2. Mother filed lawsuit for use of her daughter's phrase
The catchphrase, "Cash me ousside, how bow dah?" was soon being found on all kinds of property and companies started printing it up on their own merchandise. Barbara Ann wasn't too keen on the fact that companies were trying to cash in on her daughter's catchphrase being used without consent, and no royalties. She filed a lawsuit against three companies for "infringing her intellectual property rights." Later, she threatened to sue Walmart for selling t-shirts with the catchphrase printed on them.
https://www.instagram.com/p/BleBZ0dh0vZ/?hl=en&taken-by=bhadbhabie
3. What were her behavior issues that landed her on the Dr. Phil Show?
This unruly teen was a hellion, at best. for so young, her mother was already having to deal with a daughter who had all kinds of bad behavior. She told Dr. Phil her daughter was a car thief, she was known to pull a knife on her, used her body for twerking, steal credit cards, and even accused her daughter of trying to frame her for a crime. On the show, the young teen girl admitted to doing everything her mother said, and she wasn't done yet, either. Not only had she stolen cars while in her hometown, but she stole one of the crew member's cars while they were filming that very episode. Bregoli denied that act at first, but it was all caught on tape by the show.
4. Punched a woman on a plane
Bregoli and her mom, Barbara Ann, were just getting onto a Spirit Airlines flight, leaving Los Angeles on February 6, and trying to get settled on the plane for their flight. The incident that was reported was that Barbara Ann was taking a long time trying to get her carryon luggage up in the stowaway when another passenger got aggravated and put her hands on Barbara Ann. Of course Bregoli was upset, and protective of her mother, but her actions went raging and she cold-clocked (punched) the woman in the stomach in defense of her mom. All three of the women involved, were lead off the aircraft and she was told she would never be able to fly with the airlines again.
5. Has a rap sheet
Bregoli did a lot of bragging on the Dr. Phil show regarding her bad behavior and criminal activity. She was might proud of the fact that she stole, and not just money, but cars, too. She spent time at a Utah Ranch after the show, getting her behavior under control, and when she returned home following her time in Utah, the now 15-year-old went to court and plead guilty for a number of charges, including, filing a false police report, possession of marijuana, grand theft. She has also been accused of stealing from the Champion brand, stealing merchandise that bore her design. If that isn't enough, Bregoli has been banned from ever flying on Spirit Airlines again, due to her misconduct on the flight out to the Dr. Phil taping. In July 2017, Bergoli was given five years probation for her criminal activity.
6. Where'd she get that strange accent?
Dr. Phil and all of America, all noticed that Bregoli seemed to have a very odd accent while her mother had none. She spoke very unclearly, with garbled speech and lots of mispronunciations. It had become very clear that this young girl ran the streets with a bunch of hoodlums, all looking for trouble and all banned together in their criminal activity. It is if they developed their own language, because Dr. Phil just had to know, where did she get that bizarre accent. Well, she got it from the streets, and it's this bizarre accent that set her on her way to fame.
7. Her Dr. Phil appearance sparked her music career
Yes, her appearance on Dr. Phil got her career going, but her apparent talent took off on its own and has sent Bregoli onto the Billboard Hot 100, ranking #77, which makes her the youngest female to have her debut single make it on the chart. Bregoli goes by the stage name, Bhad Bhabie, and she has a contract with Atlantic records for a multi-million dollar, multi-album deal. Her debut single also peaked at the number one spot on Spotify's Viral US and Global Charts. Overall, it has gathered over 5 million streams for that song alone.
8. She's already been "death hoaxed"
Lots of celebrities have been a victim of the death hoax. This is a hoax where someone creates a sad news notice of a particular star's death and spreads the news all across social media. Fans fall for it, and soon they are passing the word around that a particular celebrity has died. While social media fans fall for it and start to mourn their celebrity's death, the celebrity him or herself, has to start cleaning up the lie and make it known they are still alive and kicking. Well, Bregoli has apparently already fallen victim to this hoax and word of her dying made it around social media outlets. The hoax claimed that Bregoli committed suicide following a barrage of bullying from people after her episode aired on the Dr. Phil show.
https://www.instagram.com/p/BlbOub_HW_B/?hl=en&taken-by=bhadbhabie
9. There's a chance she only made it to the seventh grade
In today's world, education is one of the most important things you can do to prepare for your future. It is rare anymore, to hear of very young kids dropping out of school, but it apparently does still happen, and it has been assumed, and hinted that Bregoli is one kid that did drop out. On the show, Dr. Phil asked Bregoli if she went to fifth grade. His question was a type of mockery for her poor grammar skills. Bregoli's reply was that she "made it until seventh grade," which led Dr. Phil and the audience to believe that she didn't even complete eight grades. According to her behavioral issues, it would not be a surprise to learn that was true.
10. Dad has received death threats
Not much is known about Bregoli's father, Ira Peskowitz. He's been estranged rom his daughter throughout her life, but it was discovered that he has received death threats that were against his two sons. It was said that the threats came from a crazed internet fan after the catchphrase sensation took off, and the threats were just one of a long list of hatred and harassing activities that his family, and even some of his friends, have dealt with ever since his teen daughter rose to stardom.
11. All-Out War
She hates the Kardashians. Why? Well, for starters, Kim Kardashian has posted numerous videos on YouTube saying that she hates Bregoli. So, her response is, of course, "I'll whip all them Kardashian asses!!!" And, the Kardashian/Bregoli war rages on and it's anyone's guess who'll come out on top. All of the Kardashians have been trending for a lot longer than Bregoli but she's a pretty tough cookie!
12. Vital Stats
Everybody already knows where and when she was born, parents, her age, etc. so here are a couple of stats you might not have heard of before. She's 5′ 3″ (160 cm), weighs 103 lbs (46.7 kg), her measurements are 32-23-32, and she has long straight red hair. She says it's her natural color. Only her hairdresser knows for sure.
13. What's in a Name?
She has numerous nicknames (more than the average person), including:
~ Danielle,
~ Slim Bhabie,
~ Slim Thugga,
~ Cash Me Outside,
~ Cash Me Outside Girl,
~ Cash Me Ousside,
~ Cash Me Ousside Girl,
~ Danielle Peskowitz Bregoli,
~ Danielle Peskowitz,
~ Danielle Bregoli,
~ Bhadbhabie
14. Mommy Dearest
Bregoli helped take care of her mother when she had cancer. She was by her side during the entire 36-week treatment and Barbara was diagnosed when Danielle was only seven! This is the softer more caring side of the Cash Me Ousside Girl for sure. Their journey together was chronicled by a local newspaper. Danielle helped her Mom by rubbing aloe vera on her chest for the purpose of soothing the pain of radiation. Some nights, Barbara's waves of nausea from treatments sent her running for the bathroom and Danielle held her hair back during bouts of vomiting while rubbing her back. Barb and Danielle lived together in Boynton Beach and truly relied on each other. Barbara even called Danielle "her mature little girl". Could this be the same Danielle Bregoli that fans know and love?
15. Turn-About Ranch
Following her appearance on the Dr. Phil show, Bregoli spent several months at a Utah mental health facility called Turn-About Ranch. The program there is specifically designed for troubled adolescents with behavioral problems. While she was there, she took care of a horse named Chief and got along well with her mentors at the facility. She later stated that she was feeling OK with who she is now and no longer felt the need to put up any kind of a front aimed at impressing people.
16. Movin' On Up
Bregoli moved from Boynton Beach to Los Angeles and is living there now. The move was prompted by advice from her managers. They are Adam Roof and Adam Kluger and they told her that it would be best both for her and for her career.
17. Atlantic Records Signed Her
As a rapper, she's got pretty big game. She was signed by Atlantic Records. The company's global vice president actually called her "a real star with undeniable talent." Guess that's why they signed her.
18. Pricey Meet-and-Greets
She's charging five-figure amounts just for doing meet-and-greets with fans, according to TMZ. It's reported that she's getting $30,000 for each appearance and a whopping $40,000 if leaving the country is part of the deal.
19. Luv That YouTube!
She loves making YouTube videos from music videos to Bhad Bhabie's very popular vlog. OK, her videos might be too nice but, then again what could we possibly expect from the bad girl of rap? Lately, she's usually just reacting to both the positive and the negative reactions to her music videos.
20. What's Next?
There's a good chance that she'll soon have her very own television show. In fact, in the past, she turned down some TV show offers while pursuing her musical career. TMZ recently reported, however, that she signed a TV show deal with a production company called Invent TV for doing a docu-series.
Well, it's obvious that she's colorful, unabashed, dramatic, and very ambitious. The world (or at least rap fans) will be watching to see if she builds on all of that or fades away like a shooting star. Only time will tell.