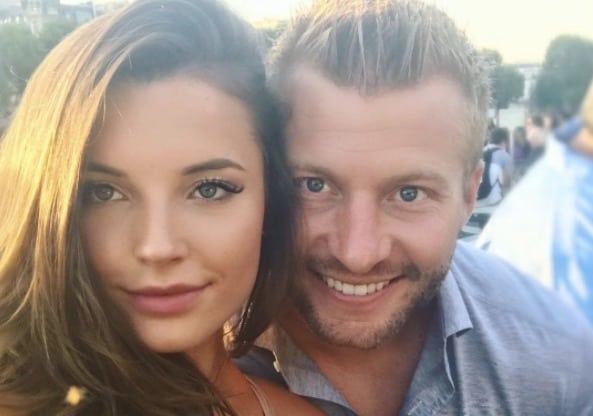 Veronika Khomyn is the girlfriend of Sean McVay, who is the head coach of the Los Angeles Rams. Currently, she has a sizable following on Instagram, where she posts on a regular basis about their relationship as well as other parts of her life. Here are five things that you may or may not have known about Veronika Khomyn:
She Comes From Ukraine
Khomyn comes from Ukraine, which is a state situated between Russia to its east and Central Europe to its west. Some people might be familiar with Ukraine because of the Euromaidan protests, which resulted in the ouster of the pro-Russian Ukrainian president Viktor Yanukovych. In turn, this resulted in Russia taking over Crimea as well as the outbreak of civil war in the Donbass region, which has continued to the present in spite of numerous attempts to establish a ceasefire.
She Studied At George Mason University
Regardless, Khomyn studied at George Mason University, which started out as a local branch of the University of Virginia in the 1940s but managed to become an independent institution in the 1970s. With that said, since George Mason University is situated in Fairfax, it should come as no surprise to learn that Khomyn has worked in Fairfax, with examples ranging from UFC Gym to some modeling work.
She Seems to Be a Football Fan
Just because someone is in a relationship with a football coach, it doesn't mean that they're a football fan. However, it is interesting to note that Khomyn seems to have a strong interest in football even without considering her relationship with McVay. After all, McVay has stated in some of his interviews that he discusses his work with Khomyn, which suggests that she must have a fair amount of knowledge about the field.
She Helped McVay Move
When McVay was hired by the Los Angeles Rams, he and Khomyn moved into a new home in Los Angeles. At the time, McVay thought that he would have the time to return to his home in Virginia, which turned out to be wrong because of the sheer number of his new duties and responsibilities. As a result, Khomyn headed over to McVay's home in Virginia, packed up his possessions with some help from some friends, and then sold the residence in a single day, which says a fair amount about the level of trust between the two.
She Is an Instagram User
Khomyn's interest in posting on Instagram is the reason that McVay's new home in Los Angeles has become a topic of conversation for a fair number of people out there. In short, when McVay and Khomyn moved into their new home, which was decorated by McVay's mother at her usual rates. Since then, their new home has impressed more than a few of Khomyn's followers. However, it is amusing to note that Khomyn has revealed that McVay's favorite part about the home is how he can use Alexa to turn the lights on and off.
Tell us what's wrong with this post? How could we improve it? :)
Let us improve this post!