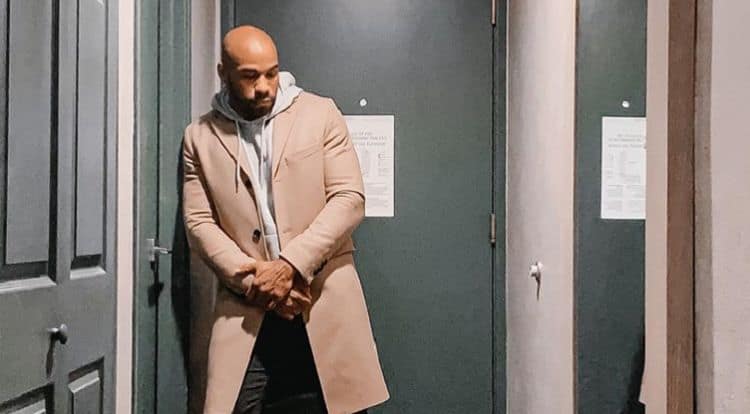 After almost 20 years as a professional wrestler, Scorpio Sky is still leaving his impact on the sport. He even had a short stint as an MMA fighter, although he hasn't fought since 2015. While his name may not be as familiar as other famous wrestlers, Sky is very respected among fans and fellow athletes. The now thirty-something California native is well-known for his bold personality and his competitive spirit. But who is Scorpio Sky when he isn't in the ring? You're about to find out. Continue reading for 10 things you didn't know about Scorpio Sky.
1. Bret Hart Was His Favorite Wrestler
Scorpio Sky has been a wrestling fan all of his life. He grew up watching legendary fighters and Bret Hart became his favorite. In fact, he credits hard with giving him the desire to go into wrestling. Sky also told The British Wrestling Revival, "As I got older and the business changed I really became fond of Shawn Michaels and Kurt Angle." In addition to Hart, Michaels, and Angle, Scorpio has also drawn inspiration from boxing legends, Muhammad Ali and Floyd Mayweather.
2. He Loves The UK
Over the course of his career, Scorpio Sky has been fortunate enough to travel all over the world. He's even gotten the chance to live and work in places like Japan and Germany. However, he has a special place in his heart for the UK. He loves visiting the UK and considers it one of his favorite places.
3. He's A Big Wine Drinker
If you've ever seen Scorpio Sky get busy in the ring, you would probably assume that his alcoholic beverage of choice is some kind of hard liquor. However, Scorpio is full of surprises. As a native of southern California, he is true to his roots and loves a good glass of wine.
4. He's A Huge Fan Of The L.A. Lakers
Although he was never a basketball player himself, Scorpio Sky is a fan of the NBA. More specifically, he is a diehard fan of his hometown team, the Los Angeles Lakers. In an interview, Scorpio shared that he was born a Laker fan, and he plans to die a Laker fan.
5. He Almost Joined The Army
When Scorpio Sky graduated from high school, he had no idea what he wanted to do with the rest of his life. He contemplated joining the army but ultimately decided to attend college. Although he never completed his degree, he began training for wrestling during his freshman year.
6. He Wants To Study Production And Editing
Scorpio Sky hopes to return to school one day to finish his degree. He would love to study production and editing, two things he's always been interested in. When he was in high school, he actually had an internship with one of his teachers who owned a production company.
7. He Would Love To Hang Out With Will Smith
If you could hang out with any band or artist for a day, who would it be? For Scorpio Sky, the answer is Will Smith. Although it's been 15 years since Will Smith released an album, he had a pretty successful career as a rapper during the 80s and 90s. Scorpio believes that their goofy personalities would mesh well together. Plus, the fact that they both do a mean 'Carlton Dance' is another great bonding opportunity.
8. He Considers Himself Metrosexual
Scorpio Sky is definitely a man's man. He isn't afraid to break a sweat and finish a fight. On the other hand, he also loves fashion and keeping himself well groomed. In an interview A Music Blog, Yea? Scorpio shared that he considers himself kind of metrosexual.
9. He Went On A Cereal Hiatus For Eight Years
Cereal is easily one of the most popular breakfast options, especially for people who are looking for something quick and easy. So this may be hard to believe, but Scorpio Sky went eight years without eating a single bite of cereal. Apparently, there was no reason behind this hiatus except for the fact that he just kind of forgot about cereal.
10. He's Never Seen Star Wars
Star Wars is one of the most popular movie franchises of all-time, but Scorpio Sky has never seen a single film. Scorpio enjoys using this fact as a conversation starter since most people are completely shocked, and he has no plans to ever see any of the films.