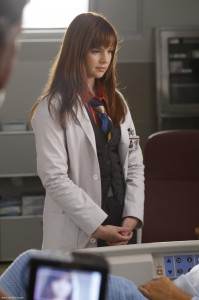 I like Amber Tamblyn. I like her a lot. Do you know why? Because she just might be what House needs to get back on its feet. While 'Office Politics'wasn't an amazing episode, it wasn't a train wreck either. We were introduced to a new character — Thirteen's replacement, med student Martha Masters (Amber Tamblyn) — and for once, the episode did not revolve around House and Cuddy's relationship.
Maybe that was exactly what was messing up the other episodes. It's ironic that most of the fans rooted for them to get together for years and when they finally do, it ruins the show. Talk about be careful what you wish for, right? This week, however, the relationship wasn't over played, which actually made House watchable again. Keep it that way, producers. Please.
In all honesty, I didn't care much about the case this week because all eyes were on young med student Martha Masters, a genius with an IQ off the charts who Cuddy hired to be on House's team. It was refreshing to see House back to his normal self — arrogant, a bully, brutally honest and brilliant — and what made it all work was Masters. After she got over her initial shyness, she gave it as good as she got.
House finally met his match — in the sense that he finally found someone in his team who doesn't take any of his crap — and she is only a med student. Here is hoping that Amber Tamblyn will be able to keep up the good work to keep the episodes interesting. Because, honestly, the way things were going, I was this close to give up on House entirely.
Come on, Tamblyn, I have faith in you.