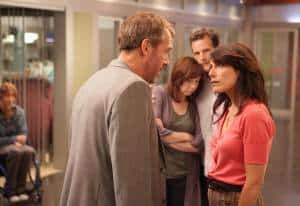 In its seventh season, House has become more than just a procedural show. Sure the past couple of seasons weren't that stellar, but we can't deny that the show has delivered — most of the time, anyway — very solid narratives and plots. Tonight's episode was no different.
It was typical House. It presented a case of a 16-year-old girl, apparently the picture of health, suddenly collapsing after heart arrhythmia. She wanted to do everything for her brother that suffers from congenital muscular dystrophy. Since he can't do much because he's in a wheelchair and already can't move a lot, she tried to do everything he would like to do, to the point that she was essentially living his life for him. She ended up hiding symptoms that could have given her a diagnosis earlier and a better chance of making through the disease.
So now she needs a bone marrow transplant and a lung transplant, because she already burned through her first donated lung. Her options are pretty dismal and since she is a minor, her parents have to make the tough decision. She either waits for another match for lungs and bone marrow, which means she could die in the meantime; or she takes a part of her already sick brother's lung and marrow, which would save her, but limit his life span by several years. It's an impossible choice for the parents, basically having to choose which child to save.
Meanwhile, House and Cuddy report their relationship to Human Resources and the staff. House, however, has completely changed his ways and does whatever Cuddy thinks is best. Taub accuses him of being a puppy and is kind of a jerk about the whole thing. Foreman — surprisingly — congratulates his boss and tells him it was about time; Chase, which was another surprise for me, is completely indifferent about the whole thing. Since he has always sucked up to House, I was a little shocked that he ignored the whole thing and couldn't care less about it.
We were treated with a few hilarious scenes with House and Cuddy and completely inappropriate touching and PDA, but that was it. There were a few good moments – the story was touching and the final scene with the brother asking his sister to take his lung, to let him do this one important thing with his life, made me tear up, but there was nothing that made this episode stand out in my book.
I miss those episodes where everything was awesome, from the case of the week to the subplots about the characters'personal lives. And while this episode was okay, it wasn't great. It was House and he's always funny, but I would love for things to go back to the way they were back in the first couple of seasons.
Here's hoping that it will improve as the season goes on.
I am not giving up on you, House. Please don't disappoint me.