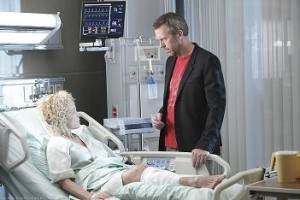 Well, what do you know! House is improving. Sure, it's not as awesome as it was a couple of years ago, but they have finally delivered a plot that kept me interested the entire episode. 'Unwritten'brought us an intriguing story that, in good old House fashion, didn't make the slightest sense at first. The symptoms didn't add up and the fact that the patient wanted to commit suicide didn't help much either.
Amy Irving (Alias) played writer Alice Tanner, who much like J.K Rowling, created a series of children's books in which she told the adventures of boy detective Jack Coonan. Wildly successful, she wrapped up her tenth installment and decided to off herself with a gun in her mouth. Except she wasn't counting on having a seizure right when she was about to shoot herself, which saved her life and landed her at Princeton Plainsboro Hospital under House's care.
House, for his part, just happened to be a huge fan of her books and simply wouldn't let her kill herself until she wrote a decent end to the character. In a really touching twist of events, House finds out that her depression and the desperate need to commit suicide came from her son's death in a car accident, which she blamed herself for. To help her deal with the situation and keep her son's memory alive, she started writing a book based on him.
House helps her through it and, despite telling Cuddy that he didn't care and really just wanted to see a better end to Alice's latest book, he actually found himself caring about this patient and trying to ease her suffering. After all, she was in terrible pain and that's the one thing he can understand and relate to.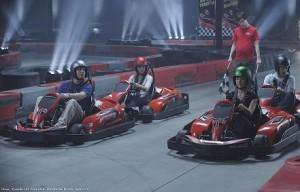 Meanwhile, Cuddy and House struggle to find something in common and House is terrified she will end up dumping him if they don't. They go on a double date with Wilson and Sam (Cynthia Waltros, Lost) and it was actually the first time that I cared about their relationship and didn't find it was a cheesy approach, like in the last two episodes. It was fun and lighthearted and made me laugh several times.
So there you go. Improvement.
Way to go, House team. Way to go.