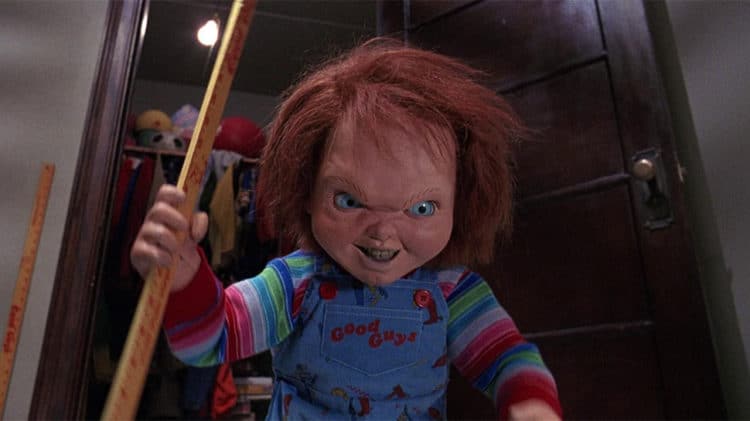 Worse than hearing the Jaws theme, or the scary music that means Michael Meyers might be here is the moment you hear horrifying laughter from the villain chasing you. Fear is just fear, and a good jumpscare is grand. Knowing the villain is enjoying your suffering the way you enjoy a good comedian is the beginning of true terror. Whether it's a throaty chuckle, a shrilly insane cackle or a full booming monster masterpiece, the scariest laughs require more than just a little practice. We've collected our top ten scariest horror movie character laughs based on who went above an beyond the call of duty. Fair warning, there are spoilers ahead and possibly some nightmares as well.
10. Sheriff Winston Hoyt AKA Charlie Hewitt – Texas Chainsaw Massacre
One of those defining moments in cinema, where you learn that there's no one coming to save you is the revelation about who Sheriff Winston really is in Texas Chainsaw Massacre. The distrust of police officers, in general, has its roots in many places, but none that are quite so re-watched as this. Discovering the sheriff is a lunatic killer is a part of what makes TCM a worthy watch. Actor Ronald Lee Ermey has a more than memorable laugh at the protagonists' expense earning him a slot on the scariest horror movie character laughs list.
9. Mason Verger – Hannibal
The laugh isn't deep or mysterious. It's not shrill, or even particularly creepy on its own. In fact, when Mason Verger laughs it rather reminds us of the stereotype of an extremely upper crusty gent, on a yacht, faux laughing at some not-so-funny quip. What makes the laugh of Mason Verger memorable is a combination of both the character himself and the reason for his laughter. Mason is laughing at the sound of pigs being trained to eat human flesh as he plots his revenge against the charmingly psychotic Hannibal Lecter.
8. Orin Scrivello, DDS – Little Shop of Horrors
Steve Martin did a wonderful number about shooting puppies and otherwise causing pain for fun in this bizarre musical horror. It may be kitschy and more fun than most traditional horror movies, but as Little Shop of Horrors is ultimately about a people eating plant from space. The freakishly insane laugh of a dentist who lives to cause harm is one that can easily freak us out even now.
7. Satan – Al Pacino in Devils Advocate
Al Pacino can never get quite enough credit in our book. He always played such excellent villains. The laugh he gives Keanu Reeves across the table while they're out at dinner is one of those rich, throaty, fully developed laughs that you have to be either very fortunate or very skilled to produce. Mr. Pacino is both without a doubt. His evil laughter is worthy of inclusion on any list.
6. The Crypt Keeper
Sure, most of the time he was only the jump scare at the beginning of the show, but the Crypt Keeper had an epic shrill evil laugh. The genius of the buildup in the intro is underrated. Tales From the Crypt did eventually get its own movie, and thus he wins a spot on our list of laughs. Some of our younger audience won't know the sound of that laugh, but you're missing out. His ability to freak us out when we were young made the Crypt Keeper a fan favorite.
5. Wicked Witch of the West
Cracking the top ten as a woman is tough. That glass ceiling can seem more like a mason jar when you can already fly. The original Wizard of Oz movie featured a scary laugh from a woman, and we're going to honor that nasty cackle by putting her in the top five. While not everyone will consider this movie a horror we're going to allow it. As TV Guide so famously pointed out, "Transported to a surreal landscape, a young girl kills the first person she meets and then teams up with three strangers to kill again."
4. Pennywise – Stephen King's It
There's no denying the sheer genius of casting Tim Curry in, well basically anything, but he was at his very most eerie as a sewer-dwelling clown. Even with a full set of fangs, if you don't already have a fear of clowns, it's a little hard to take them seriously. It's the shoes. Despite balloons, bad shoes, and a frankly ridiculous wig, Time Curry sells it in a way only he can. We still shudder thinking about that movie.
3. Chucky
If there's one thing creepier than the evil clown trope it's the evil doll. Chucky, who certainly reminds us of My Buddy, even if the two are apparently not related is one of the best creepy dols so far. Though other well-known dolls such as Annabell, Jigsaw and the Puppet Master toys all have their place in great horror, it's Chucky who pulls off the maniacal laugh we remember.
2. Dracula – Braham Stoker
Part of what elevates this laugh to the next level is the background music. The soundtrack on Braham Stokers Dracula was utterly beautiful from end to end. This particular background music, with its especially sinister violins, is designed to bring a classical horror feeling to every scene where it gets a reprise, and it works. However, the laugh itself is exceptionally well executed and rings in the mind after the actual sound has faded from the ear.
1. Gage – The Kid from Pet Cemetary
If you weren't expecting a small child to top this list, then you haven't heard near enough creepy kids laughter. When it comes to freak-out factor, an adorable undead toddler stalking you through your own house is pretty high on the list. When you add the freakishly charming baby-giggle to the mix, it's the sort of terror that only an evil child can perpetuate. For this reason, Gage gets the top spot on our list.
The Runners Up
There are numerous excellent examples of villains who can go the distance in the evil laughs department. Jafar from the original Disney Aladdin cartoon movie and Nigel from Rio are two incredibly under-appreciated examples because they are animated. Naturally, neither is considered a horror, nor should they be, but the fact remains, not every one of the best evil laughs in the business can make a top ten list. Here are our top three non-horror movie favorites.
Fantasy Favorite – The Devil From Legend
It's not a horror movie, but some creepy laughs haunt your dreams regardless of context. Tim Curry does the most amazing deep throated laugh in that movie. He has always been a stunning character actor, and we think his devil is one of the best we've seen. Perhaps they'll reboot that movie someday and re-cast him as the same villain. It's hard to imagine anyone else pulling it off quite the same.
Music Video Favorite- Vincent Price as Michael Jackson as a Zombie (Thriller Video Ending)
Michael Jackson had some genuinely stellar videos throughout his much-beloved career. Thriller is one of the most well known the world over. While most people recall the dance, it's Vincent Price who stood out in our minds with that brilliant evil laugh track he provided for the end of this iconic music video.
Web Series and Failed Attempt Favorite – Dr. Horrible
While he clearly recognizes the need to work on his evil laughter skills, and even says as much, Dr. Horrible has a long way to go. He starts out strong, but can't maintain the laugh. Fortunately for his vocal coach, there's a profit in teaching future villains how to give a good, hearty, gruesome guffaw. However, Neil Patrick Harris, who plays that role does an awesome evil laugh.
Final Thoughts
An amazing laugh is infectious. When it's a sound of pure unadulterated joy, it makes everyone smile. When it's the same thing, but only because someone is about to lose a limb the context makes all the difference in the world. An outstanding evil laugh requires some extra element to put it over the top. From amazing actors to chilling backstories and more, Dr. Horrible had one thing right all along. It's about standards.