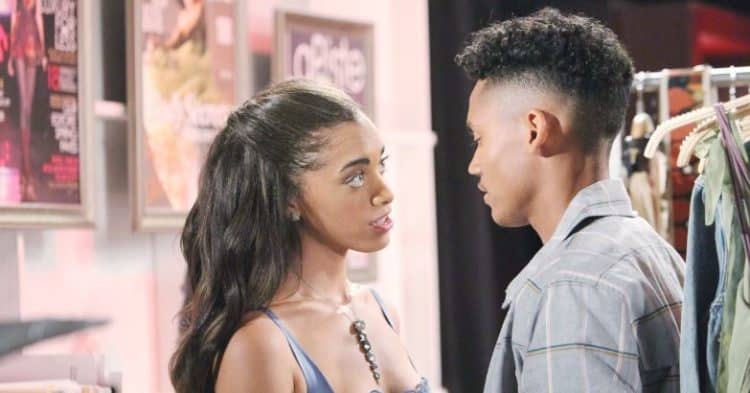 The Bold and the Beautiful fans have seen that things aren't what Hope thought they might be, but that's all because of Steffy. She thought that just because Steffy was out of the picture after choosing herself over a man, she was out of the picture. While Hope realistically knew that there was a baby involved in all of this, she seems to have forgotten that her husband is already with child with his ex. And that baby needs her father. That baby comes before anyone and anything else in his life, including what his wife wants or needs. Steffy gets that their baby needs a father, and she's allowed him an open invitation to show up anytime he wants so that he can be with Kelly anytime he feels the need. He wants to be with his daughter every day, and Hope is not a fan of this. She's trying not to be upset because she gets it, but she's worried a lot about what this means for her baby and her future.
And we also saw that Bill wanted Thorne to know where he stands and what he is doing with his life. He will not stand to have tis man in his life or his son's life without a fight, and he told him without any hesitation that he feels Thorne was out of place with his conversation with Katie. We kind of agree that he is out of line. It's not his business to suggest that he be the role model her son needs or that she should look to alienate Bill from his son's life forever. He'd be better off just being a good role model, just being there to support her, and just being a sounding board for her. It's not really something that he can help, though, and he made that abundantly clear to Bill.
What's Happening on The Bold and the Beautiful
Get excited #BoldandBeautiful fans! https://t.co/lnsOabMvWi

— Bold & The Beautiful (@BandB_CBS) August 24, 2018
It turns out there will be a new judge in town, and we have a feeling the new judge is going to be a bit of a looker. So, this makes us wonder what kind of situation is going to heat up here and what kind of couple is going to end up not working out because there is some attractive new judge in town changing lives and making people miserable all the way around? We don't know, but we know this is going to be pretty good stuff.
What's Next on the Bold and the Beautiful
TODAY: Ridge expresses his pride in Steffy's recent choices. #BoldandBeautiful pic.twitter.com/zqo59VNlNW

— Bold & The Beautiful (@BandB_CBS) August 27, 2018
Bill will not stand to have this life made a mess. He will not allow Katie to get her way and to take his son from him, and he will do anything it takes to make sure that does not happen. He's not above telling her that he will use her past to get his child to himself, too. He is going to tell his ex that he will let a judge know that she's an alcoholic who made some very poor choices in the past, and that will affect the judge's decision to allow her to get full custody. He will do anything he can to ruin her if she feels she can do the same to him. What we get from this is that the gloves have come off and the fighting is getting dirty.
We also see that Hope is going to be upset when she takes Liam to the doctor with her for the first time and the doctor is already well acquainted with Liam. She can't catch a break. This doctor already delivered a child of Liam's — Kelly. And now Hope is reminded AGAIN that her man has another baby and that she's not the only woman in his life and that her baby won't be the only baby in his life. It's hard on her, and she's being reminded each and every day that there is a lot going on in his life that she's not really all that much a part of. It's hard.
Stay tuned for more The Bold and the Beautiful and be sure to check out TVOvermind daily for the latest The Bold and the Beautiful spoilers, news, and updates.