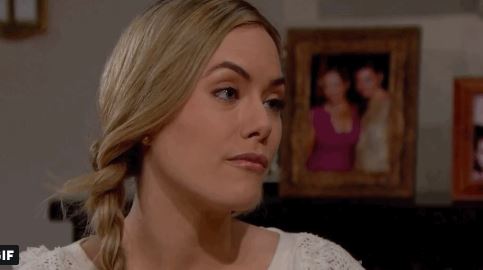 The Bold and the Beautiful fans have loved this week so far. Everything sweet has happened in that we all had a moment of 'awwww' when Steffy and Liam bonded over their baby. Seeing Ridge play the part of happy grandfather didn't suck, either. It was a sweet moment when he has been going through so much otherwise. He's been in a way that makes us sad after he finally got to marry the woman he loves and she's betraying him by allowing her daughter to do what she's doing. Seeing him with baby Kelly has been so sweet.
We've also been watching Hope's life unfold this week. Just last week at this time, she thought everything was well and good in her life, but now she's thinking that it's anything but. She's not happy with the way things are going, she's not going to get her life in order, and she's having a tough time allowing herself to feel confident about her future. Has she lost Liam? She only just got him back, and all week she's been in a panicked rage that she's lost him.
But, that might be what happens when you take a married man from his pregnant wife who also happens to be your stepsister. It's not a pretty situation, and if ever there was a bout of karma going on for someone, it's in a situation like this. We can't help but assume we know what is going on, and we cannot help but assume that everyone else is struggling to understand what's going on.
What's Happening on The Bold and the Beautiful?
Our #Yaytime is seeing @CBSDaytime stars supporting each other! Check out who stopped by @don_diamont's book signing last night. #BoldandBeautiful

Photo Credit: Jill Johnson/jpistudios.com pic.twitter.com/7Ys7VLFWwM

— Bold & The Beautiful (@BandB_CBS) June 5, 2018
There's a lot of exciting stuff happening on this show, but our favorite thing is the fact that Don Diamont introduced his new book this week, and he was not the only soap opera fan at his new book signing. Though the very famous Peter Bergman s not part of the BB cast, he is the famous Jack Abbott over on another CBS daytime soap, YTR, and he decided to make an appearance to have his own book signed by his famous friend. It's always kind of fun to see famous friends support one another during times like this one.
What's Next on the Bold and the Beautiful?
TODAY: Liam is faced with making the heart wrenching decision of choosing between two loves. #BoldandBeautiful pic.twitter.com/xOaohAo40V

— Bold & The Beautiful (@BandB_CBS) June 6, 2018
We are going to see Brooke remain positive and hopeful for her daughter today. She's got a lot of positivity for someone who isn't worried that her daughter took her sister's husband from her, but that's just us. She will tell Hope that she's still got a shot at keeping Liam, as if this is what is important in Liam's life at the moment. It's not like he just suffered what could be a terrible shock learning that his own father caused his baby to be born prematurely or anything.
In other news, we will also see Liam in a place he's very familiar with. He should pack his bags and move right onto the corner of upset and indecision, because that's where he is — again. He was just there the other day, and he is back. He recently made the decision to leave his pregnant wife for his old wife, and now he's not married to her but he's making the decision to go ahead with his wedding to her or take the chance to be with his ex-wife and their newborn daughter. It's fascinating stuff, really, and we can't believe this is where he is yet again.
He has a decision to make, and it won't be an easy one. He has to decide what he wants from his future, and this time it's the choice to be with his ex-wife and their beautiful new baby daughter to start a family of their own. Or it's to be with his other ex-wife and marry her and make his daughter's life more complicated and upsetting than it already it. It's a tough choice, but someone has to make it. We suppose he could change his mind and decide to just be alone and focus on his daughter.
Stay tuned for more The Bold and the Beautiful and be sure to check out TVOvermind daily for the latest The Bold and the Beautiful spoilers, news, and updates.
Tell us what's wrong with this post? How could we improve it? :)
Let us improve this post!