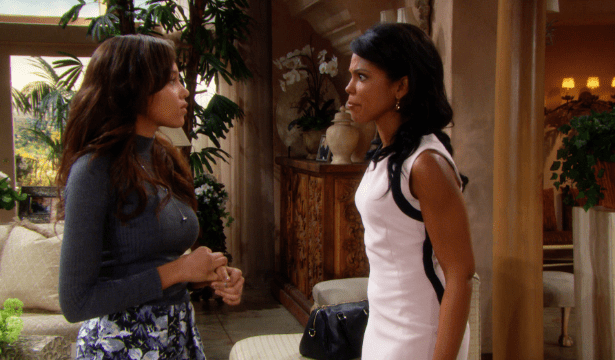 The Bold and the Beautiful fans might not forget people as much now as they did back in the day. There was a time in the past when it was all the same characters on the show who had been there for years because it was such a young soap. But, now that the show has been on the air for more than 30 years — still young in comparison to other soaps — it's become more likely that some people have left the show and gone elsewhere. There might still be some of women who have been around for the entire length of the show's history — we are looking at you Brooke Logan — but there are others who have come, gone, and almost been forgotten. Don't get us wrong, though. These women are not forgotten because they are not good at what they do. They are simply forgotten because tit's been so long. Who might they be?
Lindsay Price
She's gone on to have a very successful career. She went from daytime to primetime to everyday love from the people who are fans. She's been around the block, but she was here for two years in the mid to late 90s. And she was good at what she brought to this show. She was a college student by the name of Michael Lai, and she had a very interesting life when she was given a roommate by the name of Dylan Shaw in college. She had such a manly name, and that caused her to end up sleeping with Dylan, and they had a long situation. She was someone we all loved with her recurring role, and we wanted to see more of her. Unfortunately, the show didn't give us what we wanted when they took her from the show to nowhere without so much as a goodbye or anything else. She wasn't killed. She wasn't harassed or threatened. She was simply there, and then she was not there. But, what else can you do? She was someone who didn't have much else to do, but she did find a way to make it work.
Lauren Koslow
She's a very formidable woman on Days of Our Lives, and we love her. She's Kate Roberts, and she's the woman who takes this role and makes it her own like it was her only reason for living. But, for a long time, she was on this show giving us more of what we wanted. She was here to make sure that we had something to live for, and we loved her for it. She was a woman who did not make things easy on us when she played the role of Margo. She was here for about five years, and she was an assistant to Eric. She was so good at what she did that she caught the eye of a young Ridge Forrester, and the two began a very interesting affair. She also had a thing for Bill Spencer, the elder, and she made her rounds among the powerful men in town without so much as batting an eye. We loved her.
Jennifer Finnigan
Oh, how we do miss her so much. She is and was our favorite Bridgette Forrester. She took on the job in 2000 and held onto it for four years, and she was good at it. She did her job, she made it happen, and she was good enough that we wish she was still here. There is another woman who plays the role off and on when the good doctor shows up in town for one reason or another, but we miss this woman. She was so good, and we didn't want to see her leave. She might have been the best one, and she was clearly recognized for her roles. She was so talented in just his role that other shows, people, and projects were calling her up and asking her to come to them, and she had to do what was best for her. We do get that, and we applaud that. Taking risks, doing what you need to do to achieve your dreams and live your life the way you want is something that you should do, and it's something she did do. But, that doesn't mean we cannot miss her.