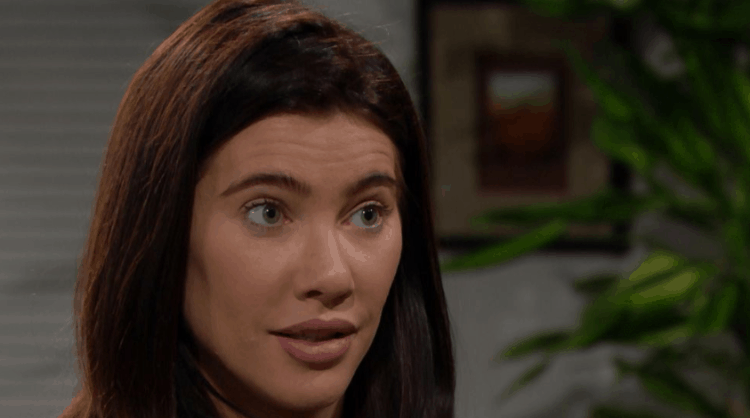 The Bold and the Beautiful fans are still so emotionally drained after all that happened in the past week. We know that there are so many things that might happen for people around here, and there are so many things that might go down. But we are all worried about Hope. Even her own mother is worried about her, and Steffy and Liam both spoke up about their concern. She's too close to Phoebe, and they are worried that this is a result of her losing her own baby. They are worried that this will have some sort of negative effect on her when she realizes that she cannot spend every waking moment of every single day with this little girl. She's a mess, and everyone is worried for her. They cannot, however, talk any sense into her.
Wyatt is going back to work for his father, but he's demanded that his father open Spectra Fashions so that Sally can have her business back. She is beyond touched he would do that for her, but we don't know how it will go down. Bill is busy right now. He's learned that Thorne has decided to annul his marriage to Katie and leave town because he's just not that into her, and he's decided to go out of his way to win back his family. Justin and Donna are also working together to see if they can make this happen, and we imagine that Ridge is probably all about this. If Bill is with someone else, maybe he will leave Brooke alone and let Ridge have his wife all tom himself for the first time in a long time. It's all kinds of crazy what's going on around here.
What's Happening on the Bold and the Beautiful
Wyatt to Bill: "I'm in love with her." ❤ #Wally #BoldandBeautiful

— Shannon Byrne (@shannonb1982) February 22, 2019
We say it often, but we just adore Wyatt and Sally as a couple.
What's Next on the Bold and the Beautiful
Sally is a woman on the rise, but will she be brought down? PLUS a desperate plea rocks Steffy and Liam's world. It's all happening this week on #BoldandBeautiful! pic.twitter.com/W39D59zCPM

— Bold & The Beautiful (@BandB_CBS) February 24, 2019
Wyatt and Sally have a lot to celebrate this week now that she has her fashion house back, he's back to work for his father, and everything in their lives is going their way. They are a happy couple, and we love that they are taking things slowly and seriously and focusing on their own lives rather than the lives of everyone around them. There is so much going on that will be good for them, but we also suspect that things might just turn into something else in the future. For now, though, we will just sit here and focus on the fact that they are good and we really love that about them. It's been something they've been able to deal with, and we like that a lot. For now, though, we are going to focus on other things, too.
Hope is going to talk to her mother about her feelings. It might include how she feels about Phoebe, and it might just cause Brooke even more worry that she had in the past. She's been worried about Hope and her connection with this baby who already has a mother, and it's been a moment that doesn't seem to pass. What Hope has to say when she confides in her mother is only going to serve to worry her more than it already does. We aren't ready for this, and we aren't going to be very happy when it all comes out into the open. But, for now, though, we are going to sit back and relax about it all. Maybe.
Stay tuned for more The Bold and the Beautiful and be sure to check out TVOvermind daily for the latest The Bold and the Beautiful spoilers, news, and updates.