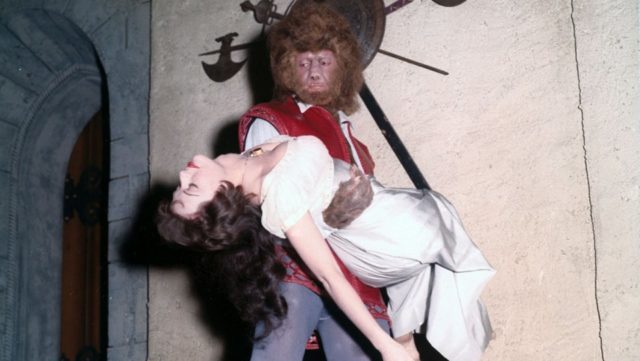 The classic Disney film "Beauty and the Beast" has been around for decades. It's inspired by the traditional fairy tale story but what made it such a revolutionary children's and family film was the use of special effects that lent a 3D effect that brought the animation into closer proximity with reality. One of the biggest questions that people have been asking for years is, "why hasn't there been a 'Beauty and the Beast' cartoon yet?" There are so many different directions that the story could be taken, it would seem like a brilliant undertaking. Here are some answers that will help you to understand why there isn't currently one completed and why there is likely not going to be one.
Preservation of the uniqueness
As it stands now, the original film is still as popular among viewers than it was shortly after it's release because it has achieved a classic status. It's special in its current format and sales are doing well enough that there is no need to interfere with the marketing strategies as they stand. It's still bringing in revenue and that is the bottom line for decision makers. The remake of the original starring Emma Watson relied heavily on CGI to make aspects of the new film partly animation with a live action effect. The second rendition was successful at the box office and did well enough to satisfy the creators, although it added a few darker and more realistic elements. This was a film that was more appropriate for older children and adults.
Has there ever been a cartoon based on the story?
We researched this question to find out if there was even an animation made, aside from the Disney films which are protected under copyright. What we came up with was a list of 13 different adaptations of the story about Belle and the Beast, but not one of them, aside from the Disney film were animated. Every one were movies and television series but not a single cartoon. Among them we found the following.
La Belle et la Bete (1946)
This live action film from the 1940s tells the story of Belle's father being imprisoned by the beast for picking a rose from the monster's garden. Belle secures her father's freedom by taking his place, and the rest of the film revolves around the beast attempting to win her heart.
Beauty and the Beast (1962)
This UA film takes the story in a different direction. Duke Eduardo and Lady Althea are betrothed, but Eduardo has a terrible secret he's withholding from her. An evil sorcerer placed a curse on him and he turns into a beast every night. It's not all bad when Althea learns that she alone can break the curse.
Beauty and the Beast (1976)
This rendition was Hallmark's version of the story. A girl marries the beast and is forced to live in his castle in order for the beast to spare her father's life.
Faerie Tale Theater (1984)
This episode of the Faerie Tale Theater features Susan Sarandon and Kaluse Kinski reenacting the fairy tale as the story is narrated through the program's regular format, with the acting in live action.
Beauty and the Beast TV series (1987)
Linda Hamilton and Ron Perlman portray the fairy tale couple in this live action television series. It has a more modern setting and takes place in the city. The female lead's name is not Belle, however; she is Catherine Chandler, a New York city district attorney who's life is saved by the Beast named Vincent. She falls in love with her rescuer but he can never show his face in public. The show continued for 3 seasons.
Beauty and the Beast (1991)
This is the Disney original and most likely inspiration for a cartoon series. It won several film awards and is still considered to be one of the most amazing feats of animation perfection.
Beautician and the Beast (1997)
Fran Drescher plays a modern day version of Belle. She is a New York beautician who is recruited to educate the children of an Eastern European dictator in the country of Slovetzia. He's truly a beast and the teacher of course, falls in love with him.
Blood of Beasts (2005)
This film is set in the medieval era. It is a movie inspired by the fairy tale, but it follows the princess Freya to find her lover Agnar as well as her father who were lost at sea. She encounters a beast in her journeys and discovers that he is holding her father hostage. She exchanges her freedom for her father's release. Her sacrifice causes the beast to transform back into her lover Agnar.
Beastly (2011)
This is a CBS film based on Alex Finn's 2007 novel that is a modern version of the tale in live action. Kyle is a senior in high school. He only has one year to say I love you to a girl or he will forever remain a beast, thanks to a spell cast by a nasty fellow student.
Beauty and the Beast TV Series (2012)
This live action television series is about a detective who teams with a scientist who is a beast in solving crimes. The show ran for four seasons.
Once Upon a Time (2012)
This television series included a variety of Fairy tale characters and among them was Belle played by Emilie de Ravin. The Beast never made an appearance on the show, but Gaston was there.
La Belle et la Bete (2014).
This film was based on the 1946 version and it never did gain popularity or acclaim.
Beauty and the Beast (2017)
This live action film is the latest remake starring Emma Watson as Belle and Dan Stevens as the Beast.
In addition to these, Disney released a special movie called "Belles Magical World" and "Beauty and the Beast Enchanted Christmas," both animated, but there has been no indication that they are considering a television series in the animated cartoon format. In answer to the question of why there are no talks of a cartoon, we believe that it could detract from the immense popularity of the films and the revenue that they're currently generating instead of adding to it, so why would they want to tinker with a sure thing?
Tell us what's wrong with this post? How could we improve it? :)
Let us improve this post!