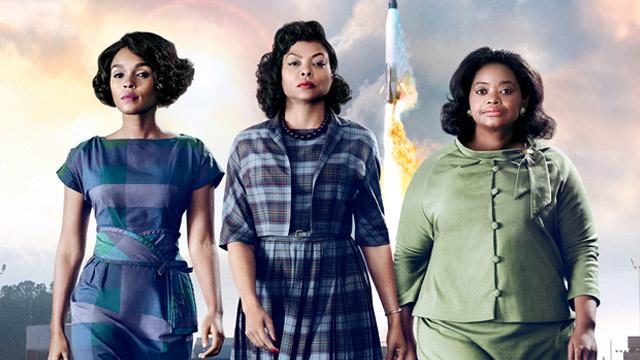 Exploring the workplace sexism and racial segregation common in 1961 was an eye-opening journey in Hidden Figures. The film about three African-American women and how they deal with overcoming racism through their exemplary work and perseverance is a story that inspires all of us to do better. Not only did the film widen awareness of what clear morals are, the main cast of Hidden Figures brought an impressive, collective roster of acting experience and talent to the production. All stars in their own rights before the film, they've gone on to new and successful projects. Here's what they've been up to lately.
In her role as mathematician Katherine Goble Johnson, Henson won praise for her thought-provoking performance. She won a Screen Actors Guild Award for her part in the drama. Already the recipient of numerous awards for previous films, Hidden Figures brought her additional nominations and awards from the prestigious Satellite Awards, NAACP Image Awards, Black Reel Awards, Women Film Critics Circle, Saturn Awards, MTV Movie & TV Awards, BET Awards, Teen Choice Awards, and Critics Choice Television Award. Henson's had several new film credits added to her extensive list. She voiced Praline for The Simpsons TV series in 2017, she portrayed Cookie Lyon in the TV series Empire from 2015 to 2018, she was Mary in Proud Mary in 2018, she portrayed Melinda in Acrimony, and she completed The Best of Enemies in the role of Ann Atwater. She also voiced Yesss in Ralph Breaks the Internet: Wreck-It Ralph 2 which is in post-production. She's scheduled for pre-production of What Men Want in 2019. On top of all the work success, Henson became engaged to former NFL PRO Kelvin Hayden on Mother's Day 2018.
Janelle Monáe
Janelle Monáe Robinson made her film debut as engineer Mary Jackson in Hidden Figures. She also co-starred in Moonlight that same year. In the Czech TV show Tvoje tvár má známý hlas, celebrities impersonate singers who are famous worldwide. Monáe was the writer for "Tightrope" in the 2017 Episode #3.8. In 2018, she went on to write and perform in the 2018 film Step Sisters. She also performed as "pynk" in Episode #2.2 of the 2018 TV series Front Row. Monáe has long been a recording artist for Atlanta Records and her own Wondaland Arts Society. She's a successful model and actress as well.
Octavia Spencer
When Octavia Spencer took on the role as the unofficial supervisor Dorothy Vaughan in Hidden Figures, she merely added to the huge number of fans she has around the world. She's been successful for a long, long time. From 1996 when she portrayed Roark's Nurse in A Time to Kill, until 2018 when she portrayed Judy in the film A Kid Like Jake, Spencer has worked continuously, appearing in a role on either TV or in film. In 2012, she won the Academy Award for Best Supporting Actress and now jokes that Oscar is the man in her life. After Hidden Figures, she hosted Saturday Night Live in 2017. She also had roles in four films, including The Shack, Small Town Crime, Gifted, and The Shape of Water. She was nominated for the Academy Awards Best Supporting Actress for Hidden Figures in 2017 and for The Shape of Water in 2018. She also has nominations for both films from the BAFTA Awards, the Golden Globe Awards, the Screen Actors Guild Awards, and twenty-one additional prestigious award granting institutions. In Los Angeles, she treated an entire theater of low-income families to a screening of Hidden Figures-buying all the tickets for the entire theater so they could attend.
Kirsten Dunst
After Dunst accepted the Screen Actors Guild Award for Outstanding Performances by a Cast in a Motion Picture for her role as supervisor Vivian Mitchell, two films followed in 2017. Dunst was cast as Edwina Dabney in The Beguiled and as Theresa in Woodshock. She also had an uncredited cameo in the TV series Black Mirror, where she played a Callister employee in the episode titled "USS Callister". In 2018, she played the role of Agatha Christie on the series Drunk History in the episode titled "Drunk Mystery". Dunst welcomed 2018 with her stunningly beautiful pregnancy photos which appeared in Rodarte's debut of its Fall-Winter 2018 portrait series. She and Jesse Plemons were reported by the Associated Press to have welcomed a baby boy as of May 8, 2018.
Kevin Costner
When Costner portrayed the fictional character of Al Harrison-the supervisor of the NASA Space Task Group, he added another success to a long filmography. That same year, he also starred in Molly's Game, which was Aaron Sorkin's debut as a film director. But Costner had a career first in 2018 when he appeared in Yellowstone. It was the first time he's ever had a regular TV series role. He's continued his love for music with his country music group Modern West. He's part owner of the Lake County Fielders baseball team based in Illinois, which allows him to support his passion for baseball. He also continues business pursuits such as his museum in Deadwood, South Dakota- Tatanka: Story of the Bison. The small museum is dedicated to the bison and includes sculptures by native artists and clothing from Costner's famous movie Dances With Wolves. He's raising three children with Christine Baumgartner in their home in Aspen, Colorado.
Jim Parsons
Parsons played a supporting role as head engineer Paul Stafford. But Parsons has been well-known for his breakthrough part in The Big Bang Theory. In 2017, two major events happened in Parsons' life. He began to host his own talk show on SiriusXH: Jim Parsons is Too Stupid for Politics had a six-week run. He also wed his longtime partner Todd Spiewak in May. In 2018 he portrayed Greg Wheeler and served as producer for A Kid Like Jake. He appeared on stage at the Booth Theatre portraying Michael in The Boys in the Band. He took on the role of Larry Simpson in Extremely Wicked, Shockingly Evil and Vile and began production for the film in January 2018.
Mahershala Ali
Ali, the American rapper and actor, appeared as Lt. Col. Jim Johnson from the National Guard. Before Hidden Figures, he had notable roles in many popular favorites such as The Curious Case of Benjamin button, Predators, and The Hunger Games series. Ali became the first Muslim to win an Oscar for acting. He received the honor at the 89th Academy Awards in 2017. He took on the role of Cross for the 2017 film Roxanne Roxanne and he's voiced Aaron Davis/The Prowler for Spider-Man: Into the Spider-Verse in production in 2018. He's also in Vectin Alita: Battle Angel. For 2019 he's filming Green Brook in the role of Dr. Don Shirley and he's also scheduled as Wayne Hays in True Detective.
Glen Powell
After Powell took on the role of astronaut John Glenn, he went on to the role of Sergeant Dylan Chutsky in Sand Castle in 2017. Then, he completed three more films in 2018, including The Bad Guys, The Guernsey Literary and Potato Peel Pie Society, and Set It Up!. Powell is starring with Zoey Deutch in the new Netflix romantic comedy Set It Up! The new film trailer was just released on Tuesday, May 15. The two team up to become matchmakers, secretly luring their demanding bosses up with fake matches.