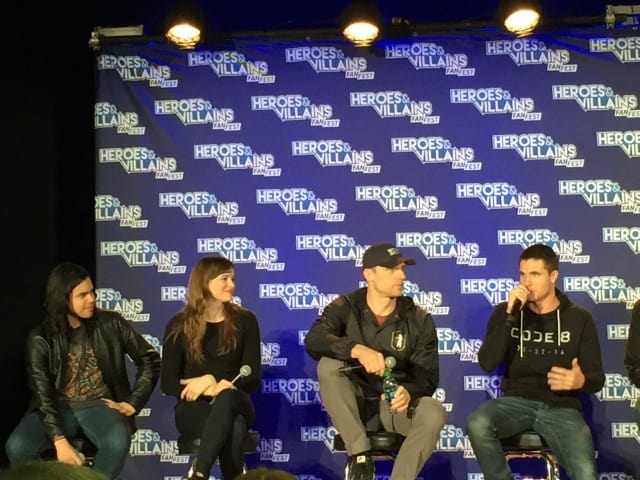 This past weekend the Heroes and Villains FanFest convention came to Chicago to bring fans of Arrow, The Flash, Legends of Tomorrow, Gotham, and Heroes Reborn, the ultimate fan experience. TVOvermind was there to get the full fan experience, as well as bring our viewers as much behind the scenes scoop and spoilers as we could get our hands on. Throughout the remainder of the week we'll be sharing all that we learned. Up first, The Flash.
With no new episode until next week, we decided to ask the stars what's coming up and what they think about the direction their characters are heading in. Recently the show upped the anti and went to Earth-2, a parallel universe existing opposite our characters in Earth-1. Caitlin Snow and Cisco Ramone were shocked to learn that in this alternate universe their counterparts were evil. While their characters were shocked, their portrayers were elated at the chance to play their murderous counterparts. "Playing Earth-2 Reverb was freeing" said Carlos Valdes (Cisco Ramone, and Panabaker was almost giddy talking about the fun of playing a villain. Moving forward though, they warn that their characters will be very wary of their actions as a result. "Cisco has a deep fear of the power becoming Vibe could have, [and we'll be] covering that in upcoming episodes" says Valdes. As for Caitlin Snow, Panabaker said that "there are some lines that elude to [her coldness] this season.
If you are wondering who was in the cage in Zoom's lair in Earth-2, you're not the only one. In the last episode it was revealed that Teddy Sears, in addition to playing Jay Garrick, is also the face of Zoom. Despite being quite a ways along since filming that reveal, Sears insists he has no idea who is in the cage, but Danielle Panabaker and Carlos Valdes do!
Tune in Next Week for an all new episode of The Flash.